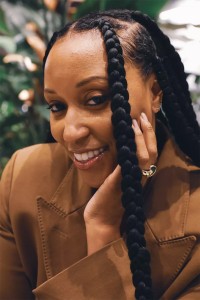 Los Angeles Times recently featured Bermudian fashion expert and costume designer Shiona Turini in an article entitled "The L.A. style education of Shiona Turini."
The Los Angeles Times story says, "I don't do a lot of celebrity styling — it's something that I enjoy in small doses," Shiona Turini told Darian Symoné Harvin at an Image magazine and L'Oréal event in El Segundo last November. Turini had just gotten back from a press tour with the "Black Panther: Wakanda Forever" cast. Styling Letitia Wright, Turini explained, has felt different and meaningful.
"I want to make sure that someone feels like they're facing the world the best way they can and in an authentic way. That is a level of responsibility that I take seriously," Turini said of her styling work. It's why she doesn't take that many clients at a time.
"The night had the feel of "a dinner table conversation," as Harvin put it, as the two women have been friends for several years. Below is an edited version of the conversation, which dives into how Turini got into styling, her early inspirations and her philosophy on including the communities she represents in her work."
You can read the full story here on Los Angeles Times.
- Photo courtesy of Kayla James / For The Times

Read More About
Category: All, Entertainment, Style & Beauty