The Bermuda Women's Rugby have launched a new campaign this week, calling on women of all ages to come and 'Try Rugby'.
A spokesperson said, "Following the success of the 'Inner Warrior' Campaign in 2019, Bermuda Women's Rugby have launched a new campaign this week, calling on women of all ages to come and 'Try Rugby' and discover their inner warrior. It features 4 weekly training sessions taking place at Berkeley Institute on Monday evenings, running from January 16 through to February 6, in a bid to inspire women to take up the game and embark on a new challenge.
"The sessions are open to women of all ages and coaches from the Bermuda Women's team are hoping to generate a large turnout for the initiative's first session on Monday.
44 year-old Andrea Ottley, Bermuda Women's National Team player commented: "I never saw myself playing rugby before but after joining the Inner Warrior boot camp in 2019, something just awoke in me. Women's rugby brought out a confidence and strength in me that I never knew I had. I would encourage any woman of any age to try rugby".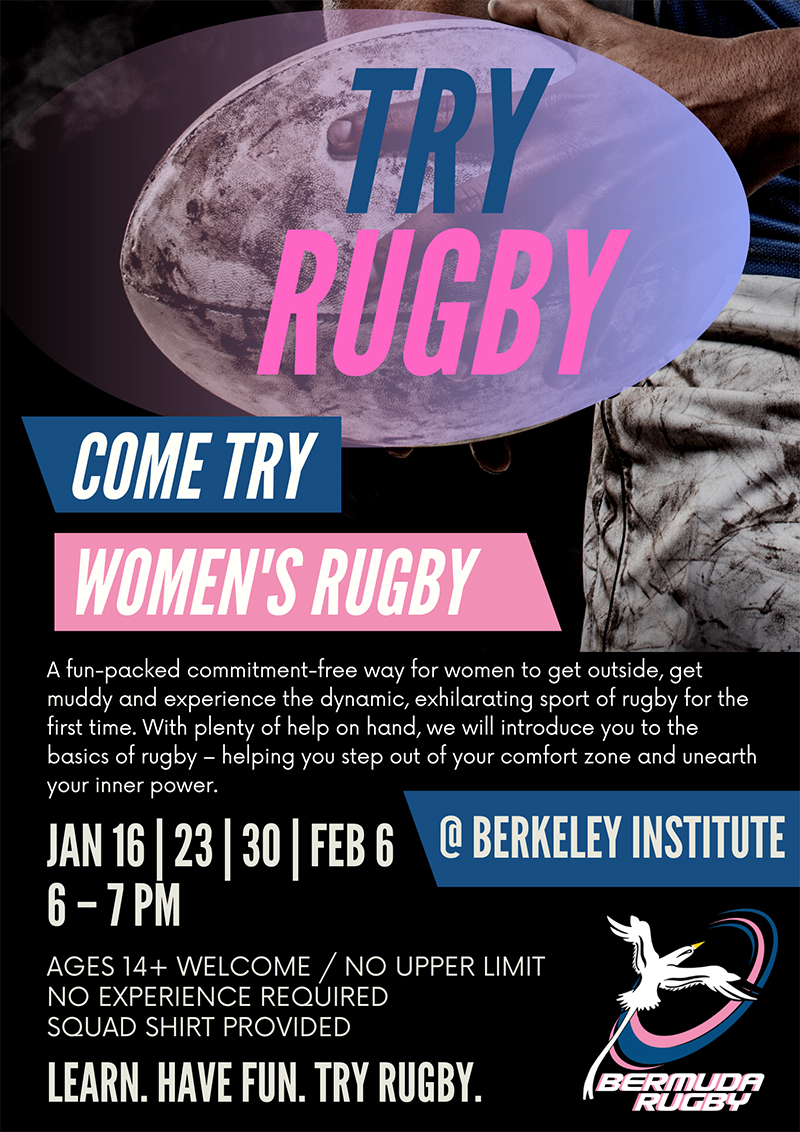 22 year-old Camille Chin-Gurret, Bermuda Women's National Team player, adds: "I started playing rugby when I was 14 and it was the best decision of my life. I have an amazing group of friends in my teammates. Rugby has a position for all girls no matter what shape or size you are."
The BRFU, as part of its player development pathway, is looking to significantly expand the number of women and girls participating in grassroots rugby in Bermuda and the newly-launched Try Rugby campaign is hoping to pick up where the Inner Warrior campaign left off and support this growth.
Gemma Godfrey, Vice President for the Bermuda Rugby Football Union, commented: "Women's rugby is one of the fastest growing team sports in the world with more than 2.7million women and girls playing in professional leagues.
"The Inner Warrior campaign saw a record-breaking number of over 40 women and girls in Bermuda attend at least 1 boot camp session and encouraged more women and girls to play contact rugby, teaching participant's key introductory skills and drills for rugby within a non-committal, social and fun environment.
"Sadly women's rugby participation in Bermuda, like a lot of other sports suffered during the pandemic but we fully intend to return with a bang and make 2023 the biggest and most exciting year for Bermuda women's rugby. So, for any ladies reading this, I encourage you to come along and learn some new skills alongside other like-minded females."
A spokesperson added, "At its core, Try Rugby is a fun-packed, commitment-free way for women and girls to get outside, get fit and experience the exhilarating sport of rugby for the first time. With plenty of help on hand, coaches and experienced players will introduce you to the basics of rugby – passing, kicking and tackling, coupled with enjoyable fitness routines – helping you step out of your comfort zone.
"Rugby also enables participants to develop mental toughness which in turns helps build resilience and self-confidence, furthering their ability to manage the everyday stresses of life. All you'll need to take part are a pair of trainers, workout gear and a 'have a go' attitude.
Dzuri Gill, Head Coach for the Try Rugby campaign, added: "Rugby is a unique sport in that there is such a diversity in players due to the range of positions in the game requiring different attributes and skills which allows every player to be integral in the success of the team. It encourages women from all backgrounds and physical statures to come together and bond on the field and is a great outlet for women to express themselves and their inner strength through sport".
The spokesperson added, "Challenge yourself to do one thing different in 2023. Try Rugby. The sessions are free to attend and are taking place on the following days/times:
Mon Jan 16 6pm – 7pm
Mon Jan 23 6pm – 7pm
Mon Jan 30 6pm – 7pm
Mon Feb 06 6pm – 7pm
"For more information or to get in touch regarding sessions, contact bermudarugbywomensmanager@gmail.com or visit www.brfu.bm."

Read More About