Rosewood Bermuda has made a $5,000 donation to benefit the Family Centre, a nonprofit organization dedicated to improving families' lives.
A spokesperson said, "Raised via silent auction during the first annual 'Rosewood Cup,' a signature golf tournament held by Rosewood Bermuda from November 25 – 27, 2022, the donation kicks off a renewed focus on community stewardship by Rosewood Bermuda in 2023. Led by the newly formed Rosewood Impacts Corporate Social Responsibility [CSR] Committee, the hotel will roll out initiatives throughout the year in partnership with organizations on the island to benefit the community and the individuals that make Bermuda thrive."
From Family Centre: Dr. Sandy De Silva | Executive Director; Hannah Collins | Fund Development Coordinator; Thania Redman | Relationship Development Director; From Rosewood Bermuda: Mark Crawford, golf pro; Esan Frederick, Director of Operations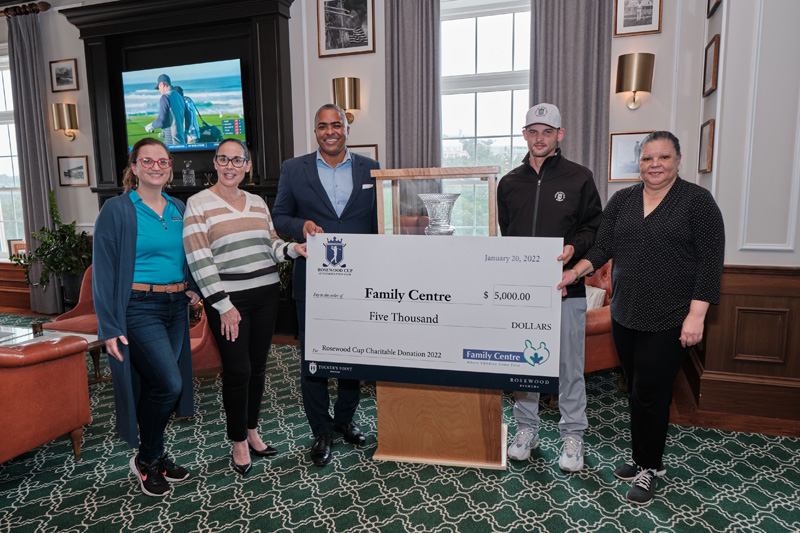 "Community outreach and social responsibility are a priority for Rosewood Bermuda," said Esan Frederick, director of operations for Rosewood Bermuda. "We're proud of the impressive work the Family Centre does for their fellow Bermudians, and we're honored to help support their mission with this donation."
A spokesperson said, "Tournament attendees were invited to bid on several luxury items such as stays at various Rosewood Hotels & Resorts, including Rosewood Mayakoba, Rosewood Hotel Georgia, Rosewood Vienna, Hôtel de Crillon, A Rosewood Hotel, Rosewood Miramar Beach, Rosewood São Paulo, Rosewood Sand Hill, and Rosewood Villa Magna. A portion of the funds from the auction will help the Family Centre provide innovative, free-of-charge mental health counseling services for children, teens, and their families, community outreach programs, and advocacy initiatives.
"Players vied for the opportunity to win the Rosewood Cup trophy. The custom-made trophy, crafted by Sheridan "Bally" Ming, a local carpenter and uncle of Dwayne Pearman Jr., the Head Pro of Tucker's Point Golf Course, features authentic Bermuda Cedar sustainably sourced from natural timber fallen within the Tucker's Point grounds. The trophy will remain on display at Tucker's Point Club, and the winners will have the opportunity to defend their championship title next year."

Read More About