The Bank of Butterfield recently presented The Family Centre with a $5,000 donation; the proceeds of its employee Holiday Raffle ticket sales.
Throughout November, Butterfield employees had the opportunity to purchase $1 Holiday Raffle tickets for a chance to win some great prizes, including vacation days, a travel voucher, retail gift certificates and Apple products.
All the funds raised through ticket sales were donated to The Family Centre for their Holiday initiatives.
Family Centre's Martha Dismont & McKeisha Smith, VP, Human Resources Bermuda Business Partner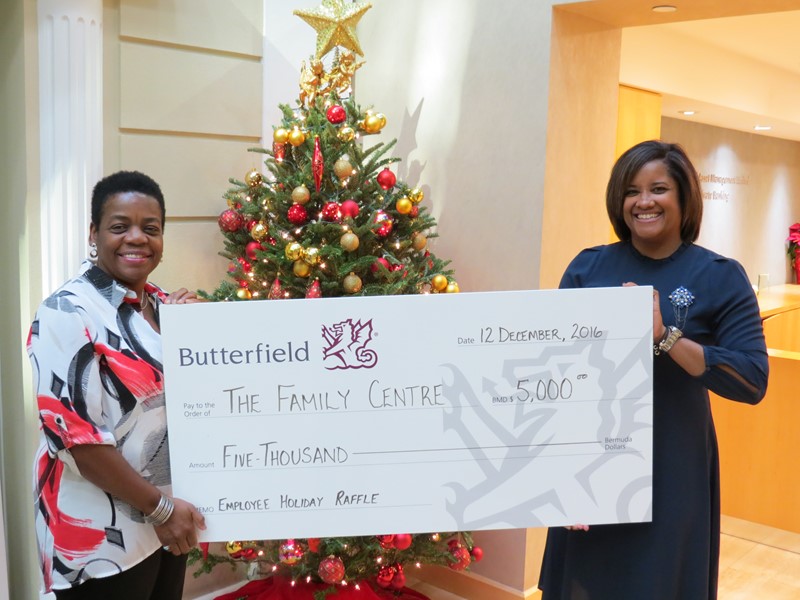 Michael Collins, Chief Executive Officer noted, "Our employee raffle is now in its fourth year. We have donated to The Salvation Army, The Coalition for the Protection of Children and now The Family Centre.
"Our goal for this initiative was to create a bit of Holiday cheer and celebrate with our employees who have worked so hard during the year.
"Because we are always looking for opportunities to help in the community, it seemed fitting to donate the proceeds of the raffle ticket sales to a well deserving charity over the Holiday Season.
"Thank you to all our employees who contributed to this cause."
Martha Dismont of the Family Centre said, "On behalf of the children and their families, who are helped through Family Centre services, I want to thank Butterfield, and specifically the staff, for this tremendous donation at this time.
"It has been vital to continue to invest in supporting the most vulnerable within our community, and this important donation will help us to ensure that children and their families feel supported. Thank you for caring so much."
Read More About