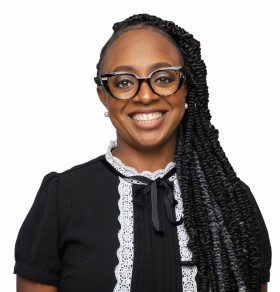 Davida O'Brien, Bermuda Tourism Authority [BTA] Tourism Standards & Training Manager, has been appointed the chairperson of the Bermuda Chamber of Commerce Tourism/West End Division, replacing BTA's VP of Experiences Tashae Thompson, who previously held the position.
"Tourism plays a key role in Bermuda's economy and remains a significant source of our success. We are excited to have Ms. O'Brien bring her wealth of knowledge and experience to the Division as the group discusses ways to develop our tourism product further, develop opportunities and efficiencies and provide a collaborative space for innovation within the industry," Danielle Riviere, CEO, Bermuda Chamber of Commerce.
The spokesperson said, "O'Brien worked for the former Bermuda Hospitality Institute before transitioning to the BTA. She has over 14 years of administrative, training, event management and strategic planning experience within the hospitality and financial services industries. She has provided consulting support to budding entrepreneurs to help define business strategies and marketing plans.
"In recapping the year's highlights, O'Brien led the development of Bermuda's first tourism e-learning platform, BTA+. This online learning space offers a one-stop-shop training and education platform for people interested in the hospitality and tourism industry. She also spearheaded the development of AnchorBDA , an industry-recognised local designation to assist in raising the profile of industry knowledge and standards. This designation will replace the Certified Tourism Ambassador Programme [CTA] and is expected to launch in the fall of this year.
"In her role as the Tourism Standards & Training Manager, O'Brien leads a team which is responsible for engaging and attracting potential talent to the industry, producing well-rounded ambassadors for Bermuda and developing people capabilities through career development. She successfully executed the accessibility awareness training for stakeholders and the public to enhance awareness, quality of service and inspire confidence for trainees."
Jakai Franks, VP of Operations at Bermuda Tourism Authority said, "We are thrilled to see Davida extend her industry expertise within this capacity. Over the years, she has demonstrated her commitment to developing programmes and strategies that will only enhance the tourism product in Bermuda. She is invested in the success of tourism. I look forward to seeing the great work I am certain Davida is sure to produce in her role as Tourism Division Chairperson at the Chamber of Commerce."
The spokesperson said, "O'Brien's key objectives with the Chamber's Tourism/West End Division are to work with partners to facilitate a centralized activities and events portal to provide stakeholders with easy access to a comprehensive listing of on-island events along with increasing membership engagement to foster new and innovative ideas to support partners and contribute to the recovery of Bermuda's hospitality and tourism industry."
"Cultivating stakeholder relationships to harness the power of partnerships and collaboration is an overarching goal," said Davida O'Brien. "I look forward to working with the members to foster new and innovative ideas to support partners and contribute to the recovery of Bermuda's hospitality and tourism industry."

Read More About