The Women's Resource Centre [WRC], in partnership with SCARS and the Centre Against Abuse [CAA] launched a new community support group for women – SASS – Sexual Assault Survivors Support Group.
A spokesperson said, "As we close Sexual Assault Awareness month, which is observed annually during the month of April, The Women's Resource Centre [WRC], in partnership with SCARS and the Centre Against Abuse [CAA] launches a new community support group for women – SASS – Sexual Assault Survivors Support Group.
"The support group is the brainchild of Ms. Christine Jones, a survivor of sexual assault and advocate for sexual assault awareness."
Ms. Jones shares: "As a survivor of sexual assault, I have searched for over 20 years for support and healing. Recently, I became passionate about creating a space for survivors like myself to come together and support one another."
"Survivors of sexual assault face unique and often isolating experiences. Despite the best intentions of those around us, it can be difficult for others to truly understand the depth of emotions and challenges that come with this trauma."
"I decided to reach out to these charities because they each offer specific resources that are beneficial to survivors. We hope that together we can create a space that will serve as a beacon of hope for those who may feel overwhelmed and alone."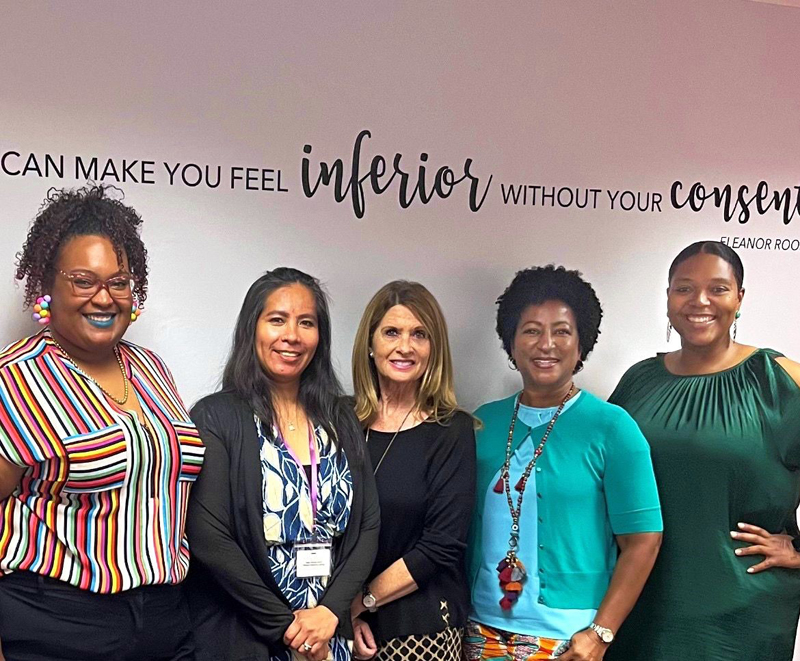 The spokesperson said, "The support group, which is open to female survivors of sexual assault exclusively, will meet monthly on the third Wednesday of each month – beginning on May 17th – at the Women's Resource Centre Office.
"The group is private and confidential and will follow a peer-support model, with all sessions being led by survivors themselves. Attendees will also have access to therapeutic services provided by the Women's Resource Centre and the Centre Against Abuse."
Juanae Crockwell, Executive Director for the Women's Resource Centre, explains how this new service aligns with the mission of the WRC and its strategic goals: "Our mission is always to enhance the lives of women in Bermuda and support groups like this are another service that will equip and empower women to live their best and healthiest lives. As we pivot to support women in transition, it is essential that we create safe spaces, building community and providing access to resources."
"Peer led support groups are proven to be beneficial by giving members the opportunity to express their feelings in a safe space, receive helpful information, and also help others through their experience."
"Specifically, for survivors of sexual assault, the Women's Resource Centre understands there are unique challenges they face, and we are committed to supporting them as they navigate the effects of their trauma, rebuild themselves and their lives and thrive through healing and growth."
"We are deeply proud of and grateful for Ms. Jones and her courage to share her personal story and fill a much-needed gap in our community. We hope SASS will be a space for women to gain a sense of empowerment, belonging, and hope."
The spokesperson said, "Each partner charity contributes something different to the community and likewise will bring that aspect to the support group.
"The Women's Resource Centre will provide group members with access to therapeutic counselling and other resources for support, the Centre Against Abuse will assist with one-on-one counselling support, crisis care advocacy, and court advocacy and SCARS will provide an essential education and prevention component."
Laurie Shiell, Executive Director of Centre Against Abuse [CAA] shares: "We were delighted to be contacted by Ms Jones, to assist her with her idea for this support group for adult female sexual assault survivors. This falls directly in line with our goals for this year of providing more training and establishing support groups for survivors."
"Studies show that when a support group is led by a survivor, they are more effective. As a survivor, we welcomed Ms Jones' vision for this support group and we were excited about the opportunity to work closely with her, WRC, and SCARS on this group to provide the expertise that the group will require."
"CAA's mandate is to offer support services for adult survivors of domestic abuse and sexual assault. Support groups represent one of the many pathways for survivors to gain structured social support after experiencing sexual abuse. CAA recognises that each sexual assault survivor has their own journey that they are working through, and it is our hope that this support group will provide sexual assault survivors with healthy coping skills that will assist with diminishing their trauma."
Mrs Shiell ended by stating, "We must understand that sexual assault is never the survivor's fault, and that this crime leaves survivors with an array of trauma impacts. It is through this lens that we as a community will be fully able to support survivors and hold perpetrators accountable."
Debi Ray Rivers, founder and Executive Director of SCARS states, "As a survivor and thriver of childhood sexual abuse myself, it was natural for me to say a quick "yes" when invited to be a part of this support group. Support is one of the empowerment skills we teach in prevention, and I look forward to partnering with a strong and passionate group of women who are dedicated to helping and supporting other women with their journey of healing from sexual assault.
Survivors interested in more information can call the Women's Resource Centre on 295-3882 or email sassbermuda@gmail.com.
Read More About