In recognition of Earth Week, Keep Bermuda Beautiful [KBB] will be hosting The Great Big Bermuda Clean-Up [GBBCU] sponsored by BF&M.
A spokesperson said, "The first quarter of 2023 is off to a phenomenal start for Keep Bermuda Beautiful [KBB]. Since January, the charity has coordinated 54 clean-ups with 734 volunteers and removed over 45,000 pounds of litter and bulk waste from one end of the island to the other. KBB extends a huge thank you to the community for supporting its mission to reduce waste, eliminate litter and beautify the island through action and education.
"Looking ahead to April, and in recognition of Earth Week, KBB is hosting The Great Big Bermuda Clean-Up [GBBCU] sponsored by BF&M. This is an annual 'spring clean' of the island and will include 23 clean-ups during Earth Week 2023 running from April 17th to 23rd."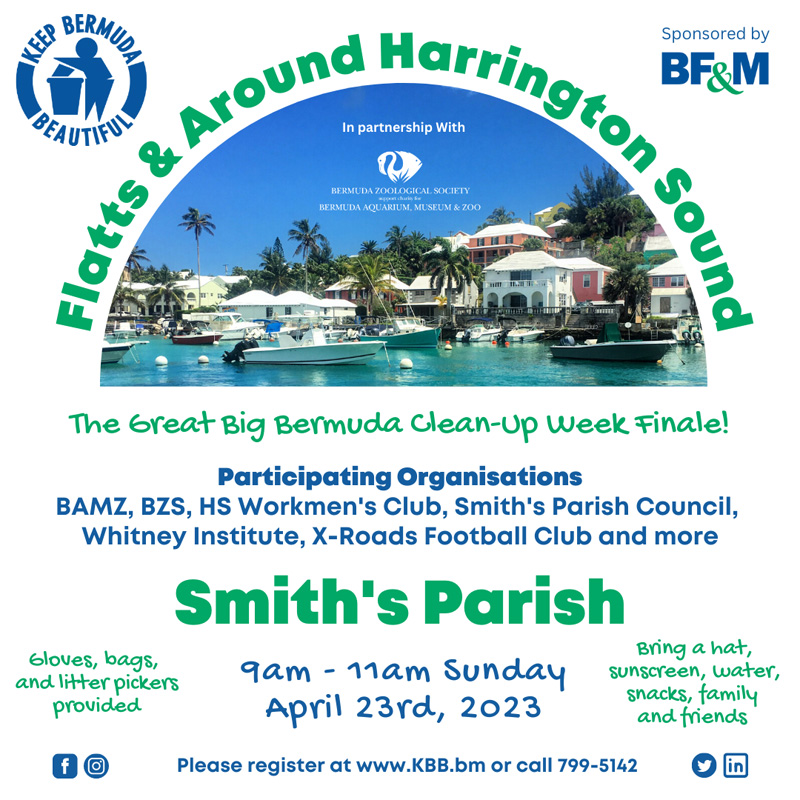 Stephanie Hanson, EVP, Group COO of BF&M Limited, shared "At BF&M, sustainability is an integral part of our ESG strategy. As a local insurance company with a heritage dating back to 1903, we recognise the importance of preserving our environment for future generations. We are proud to partner with KBB as the title sponsor for the Great Big Bermuda Clean-Up. Working together, we can make a positive impact on our island home, helping to keep Bermuda beautiful and a healthy place to live. We look forward to being part of this important initiative and doing our part to create a more sustainable future."
The spokesperson said, "BF&M will kick off the Earth Week activities with a clean-up in Pembroke on Monday, April 17th and the GBBCU will conclude on Sunday morning, April 23rd, with a major clean of Smith's Parish through Flatts Inlet and around Harrington Sound. The clean-up is being coordinated in partnership with Wilmot's Trucking and several community organisations who call Smith's Parish home, including the Bermuda Aquarium, Museum & Zoo, Bermuda Zoological Society, Whitney Institute Middle School, X-Roads Youth Football Club, Harrington Sound Workmen's Club, Smith's Parish Council and area MPs.
"The charity anticipates at least 200 volunteers will participate in the Smith's Parish community clean-up, which is expected to be one of KBB's largest events this year. In addition, 23 corporate groups, schools and community organisations will complete individual clean-ups across Bermuda as part of the GBBCU."
KBB's Executive Director, Traci Burgess, said "Bermuda has a chronic problem with littering, illegal dumping and ocean pollution. It is unsightly, unsanitary and causes damage to human health and to the environment. The GBBCU is a fitting example of community action that helps combat the problem and supports KBB leading the way to a cleaner, greener, healthier and more beautiful Bermuda.
Ms. Burgess continued by saying "KBB is grateful for BF&M's commitments to the environment and to the community, and we thank the BF&M team for their generous sponsorship of the 2023 Great Big Bermuda Clean-Up. We appreciate BF&M's corporate values and sustainability goals, especially those that support KBB's mission to reduce waste, eliminate litter and beautify the island through action and education."
She also added "KBB thanks everyone who cares for the environment and makes a difference by keeping Bermuda clean and beautiful. KBB's impact is amplified by the support of our corporate partners, volunteers, government collaborations and community partnerships. We look forward to continuing to work together across all sectors of the community as we expand KBB's reach and strive towards our litter prevention and improved waste management goals for the entire island."
The spokesperson said, "Visit www.kbb.bm for more information on the 2023 Great Big Bermuda Clean-Up and to volunteer for the April 23rd community clean-up in Smith's Parish. For additional details, follow KBB's social media channels and subscribe to the charity's newsletter on its website."

Read More About
Category: All, Environment, News