Keep Bermuda Beautiful and LookBermuda are partnering to create an educational film that will "raise awareness about plastic pollution," with Axis Capital acting as the lead sponsor for the three-year project.
A spokesperson said, "Keep Bermuda Beautiful and LookBermuda announced plans to create an educational film that will raise awareness about plastic pollution. The documentary will focus on marine debris washing ashore on a Nonsuch Island beach that faces the open ocean.
"Students will conduct scientific research and help tell the story about the growing problem of plastic trash escaping into the ocean alongside trash being generated by maritime industries. This is a crisis that future generations will need to solve, but there are steps that everyone can take now to begin alleviating the problem which this project will highlight."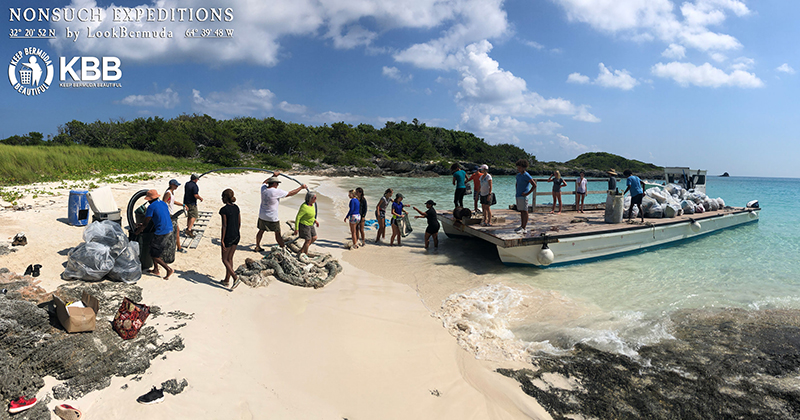 KBB executive director Anne Hyde said, "We are delighted to welcome AXIS Capital as the lead sponsor for this three-year project. AXIS has a long history of supporting educational, environmental and social initiatives in our community.
"KBB had already chosen to partner with LookBermuda to create the documentary and we were looking for a corporate group interested in lending financial support as well as opportunities for employee participation.
"As it turned out, AXIS employees had planned for their annual Community Service Day to do a beach cleanup with KBB. It was through this hands-on activity of cleaning up another South Shore beach, discussing the array of items we found and identifying how far they must have floated to get to Bermuda, that sparked their interest and forged into a partnership for this project."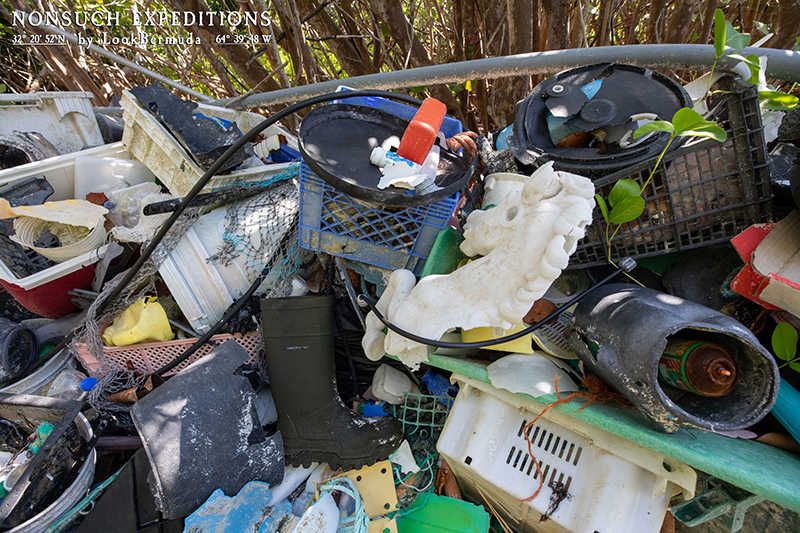 Tiffany Sousa, AXIS Senior HR Business Partner and the company's Bermuda Philanthropy Committee Lead, said, "At AXIS, we are committed to supporting initiatives that, through both awareness and action, tackle pressing needs facing our communities.
"We are proud to support Keep Bermuda Beautiful which is doing just this through its student-led educational film and ongoing cleanup activities."
"Well-known local film company LookBermuda will document the activities of the students as they catalog and discuss what they've found, tallied, measured, weighed and recorded any indicators of the source.
Filmmaker and CEO of LookBermuda Jean-Pierre Rouja said, "As part of our ongoing Nonsuch Expeditions project with the Department of Environmental & Natural Resources [DENR], we have been setting aside the ocean trash that washes ashore on the small beach on Nonsuch Island, which historically had been removed and disposed of regularly by the chief Terrestrial Conservation Officer and his team.
"Nonsuch Island, Bermuda's most successful nature reserve, is closed to the public, and no one is allowed to go there without permission, which presents a very unique opportunity, as virtually all of Bermuda's other beaches get cleaned regularly by the Parks Department, KBB, and other volunteers and concerned citizens.
"But in this case, as we are the only ones collecting it, we have a much clearer picture of the magnitude and variety of trash floating in the open ocean and can track what washes ashore without human interference.
"The result was a 3-ton collection over an 18 month period which has now been moved to storage. We are waiting for the Covid-19 situation to improve and allow for student-led analysis of the materials and subsequent cleanups."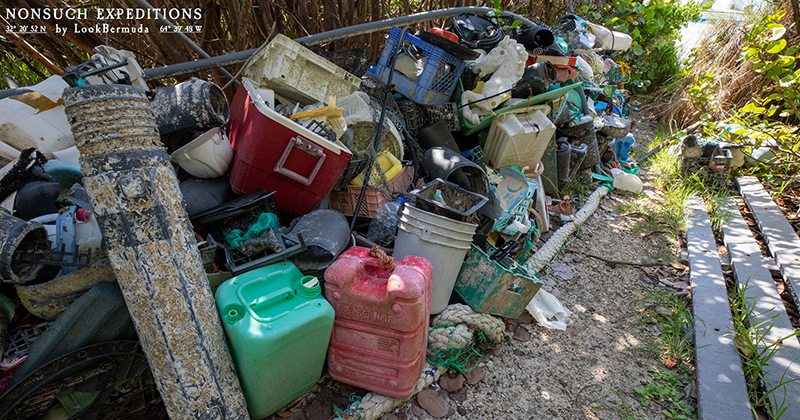 The spokesperson said, "The project will produce a documentary that will weave imagery and student-led action into a compelling tale of how big the problem of plastics and trash escaping into our oceans really is.
"It will shine a light on the dire impact of mankind's throw-away culture and daily disposal of massive amounts of packaging and containers as an unsustainable problem for our planet. In the lead up to the documentary, a series of web videos and blog updates will help convey the key messages that need to be heard multiple times.
"The overall project and final documentary will carry a message of hope and what steps can be taken to curtail the crisis of plastic pollution.

"Bermuda students at the senior school or Bermuda College levels are welcome to participate in the project. Registration and scheduling should be coordinated through interested teachers on behalf of a specific class or group of interested students by contacting Keep Bermuda Beautiful through their website or email anne@kbb.bm.
"To learn more and follow the project, visit the website."

Read More About
Category: All, Environment, News