Bermuda-headquartered Bacardí Rum announces the U.S. launch of its latest flavored rum expression, Mango Chile, which "captures the sweet and spicy flavors of the Mexican fruit snack in every bottle."
A spokesperson said, "After an incredibly successful launch in Mexico, the world's most awarded rum brand will bring Mango Chile stateside for the very first time, arriving in U.S. liquor stores nationwide.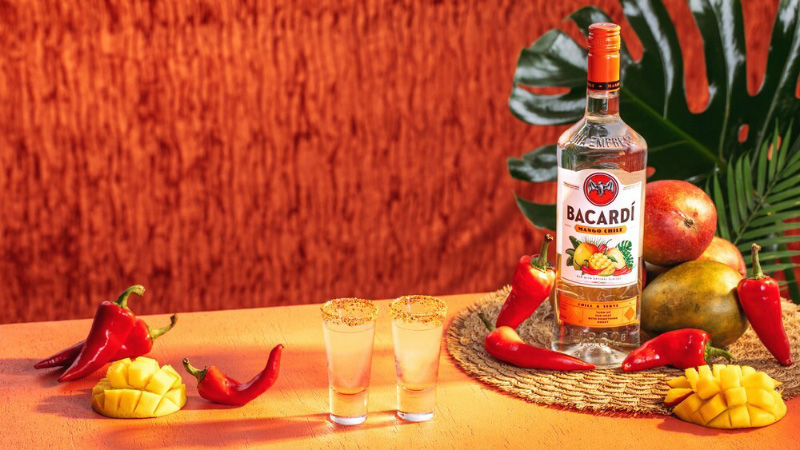 "With a blend of mouth-watering natural mango extracts, fiery chili spice, and smooth Bacardí white rum, Mango Chile is best enjoyed as a chilled pour, served in a 1.5oz shot glass and–just like the mango treat it is inspired by–garnished with a Tajín Clásico Seasoning rim to achieve the perfect balance of sweet, mildly spicy and tangy chili lime taste. For those looking for a cocktail serve, Mango Chile is an ideal spicy yet sweet alternative for Bacardí Superior in classics like the Mojito and Daiquiri."
"We're so thrilled to bring Mango Chile to the U.S., especially after its knockout launch year in Mexico, which led Bacardí to become the top selling flavored spirits portfolio in the country," said Maria Galis, Bacardí's Global Innovations Director.
"As a leader in the rum category, we're always looking to push the boundaries of what our rum can do. The sweet and spicy mixture of Mango Chile is the perfect flavor expression for summer, especially as an easy-to-drink chilled shot. It's smooth, crisp and tastes like it came straight from your local fruit cart."
Read More About