Bermuda High School [BHS] recently held their sixth annual Graduation Walk to celebrate the graduating class of 2023.
A spokesperson said, "The tradition was introduced in 2016 as an opportunity for the younger students to share in the celebration and excitement of the day and to remind the graduates how far they have come.
"The graduating class usually parades past the entire Primary department, who cheer and high-five, but due to the inclement weather on Tuesday, Year 4,5 & 6 students gathered under the graduation tent to mark the occasion. It was a fun moment in a busy and special day for the Class of 2023.
"The graduation ceremony took place that evening, and under the marquee, 18 students received their graduation diplomas with family, friends, staff, trustees and invited guests in attendance. BHS was delighted to welcome Hazel Clark, three time Olympian, six-time national champion, world and Olympic finalist and current Director of Global Sales and Business Development at the Bermuda Tourism Authority as the invited guest speaker."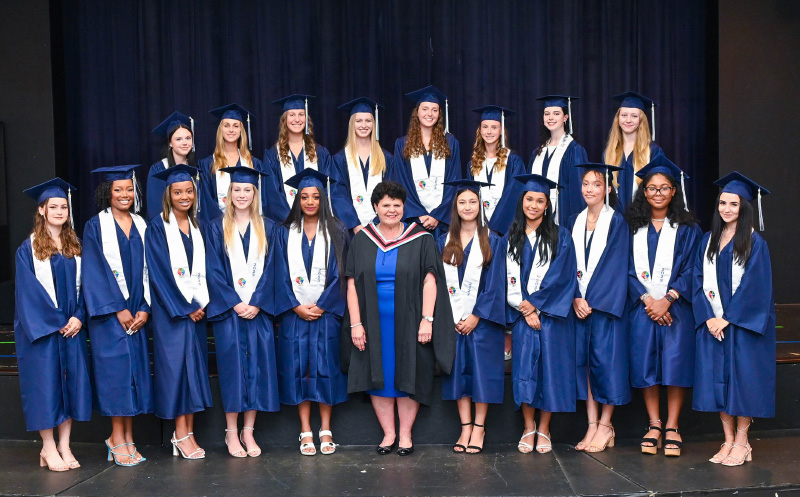 "She shared valuable advice with the graduates as they begin the next phase of their lives. She spoke about her reluctance growing up to get into track as she was terrified of not living up to the expectation of her family [known as the "first family" of track in the US], and how this ultimately meant that she was 'running away from her destiny' because of her fear of measuring up."
She told the graduates, "It's not about measuring up, there is only one you and you need to maximise your potential and be the best version of yourself."
"She shared how after a figure skating accident, her father, famous inner-city educator Joe Clark, said "'I've had enough! You're running track!' After losing her first race, she learned a valuable lesson from her father: 'Talent is not enough without hard work.' Her track career taught her many valuable lessons; both the successes and the failures: 'You've heard my highlight reel, but I got knocked down – there were lots of losses along the way, but you can't avoid that. How you respond is what will differentiate you from being great and from being mediocre and BHS young ladies are not mediocre! A bad moment is only a failure if you don't learn from it.'
The spokesperson said, "This year's cohort of graduates have exciting plans for the future, and they are heading off to universities in Canada, the US, UK and Europe. Some of the disciplines to be studied include Accounting, Actuarial Science, Architecture, Biomedical Sciences, Business, Criminology and Criminal Justice, Economics, Environmental Science, Fine Art, Geographic Sciences, Health Sciences, International Relations, Law, Mathematics, Philosophy, Physics with Astrophysics, Politics and Sports Management.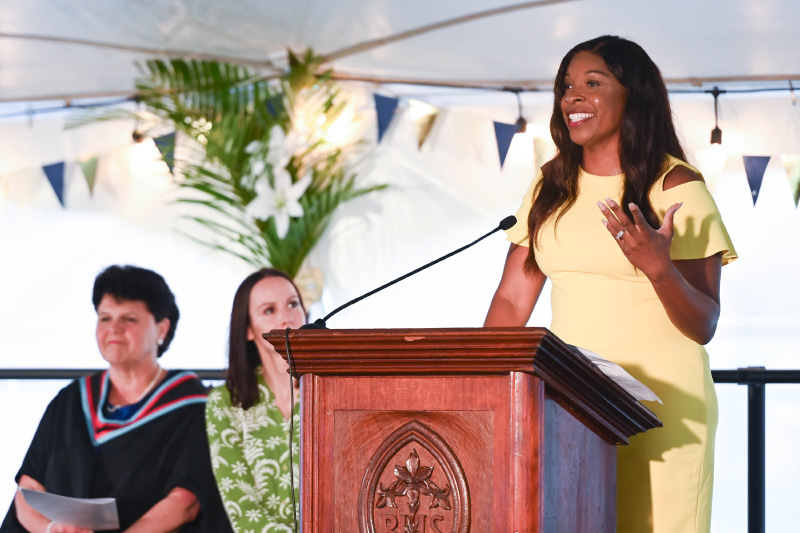 "In the US, students will attend the University of Vermont, James Madison University and Delaware State University.
"In the UK, students will attend the Universities of Durham, Exeter, Leeds, Reading, Southampton, Sheffield, Surrey and University College London.
"In Canada, students will attend the University of Toronto, McGill, Western Ontario, Dalhouise, and one student will attend the Forward College by the London School of Economics and the University of London in Lisbon, Paris and Berlin.
"Head of School, Linda Parker, in her last graduation address before her retirement, congratulated each and every student for their hard work and dedication to reaching their goals. She wished them every success on this new chapter in their lives, telling them, 'You have consistently been tenacious, lively, caring, kind-spirited, charitable and socially-conscious young people. Set the world on fire with your ambition and drive! You are the leaders who will make changes, both large and small, in our society. Whether that change is on our island or in the world…today is the start of a new life for all of you. As my last group of BHS graduates, you will always remain close to my heart.'

Read More About
Category: All