YouthVision Promotions is inviting the public to the Youth You-Nite For Peace Walk on Saturday, June 10.
Desmond Crockwell said, "On behalf of YouthVision Promotions, I would like to invite the public to the Youth You-Nite for Peace Walk, which will take place on Saturday, June 10 throughout the Somerset community.
"We are walking from Woody's to Somerset CC. We will be leaving Woody's at 7.30pm sharp. We had a similar walk involving the youth in Somerset a couple of years ago and it was exciting, emphatic and historical.
"We would love to see Bermuda come out and support the youth in promoting peace, unity, and love. The Gombeys will lead us during the walk, so we would love to have everyone join in..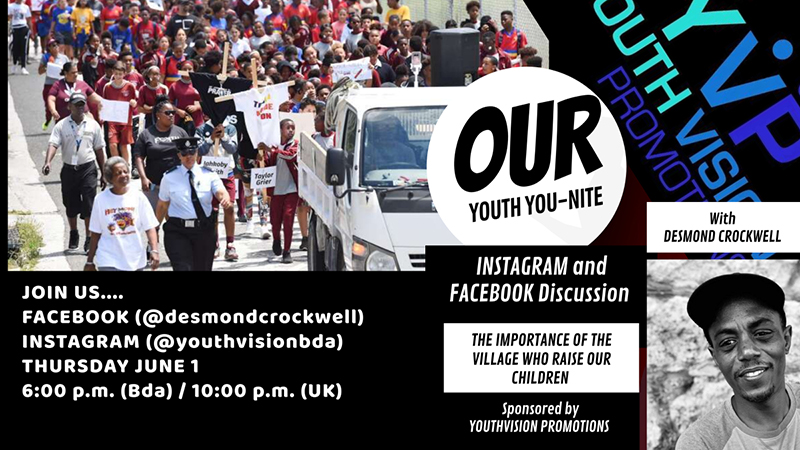 "The Gombeys connect communities and that is our mandate. We have been committed to giving community members a platform to share their ideas, concerns, advice and experiences. We will be seeking financial support through the Ministry of National Security, as they have recently made a renewed commitment through increased funding in their budget to supporting anti-violence campaigns.
"If anyone would like to support the campaigns please contact us via email at youthvisionsports@yahoo.com or call 331-2988.
"If we can get a sponsor, we would love to give away free snowballs to the young participants of this upcoming walk.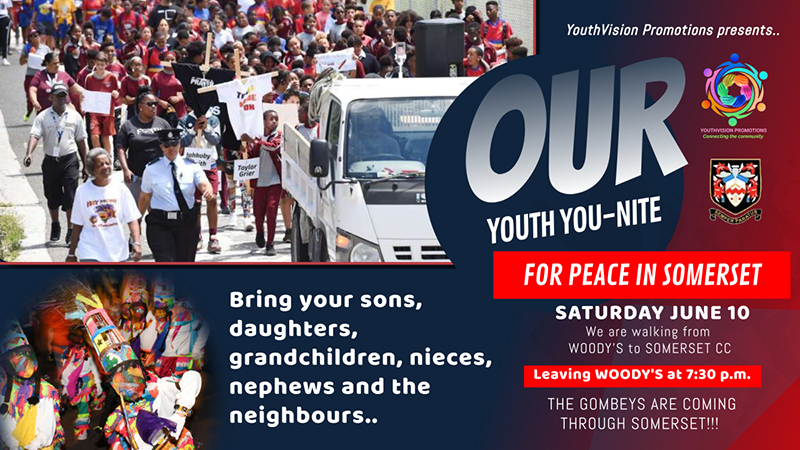 "We believe we have earned the respect of falling into the category of anti-violence campaigners, which includes the public demonstrations, social media broadcasts, publications, and more.
"We hope to get a response from them soon, so we can host more community connecting campaigns and events. Last year, we held similar Gombey gatherings in Hamilton Parish and St. George's and saw the communities connecting, which included everyone from the streets to the church holding hands and spreading the message of unity and peace.
"Last year we had a walk on June 11 for Mr. Daemon Bell, who lost his life to a senseless act. This year, we are at it again. We look forward to everyone coming out and enjoying themselves to the fullest.
"Join us this Thursday, June 1 as we discuss the importance of the village who raise our children."
Read More About
Category: All