CariGenetics is inviting members of the community to a public lecture on Saturday, May 20 at the Bermuda College.
A spokesperson said, "CariGenetics is inviting members of the community to a public lecture with a twist! On Saturday, 20 May 2023, we will be hosting our first relay public lecture, where each set of presenters speak for 15 minutes, offering the audience insight into the Bermuda Cahow Genetic Project. The lecture begins at 2pm.
"Leading off the lecture is Jason Howard, Scientist at MiRXES and a former program co-ordinator for Bird 10K Project and Vertebrate Genome Project at Duke & Rockefeller University. Jason will be providing the global context to petrel genetic work.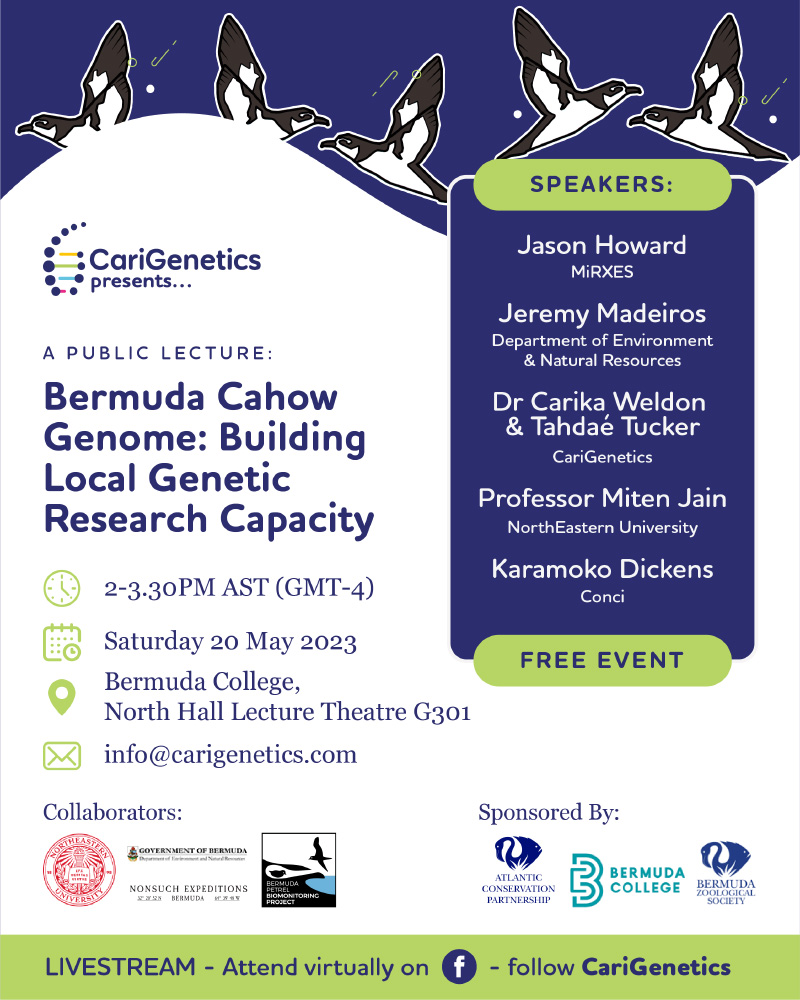 "Next will be the Department of Environment and Natural Resources' Jeremy Madeiros, who will be discussing the local context to cahow conservation work on the island and the collection of the samples for the Cahow Genetic Project.
"The third leg of the lecture will feature Dr Carika Weldon and Tahdaé Tucker of CariGenetics; they will be discussing the birth of the Cahow Genetic Project and data generation steps.
"Professor Miten Jain of NorthEastern University and Karamoko Dickens of Conci will be rounding out the discussion as they talk about the data analysis steps that led to genome assembly and how local capacity for bioinformatics has been established.
"This lecture is free to the public and will take place at the Bermuda College in North Hall Lecture Theatre G301.
"To follow cahow facts and insights leading up to the relay lecture, follow CariGenetics on all social media platforms."
Read More About
Category: All, Environment, News, technology