Lamont Marshall is the official winner, the organisers apologize for any "misunderstanding or lack of communication regarding eligibility," Dennis Mblenzi was well aware of the rules in advance, there are ways something like this can be handled moving forward and people are welcome to submit ideas, and overall the race saw thousands of spectators come out to support over 1000 participants and the organisers thanked everyone who supported the race.
This was from the Bermuda Day Half Marathon committee in response to questions following Friday's race, which saw Gayle Lindsay claim her first ever Bermuda Day title, while Lamont Marshall earned his 4th official victory, following after his wins in 2016, 2018 and 2019.
When asked to confirm who the official men's winner is, as in who will be recorded as the winner for history's sake, Dr Gina Tucker explained that, "The winner can only be a person who is eligible to win the prize and placement per the long standing policy/rule communicated on the Derby website [bermudamarathon.bm].
"As shared during the Prize Presentation held at the Finish Line Zone on Friday 26th May, Lamont Marshall has been declared the winner of the 2023 Half Marathon Derby and will be recorded as such in the history books."
The official website states, "Entrants must be Bermudian or Resident in Bermuda six [6] months prior to race day to be eligible for prizes or placement."
The official 2023 Bermuda Day winners: Gayle Lindsay & Lamont Marshall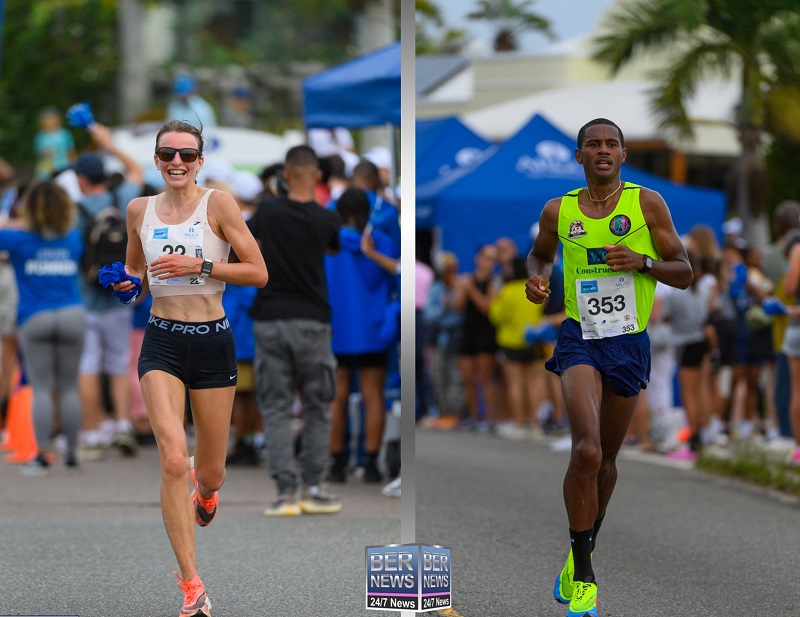 There was some negative commentary online and Bernews asked if the race committee has any plans to adjust the rules moving forward to prevent a similar occurrence or will the rules remain the same.
In response, Dr Tucker explained, "Complaints are the engine of change and have helped to move this race forward over the last 30+ years. As we continue to evolve, we will look to determine how we go from strength to strength without losing the essence of this race and what it stands for.
"We appreciate the persons who have given recommendations as to how we can grow in regards to this matter in particular and invite others to do the same.
"I take this opportunity to apologize on behalf of the organizers for any misunderstanding or lack of communication regarding eligibility, etc. It is indeed Bermuda's race and we welcome the voice and input of the Bermudian public.
When asked if the organisers have any additional comment that may be helpful for the public to know, Dr Tucker said, "The eligibility rules for this race are not unique to Bermuda [see the rules for the well known Gasparilla Distance Classic Race for the Tampa Bay Area running community].
"What is unique with this race is that it is held on our national holiday. While we welcome visitors, unlike International Race Weekend, the Bermuda Half Marathon is what we would call a local community race. Mr. Mblenzi was well aware of the rules and chose to run nonetheless. He was cheered on by our awesome spectators and I'm sure he appreciated that.
"The committee certainly applauds him for his performance. As he clearly indicates on his FB page, there is no controversy and he is simply 'causing good trouble' on our Bermuda Day.
"As Chair of the Derby Committee which worked tirelessly over the last several months, I am mindful of what was accomplished: over 200 volunteers and thousands of spectators weathered the weather to support over 1000 participants of the 2023 Derby, and I thank the committee and all who supported in the organization of the race.
A quick look at Gayle Lindsay & Lamont Marshall crossing the finish line:
Dr Tucker added, "We encourage the Bermuda public to think about the many awesome things that were accomplished this year and to see this scenario not as a negative but as an opportunity.
"There are many ways this occurrence [a first in several decades and certainly during my tenure as President] can be handled moving forward. Again, we look forward to and appreciate any suggestions/recommendations from our Bermuda public. Recommendations can be emailed to info@bermudamarathon.bm."

For extensive coverage of Bermuda Day spanning over a decade, visit our website BDADay.com, the island's most comprehensive resource on the Bermuda Day holiday.

Read More About