[Written by Stephen Wright]
Kallan Richardson is known for excelling in the classroom, graduating from Berkeley Institute and Bermuda College as a dual enrollment student aged 16 last year before earning an ABIR/Arch scholarship to attend St John's University in Queens, New York.
Richardson has also demonstrated his athletic prowess, finishing sixth in the Bermuda Half-Marathon Derby in 1hr 20min 33sec, winning the 16-19 age group.
It was a marked improvement on his debut appearance in 2022 when he came 104th in 1:45:35.
Richardson, who graduated from Bermuda College with an associate's degree in actuarial science, is pursuing a Bachelor of Science in the same discipline at St John's University on a scholarship.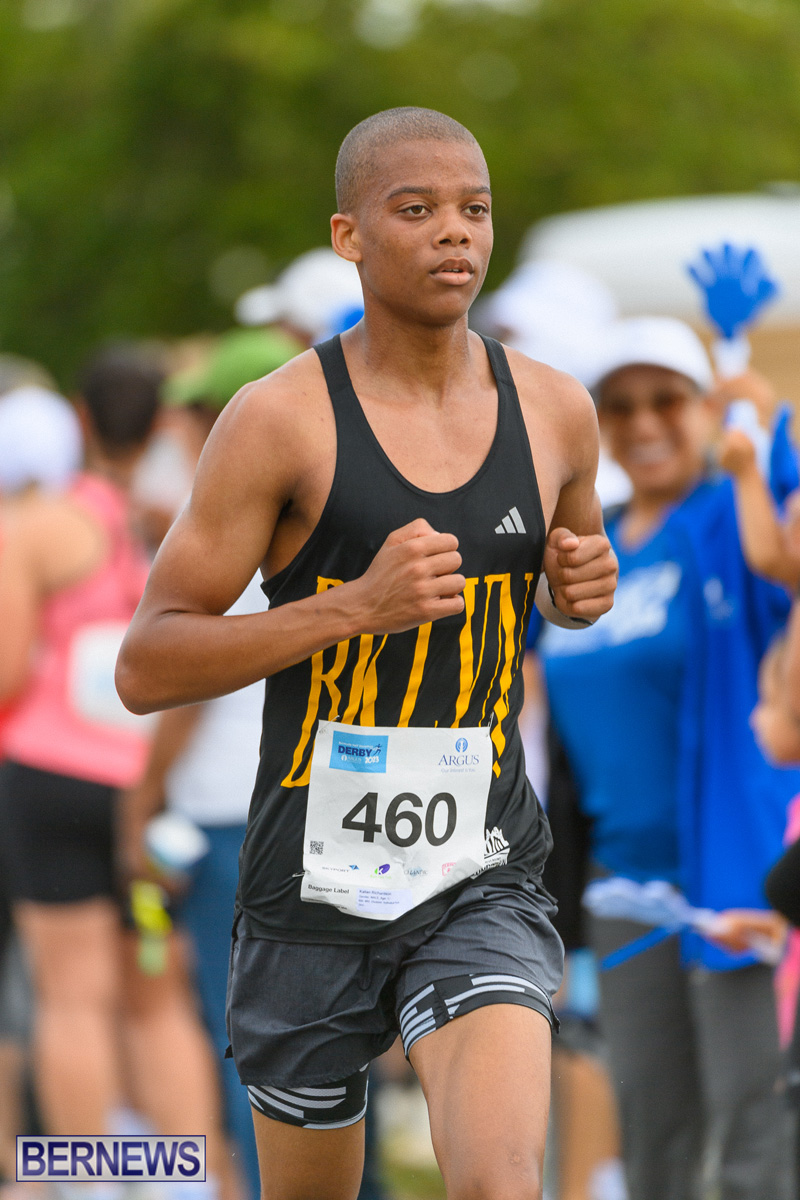 The reinsurance company, Arch Re, where Richardson works as an intern, is helping fund his time at St John's University.
Away from studying, the 17-year-old is a gifted athlete.
He said the lure of experiencing the Bermuda Day race helped rekindle his passion for running after falling out of love with the sport in his early teens.
"The Bermuda Day race was a big reason for getting me back into running two years ago," Richardson told Bernews. "I watched it on TV and thought, 'I really want to run that race'.
"I knew a top-ten finish was possible [this year]. I wasn't expecting to be as high as sixth, though; I was surprised.
"Last year, I went out too fast and blew up around Burnt House Hill. I was focused on my pacing and ensuring it didn't happen again."
Richardson warmed up for the race by competing in the Nycruns Brooklyn Half-Marathon on April 23, finishing thirteenth in 1:17.
It was his first long-distance outing since representing Bermuda for the first time at the 50th Carifta Games in the Bahamas [April 7-9], placing tenth in the 1,500 metres in 4:20.
"It was a wonderful experience to gain international exposure and see where I was [compared to other runners in the region]," he said.
"The 1,500 isn't my specialty, but I performed pretty well. I hope to qualify for the 5,000 next time [in Grenada] – I prefer the longer distances."
The Bermudian, who spent the winter recovering from shin splints [pain along the shin bone], also impressed during the Chubb Bermuda Triangle Challenge in January,
"I was really pleased with how the Triangle Challenge went," he said. "I didn't push as hard in the Front Street Mile or 10K, as the half-marathon was my main focus.
"I ran a 1:23 in the half-marathon – I wasn't expecting to run that fast."
Richardson, who said local coaches Larry Marshall and Steve Burgess played a part in developing him as a runner, added: "I want to see how far I can take it. Training has been going well, and I've progressed very quickly."
Dr. Gina Tucker, the President of the Bermuda Day race committee and an educator, said, "What Kallan accomplished in the 2023 Derby is nothing short of phenomenal and should be an inspiration to all young people across the island. In order to conquer this course in the way he did and at such a young age, Kallan had to combine his mental strength with his physical strength and his raw determination.
"On behalf of the Derby Committee, I again congratulate Kallan and wish him continued success in both his running and academic studies. We look forward to seeing him on the Derby Start Line in 2024."

Read More About