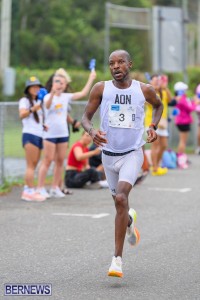 [Written by Stephen Wright]
Dennis Mbelenzi insists there is "no controversy" surrounding his recent participation in the Bermuda Half-Marathon Derby and hopes he did not cause any pain or upset by crossing the finish line first.
Mbelenzi, who lived on the island from 2007 to 2019, was the first runner home on Friday [May 26], finishing in 1hr 12min 41sec, but was not eligible to be classed as the winner as he is a non-resident.
Only Bermudians or residents on the island six months before race day are eligible for prizes or placement.
Lamont Marshall, who finished in 1:14:23, was crowned the champion to claim his fourth title [2016, 2018 and 2019] in the iconic annual race.
"There's no controversy, none whatsoever," Mbelenzi told Bernews. "I was fully aware of the rules before I registered.
"It was the same last year [when he finished second behind Chris Estwanik]."
The Kenyan, who lives in Nova Scotia, Canada, said he fulfilled his dream of crossing the line first and relished the challenge of competing against Marshall and runner-up Sean Trott.
"I always look forward to racing against these guys," Mbelenzi said. "Some of them are my friends. We raced together many times when I lived here.
"I admire and respect Lamont; he has achieved a lot. I always like to test myself against him.
"The support when I was leading down Front Street was incredible. I felt every bit like one of them. I felt welcomed, loved, and people cheered my name."
The 41-year-old said he is aware of some angry comments on social media, saying he should not have been allowed to race but believes the negativity largely stems from people misunderstanding the eligibility rules.
"Some people seem to think I sneaked into the race and not vetted properly," he said. "They think I did a dishonourable thing, disrespected the island, and took attention away from Lamont.
"This could have been easily prevented if there had been more awareness of my status as a non-resident. Other non-Bermudians and non-residents participated, but you haven't heard about them because they weren't at the front [of the race]."
Mbelenzi has not always been the svelte-like figure he is today. In 2013 he weighed 220lb and knew he had to make drastic lifestyle changes.
Three years after shedding the pounds, he entered his first competitive race, the Ovarian Cancer Zurich 5K at Clearwater. Mbelenzi became a popular figure within the local running community and still calls Bermuda his "running home".
He hopes the fallout from his participation this year will be minimal but would like to see one change to the eligibility rules.
"I fully understand the cultural importance of the race to local people, but I'd hate to see a rule change preventing non-residents from competing," he added.
"The criteria could possibly be broadened, for example, to somebody who has lived on the island for five in the last ten years, or a legend of the race, someone who has competed regularly and is committed to Bermuda."
When asked whether he will compete next year, Mbelenzi said: "I'll think about my participation based on any rule changes made. I'll not enter if my participation causes people more pain than joy. However, if people think my participation helps improve the race, I will return."

For extensive coverage of Bermuda Day spanning over a decade, visit our website BDADay.com, the island's most comprehensive resource on the Bermuda Day holiday.

Read More About