Bermudian Taj Donville-Outerbridge won two awards at the 2023 Queer Student Awards in the UK, with the head judge saying that "Taj is evidently a true LGBTQ+ role model and trailblazer whose dedication to LGBTQ+ activism has led to a significant number of achievements."
A spokesperson said, "Judged by a panel of educators, employers, queer influencers, and recruitment experts the 2023 Queer Student Awards [QSA], held each year during Pride month, provide a safe and inclusive space for schools, colleges, universities, employers, and young LGBTQ+ people to proudly celebrate the stories that lie behind the rainbow.
"Thirteen category winners – including 'Queer of the Year' Taj Donville-Outerbridge from King's College London – were announced during a hybrid event held at Victoria Warehouse in Manchester on Wednesday 14th June. They had been jointly awarded 'Role Model of the Year: LGBTQ+ Youth' earlier in the evening."
Taj Donville-Outerbridge, said, "I am extremely honoured and humbled to have been awarded both the Role Model of the Year: LGBTQ+ Youth and Queer of the Year awards. This is a huge win, not only for me, but for every Black, queer, and nonbinary person because despite what society tells us, I represent that it is possible to thrive unapologetically as our true selves.
"With all of the hate, homophobic rhetoric, and horrific anti-LGBTQ+ legislation currently making its way around the globe, me and all my fellow winners, finalists, and nominees act as a reminder that it is still possible to showcase, celebrate, and experience queer joy. I want to thank my grandma for always loving me unconditionally.
"I want to thank my closest friends [you know who you are] for always encouraging me. I want to thank KCLSU, and especially, Louiza, for always supporting my work and nominating me for these awards. And lastly, I want to thank Steve and the QSA judges and family for creating the opportunity for queer students around the UK to be recognised and celebrated for the often tireless and thankless work that we do everyday. Thank you, thank you, thank you."
Youth panel head judge Arina Stelmokaite said, "Taj is evidently a true LGBTQ+ role model and trailblazer whose dedication to LGBTQ+ activism has led to a significant number of achievements. The LGBTQ+ leadership roles Taj has achieved have positioned them as a true change-maker, and Taj has used these opportunities to increase visibility and empowerment for LGBTQ+ peers.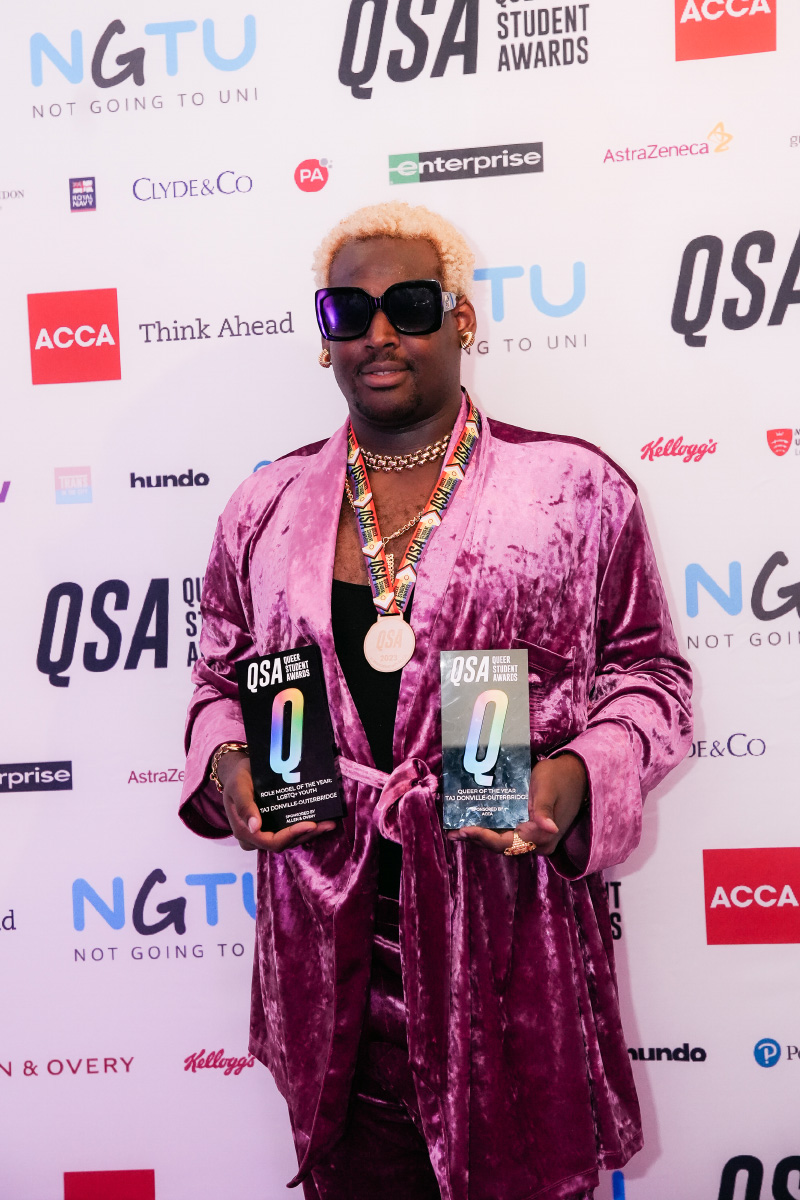 "Taj is an incredible role model for LGBTQ+ youths inspiring them to fight for the things that matter the most. It was clear from their nomination that they are focused on tangible change for queer people that impacts and has international reach. They have an acute awareness of the importance of intersectionality in the LGBTQ+ community."
Taj Donville-Outerbridge said, "I was honoured to be crowned the 2023 Queer of the Year by the UK's National Queer Student Awards. I am the first Black student to win this top award. On the same night I was also awarded Role Model of the Year: LGBTQ+ Youth award and recognized as a finalist in the Legacy Builder of the Year category.
"I was nominated for these awards by some of peers at university as well as some of the staff that I work with within my university's student union. Winning these awards are not only a huge honour but they also represent the culmination of an academic year filled with tireless liberation work.
"In April of this year, I was also awarded the 'Outstanding Contribution to the KCL Community' award by my academic department for my work. In February of this year, I was also a finalist for the National Student Pride's Activist of the Year award, but I gladly lost to another student from my university whose work I closely supported.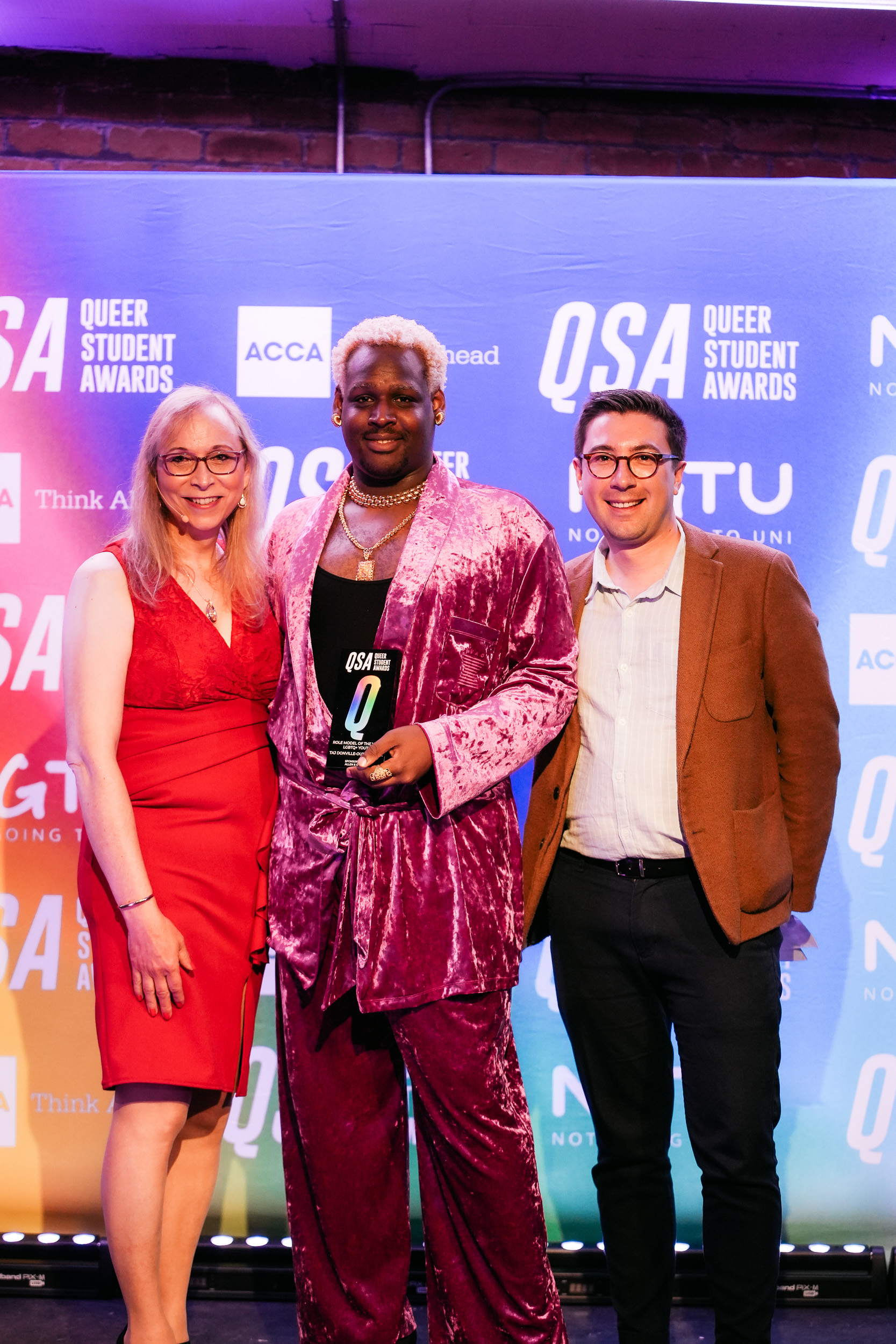 "This past academic year I was elected and served as both the Co-President of the King's College London LGBTQ+ Society and as the King's College London Student Union LGBTQ+ Liberation Network Chair. I was first Black student to serve in both these roles at my university. Simultaneously, I also continued to serve as the first Undergraduate Equality, Diversity, and Inclusion Student Representative for my entire academic department for the second consecutive year.
"Through my role as KCLSU LGBTQ+ Liberation Network Chair, I also had the opportunity to represent my university at the National Union of Students [NUS] Liberation Conference. At this conference I was encouraged by some of peers to put myself forward for a national role on the NUS Liberation Campaigns Committee.
"Well, I did and after a rather lengthy election process, I beat around 10 other candidates from across the UK to serve on the NUS Liberation Campaigns Committee in the LGBT+ student's place. In addition to this role, which I officially begin on July 1st 2023, I was also re-elected as the Co-President of the King's LGBTQ+ Society for the 23/24 academic year and will be putting myself forward for the network chair role once again.
"My work in these roles, briefly summarized below, is what prompted my various nominations/wins and contributed to my success in the aforementioned elections.
"In these roles collectively, I have been able to do many things. Firstly, I was given the opportunity to help organize the SUs efforts, campaigns, and funding for Black History Month, Trans Awareness Week, and LGBTQ+ History Month. During these liberation periods, I was able to oversee many initiatives ranging from the first ever black student leaders social, the expansion of Trans Awareness Week to the Trans Awareness Festival, and the first ever Liberation Ball celebrating ballroom culture and UK's ballroom scene.
"I also worked with the EDI team, E&F, and Proudly Kings to revamp the resources available for locating gender neutral toilets in all KCL buildings. Through these roles, I also sit on various committees across KCL and KCLSU related to EDI, anti-racism, and decolonization.
"While serving in many leadership roles across my university, the initiative that is perhaps the most important to me is creating my bi-weekly teatime social called "Tea Time with Taj". This initiative was created as the flagship event for a society I also founded, the KCL QTIPOC Society, which became the first ratified student group at a London university specifically for QTIPOC students.
"While QTIPOC individuals are undoubtedly the most at-risk group within the LGBTQ+ community and perhaps the most active in many advocacy spaces, their needs and concerns are often ignored. Based on my personal experience, I knew that QTIPOC students often struggle to find a place where we fit in, as both race/ethnic-based societies and LGBTQ+ societies are unequipped with the means to address and understand the intersectionality of our lived experiences.
"TTWT was founded not only on the basis of giving QTIPOC students a dedicated platform for them to be heard and seen but to also ensure we have dedicated safe spaces on campus.
"Thanks to the proven success of this initiative, being able to support over 100 students across 7 sessions, and the clear need for such a program, TTWT we go on as student-led initiative jointly supported by the King's Wellbeing Team and the KCLSU Wellbeing Team. TTWT is my proudest achievement as will continue have meaningful impact on the lives of many QTIPOC students at KCL long after I have graduated."
Read More About