[Written by Stephen Wright]
Sakari Famous, better known as the island's top high jumper, is beginning to make a name for herself as an artist.
Although Famous has displayed artistic flair since childhood, she only started focusing on her secondary passion after picking up an injury as student-athlete a few years ago.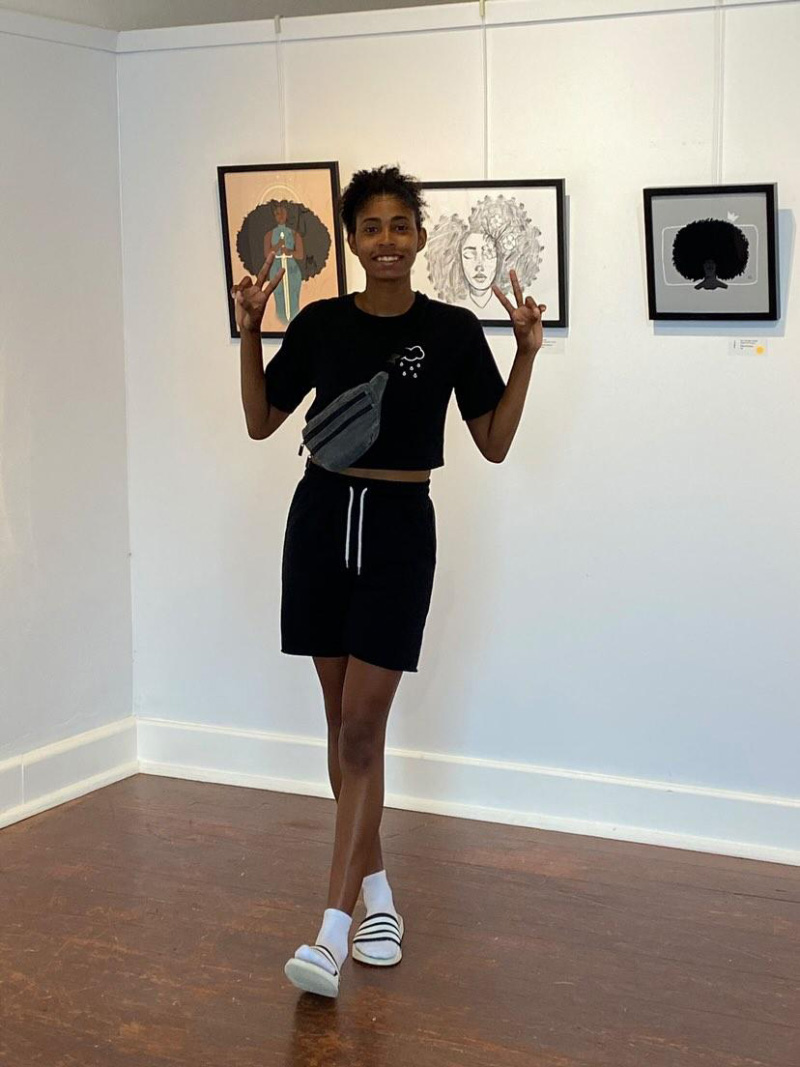 She has since devoted more time to drawing, entering her first exhibition, the Spring Bermuda Society of Arts Members Show at City Hall in March, where she was encouraged by the feedback she received.
"I heard people really enjoyed my art, and that made me realise it was good enough to showcase," Famous told Bernews.
"I have to thank the director of BSOA, Nzingha Ming, for the constant encouragement to continue making art."
Famous, who competed at the Commonwealth Games in Birmingham last summer, tends to focus on traditional and digital art.
"My traditional art is usually with a graphite pencil having a sketch look to it," said Famous, a student at McNeese State University in Lake Charles, Louisiana.
"With my digital artwork, I tend to take sketches, and by using a programme called Procreate, I can add colour or use the different programme brushes to make it look how I want it to.
"My inspiration usually comes from family, friends or ideas I put together from Pinterest. I tend to draw themes within the cyberpunk-dystopian areas."
The 23-year-old also explores representations of Black women in her art and recently showcased four pieces at an exhibition called Unruly: a celebration of the power, beauty and artistry of Black hair, which was the brainchild of Zina Edwards, and hosted at the BSOA.
Famous is not currently competing because of a back injury and was able to attend the exhibition and said she was thrilled to sell all four pieces.
"It seemed like all the pieces received great feedback," she said, "and it was amazing seeing my art in person, as I've been at school overseas the other times.
"At the opening reception, it was really nice seeing everyone enjoying my art, and I even got to see one of my pieces bought in real-time."
Admitting her art is a welcome distraction from the stresses and strains of life as an athlete, Famous plans to continue learning different artistic techniques and honing her style.
"I want to continue on this art journey, creating for people to enjoy my art," she said. "It can be therapeutic having something other than track to focus on.
"Everyone needs an outlet of some sort when times get a bit stressful. I plan to have art products like stickers and prints available because it seems people enjoy my art."
Instagram: @Saf.art.bda

Read More About
Category: All, Entertainment, News, Sports