Chubb Charitable Foundation Bermuda awarded scholarships to Kiara Burcher and Destani Warner.
A spokesperson said, "Chubb Charitable Foundation Bermuda awarded two high-achieving students with the prestigious Robert Clements Scholarship and Bermuda College Education award during a local reception held on August 9, 2023. The awards will provide college financial aid to recipients considering careers in insurance or related disciplines, and graduates of Bermuda College wishing to continue their studies overseas.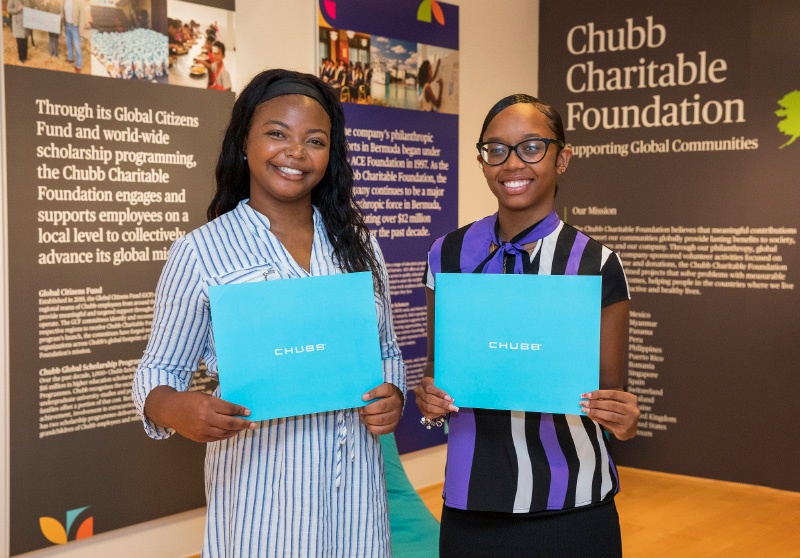 "Students recognized include:
2023 Chubb Charitable Foundation-Bermuda Robert Clements Scholar: 
"Kiara Burcher: Is a graduate of Bermuda High School and currently studying at the University of Western Ontario toward an Honours degree in Mathematics and Computer Science. Kiara's academic successes, technical strengths, and insightful perspective set her apart from the other candidates.
"The Robert Clements Scholarship offers Kiara a fully funded four-year scholarship with an opportunity to join Chubb's Select internship program, which will allow her to learn the fundamentals of underwriting within various Chubb departments. The scholarship is open to Bermudians studying for an undergraduate or graduate degree in insurance, risk management, actuarial science or other disciplines related to the insurance industry including accounting, law, and economics."
"Kiara is joining another family of extraordinary former scholars who, through their accomplishments and diverse undertakings, have left their mark on this industry and on Bermuda," said Lori Dunstan, Chair, Chubb Charitable Foundation – Bermuda.
2023 Chubb Bermuda College Education Award Winner
The spokesperson said, "Destani Warner: Is a graduate of Bermuda College with an Associate of Arts degree in Business Administration. Destani Plans to pursue a Bachelor's degree at Georgia State University with a major in Risk Management and Insurance.
"The Bermuda College Education Award will assist Destani with the continuation of her undergraduate studies. It's part of Chubb's 15-year partnership with Bermuda College, which provides $15,000 a year for two years to successful graduates to assist them with the continuation of their undergraduate studies overseas."
"Destani's drive for excellence helped to differentiate her from a highly competitive and diverse field of candidates. We are excited to provide talented recipients like Destani with support to pursue their dreams and continue their academic excellence," said Samantha Froud, Chief Administration Officer, Chubb Bermuda Operations, and a member of the Bermuda College Education Award selection committee."

Read More About