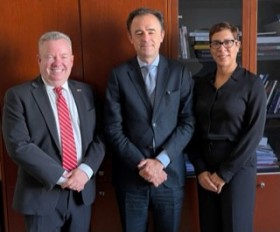 The Association of Bermuda Insurers and Reinsurers [ABIR] Executives, CEO John M. Huff and Director of Policy and Regulation Suzanne Williams-Charles, along with ABIR's European advisors, recently met with European Commissioner Director Martin Merlin in his Brussels' offices at the European Commission.
A spokesperson said, "The meeting was held on the sidelines of ABIR's 16th Annual International Insurance Regulatory Dialogue, now a staple on the international insurance sector calendar and held annually on the eve of Monte Carlo Reinsurance Rendez-Vous.
"Merlin is the Director of Banking and Insurance at the Directorate-General for Financial Stability, Financial Services and Capital Markets Union for the European Commission.
"The discussion included topics related to EU's Solvency II, Bermuda's Solvency II equivalence, Bermuda's effective AML/CTF regime, the economic contribution made by Bermuda's leading international insurers & reinsurers in the protection of EU consumers, particularly against natural catastrophes, along with the proposed Bermuda Monetary Authority [BMA] regulatory enhancements expected to be finalized by year end 2023 and effective in 1Q 2024."
Read More About