[Written by Stephen Wright]
Youngsters can develop their self-defence skills, improve their physical fitness and learn emotional self-regulation at the Changs Youth Muay Thai programme at Fight City Muay Thai and Fitness.
The autumn term starts on Saturday [September 23] and runs until December 6, with sessions for 6 to 8-year-olds, 9 to 12-year-olds and teenagers aged 13 and above.
Nikki Stoudt, the head youth coach, has re-written the curriculum in preparation for the upcoming classes and said the Hamilton-based gym prides itself on its diversity and family atmosphere.
"It's not a lucy-goosey martial arts programme – it's a structured curriculum," Stoudt told Bernews. "It's not a coach just going in there and doing whatever they feel like that day."
Stoudt, who moved to Bermuda in 2014 from the United States, said the programme is centred as much on character development as it is on fighting techniques and believes Muay Thai can be an effective therapy for youngsters dealing with stress and anxiety.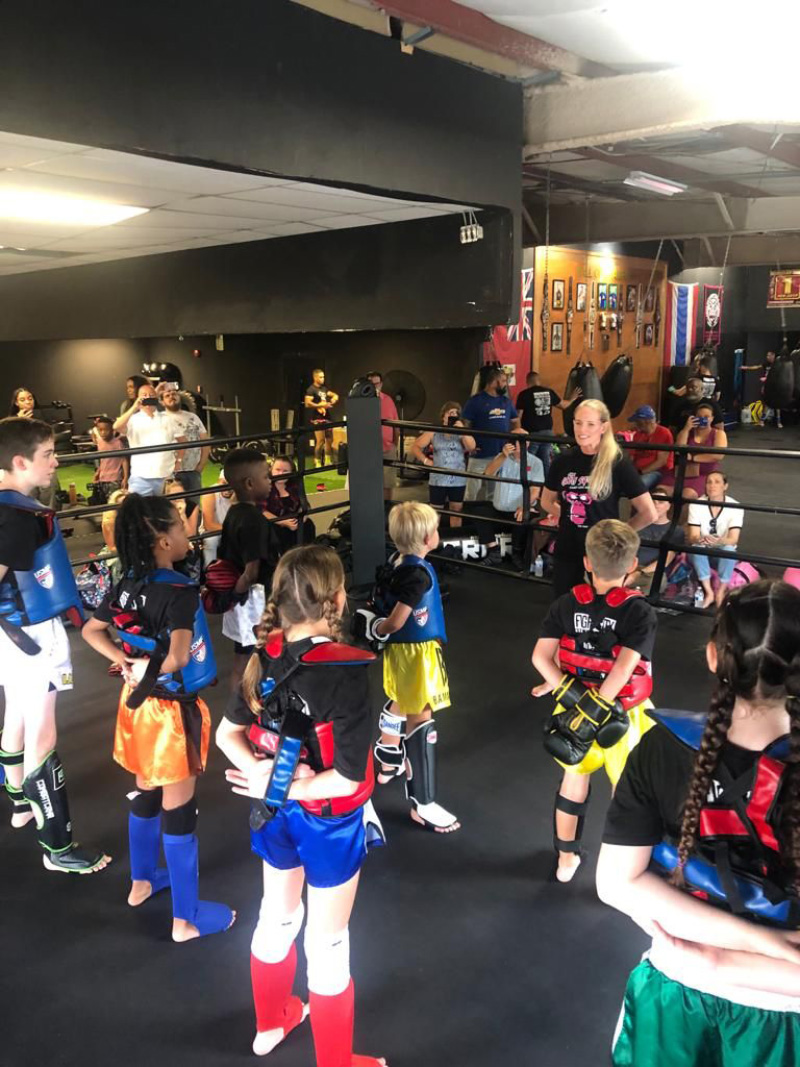 "We teach youngsters from different schools, and churches have sent kids to us for mentoring," she said. "We've had kids who have been bullies, and kids who have been bullied.
"Exercise is a great way to regulate our emotions. We teach youngsters how to control their breathing to ease their anxieties and find appropriate ways to express their feelings.
"Sometimes, we'll get a call from a parent saying their child has had a bad day and asking whether they can come down and hit the bag and just talk to you. We're not just teaching kids how to fight."
More than 50 youngsters attended the programme, which has been running for several years, before the Covid-19 pandemic.
After shutting down for two years, Stoudt said it is gradually returning to pre-pandemic attendance levels, adding that the gym has placed a strong emphasis on youth development.
"We always knew we wanted to grow Muay Thai on the island and had to develop the youth," said Stoudt, a teacher at the Bermuda Centre of Creative Learning in Hamilton.
"This sport will be in the Olympics one day and we want Bermuda to be there."
A product of the programme, Rhiannon Morgan, the daughter of the gym's head coach Chuck Morgan, won the island's first junior title at the TBA Muay Thai Expo World Championships in Des Moines, Iowa, in June.
Stoudt hopes the programme can offer its youngsters more opportunities to test themselves overseas.
"Funding can be challenging, but hopefully, the more kids and families we can help, the more our name is out there," said Stoudt, who started kickboxing 20 years ago.
"We'd love to offer our youngsters more overseas experiences rather than always competing in-house."
For more details e-mail bamachangs441@gmail.com.

Read More About