The Bermuda Mental Health Foundation [BMHF] announced that the "Steps to Mental Wellness" 3K Walk will be held at 8.00am on October 14 at the Botanical Gardens.
A spokesperson said, "This event aims to raise awareness and funds for mental health initiatives, including providing adequate housing for those with mental health disabilities. We are proud to present this event in partnership with CG Insurance and their wellness programme, Zest Wellness.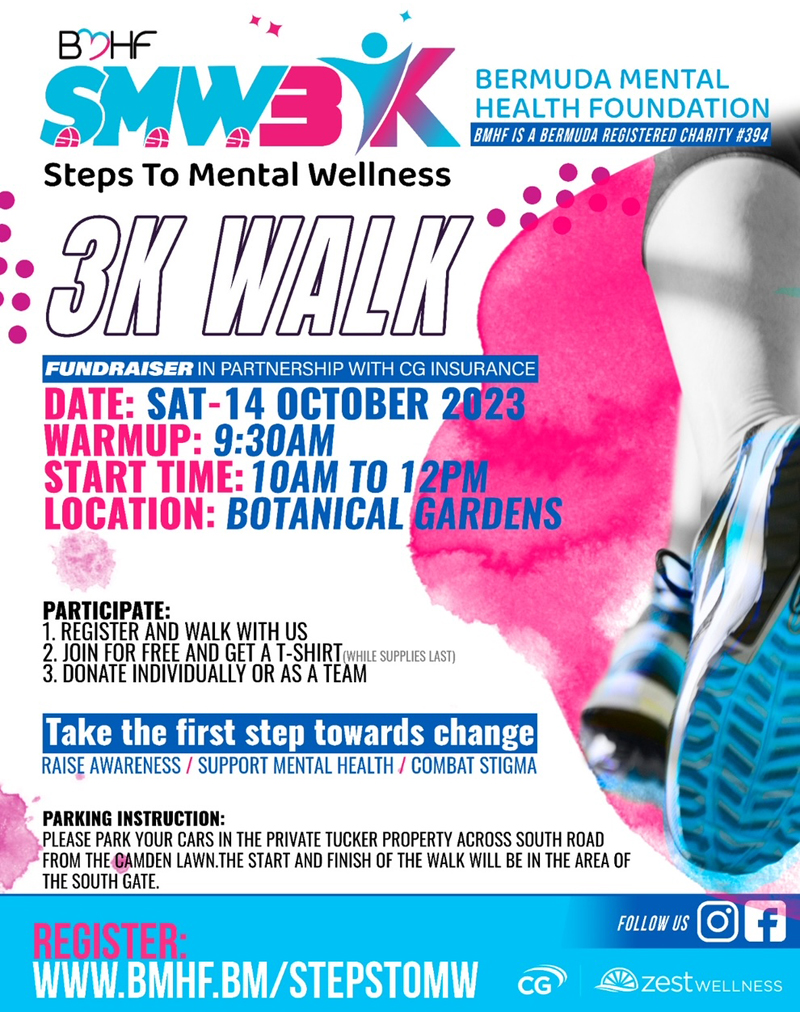 "The funds raised from this event will serve a critical role in the ongoing mission to provide adequate housing for those with mental health disabilities. BMHF has already successfully provided stable and secure housing to 25 individuals, offering them a foundation upon which they can build healthier lives. The goal is to double this impact by reaching a milestone of housing 50 individuals.
"Participants in this walk will directly support the expansion of this vital program, enabling us to renovate existing properties, secure new housing units, and offer comprehensive support in partnership with the Mid-Atlantic Wellness Institute services to residents.
Chairman James MacDonald, Bermuda Mental Health Foundation, said, "We are incredibly excited to launch the 'Steps to Mental Wellness' 3K Walk. This event is more than just a walk; it's a call to action for the community to stand united in the fight against mental health stigma. Every step taken is a step closer to a brighter future for mental health in Bermuda. The funds raised will directly contribute to our mission of providing adequate housing for those with mental health disabilities. We have already provided housing to 25 individuals and aim to double that number. We are grateful to CG Insurance for their unwavering support and commitment to this cause."
Naz Farrow, CEO of Coralisle Group LTD. [CG], said, "At CG Insurance, we understand the profound impact that mental health has on the wellbeing of individuals and communities. We are honoured to partner with the Bermuda Mental Health Foundation for this significant event. This partnership aligns with our corporate responsibility to foster healthier, happier communities. Together, we aim to make a tangible difference in the lives of those affected by mental health issues, including the provision of adequate housing."
"How to Participate:
1. Register & Walk with Us: Register for FREE and receive a commemorative tee shirt [while supplies last].
2. Raise Funds for BMHF: Funds will go towards our mission to provide adequate housing to those with mental disabilities.
3. Donate & Make a Difference: Contribute individually or as a team.
"'By participating, you are not just walking; you are taking steps towards change—raising awareness, supporting mental health, and combating stigma. Let's walk together towards a brighter mental health future. Your presence, your voice, and your contributions matter.
"If members of the community would like to register, they can visit www.bmhf.bm/stepstomw. We are accepting interviews regarding this initiative. Please contact Jodi Covington at jodi@thebranddevgroup.com or via phone at [404] 457-3589."

Read More About
Category: All