The Bermuda Underwater Exploration Institute [BUEI] revealed that the topic for the last Kids Hour Saturday of the year, taking place on September 16th, will feature Octopus.
A spokesperson said, "'Kids Hours Saturdays' takes place every third Saturday of the month at 11am and 2pm respectively. [January – September] Each hour features the screening of two short films followed by a book reading for children aged 5-12 years old.
"This month's 'Kids Hour' will showcase one short film entitled 'Bright Now: Octopus Encounters' and a reading of the book 'Oozey Octopus, A Tale of a Clever Critter' by Suzanne Tate.
"The film, 'Bright Now: Octopus Encounters' informs viewers on the unique life cycles and habits of Octopuses, focusing on the Giant Pacific Octopus and the East Pacific Red Octopus. In the film, we see wildlife cameraman Peter Kraugh discover and document a Giant Pacific Octopus looking after its 100,000 eggs as they hatch before meeting a curious East Pacific Red Octopus that seems starstruck by an underwater film camera.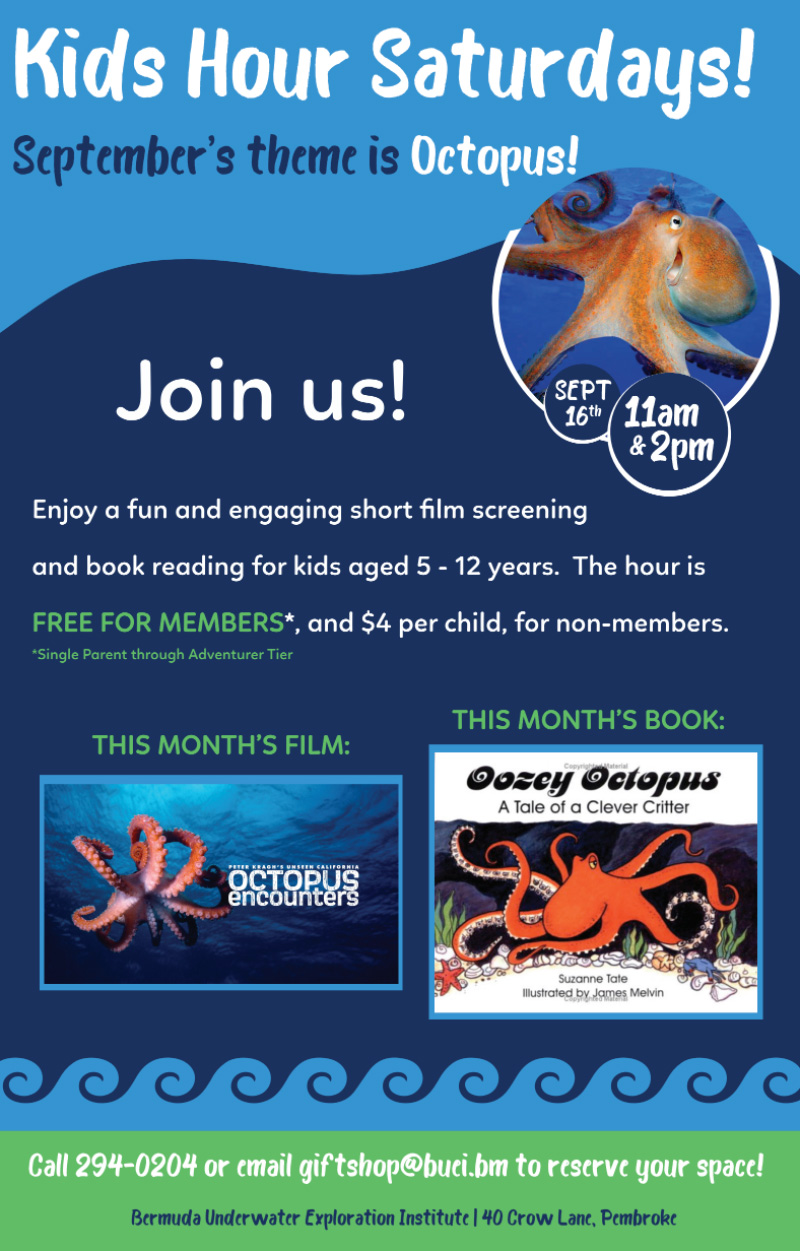 "This month's book, 'Oozey Octopus, A Tale of a Clever Critter', tells the story of Oozey, a cunning and clever Octopus who finds himself in all kinds of tricky situations he has to get out of. Informative and filled with detailed illustrations, this book won't be one to miss!"
A BUEI spokesperson said, "Octopus are highly intelligent and are some of the most behaviourally diverse of all invertebrates. With increasing changes occurring to our oceans, we can find inspiration from these clever creatures, known for their out of the box thinking."
The spokesperson said, "Kids Hour Saturdays are FREE for BUEI members [Single Parent through Adventurer Tier] and $4 per child for non-members. Please note, caregivers must stay on site for the hour.
"Mark your 2024 calendars for when BUEI's 'Kids Hour Saturdays' returns on Saturday, January 20th featuring Jellyfish!
"Space is limited and advanced registration is encouraged. To register for BUEI's 'Kids Hour Saturdays', please call the Oceans Gift Shop on 294-0204."

Read More About
Category: All, Environment