Ten Bermudian groups have received financial grants totaling $100,000 from the Department of Community and Cultural Affairs.
This is the first year these specific grants have been awarded. In the 2010/11 budget, the amount allocated for this program rose to $200,000.
The Cultural Legacy Fund was announced in October of last year, with $100,000 was allocated for grants. Applicants had to make submissions by November 2009, and a total of forty five were received.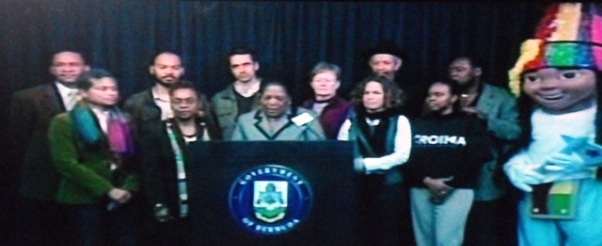 In a press statement Minister Neletha Butterfield said:
The purpose of the Fund is to encourage innovation across the full spectrum of culture and the arts and to provide opportunities for Bermudian artists.

It is our desire to grow the Cultural Legacy Fund in years to come so that it represents a major funding source for arts and culture in Bermuda, thereby encouraging further creativity and innovation as well as providing new training and development opportunities.
The recipients were:
Atlantic Publishing House & Shine's Music – $10,000
Dale Butler and Wendell Hayward
To establish a Music Hall of Fame
-
Bermuda African Dance Company – $15,000
Dawn Broadbelt
To support the visit of Grand Master Drummer M'Bemba Bangoura
-
Bermuda International Film Festival – $7,500
Aideen Ratteray-Pryse
To promote students learning about film
'
Bermuda National Gallery – $10,000
Lisa Howie
Youth Camera Action
To promote visual arts
;
Chewstick – $7,500
Gavin Smith
5th Annual Beachfest Emancipation Celebration Fundraiser
'
Eddie Ming Rhythm Lab – $11,440
Eddie Ming
To train and prepare students to attend one of the best music schools in North America
;
FABRIC – $7,990
Milton Rapose
A 60 to 90 minute film covering the history of the Portuguese Community in Bermuda
-
Kaleidscope Arts Foundation – $6,000
Fiona Rodriguez-Roberts
Art meets Agriculture: a pilot after school programme
-
Kat King Productions – $7,500
Duval Spencer
To introduce to Bermuda its very own Gombey Icon and Mascot, AJ the Little Gombey [*reported to be connected with convicted fraudster Harrison Isaac, see here for updated details]
-
TROIKA – $15,000
Seldon Woolridge
Produce youth conscious theatre projects and performances
Read More About