The $100,000 Cultural Legacy Fund Awards are riddled in controversy after a report that one of the recipients is a man who defrauded the Government of almost $2 million dollars.
The awards are given by the Department of Community and Cultural Affairs in order to promote Bermudian culture.
Ten groups received funds, and in reference to the one in question the official release stated:
Kat King Productions [Duval Spencer] – To introduce to Bermuda its very own Gombey Icon and Mascot, AJ the Little Gombey – $7,500.00
ZBM News reports that convicted fraudster Harrison Isaac Jr is actually a partner within the entity. Mr Isaac was convicted of stealing close to $2 million from the Bermuda Government in 2006. The money has not been fully recovered.
Mr. Isaac had made an initial application in his name for $90,000 which was rejected as "it did not benefit the people of Bermuda". The application was made jointly with Taariq Tucker, who happens to be the son of Duval Spencer, whose name Kat King Productions is in.
ZBM said that "well placed sources" told them that Mr. Isaac was advised by a member of Government to leave his name off a subsequent application. The grant approval was "despite protests by senior civil servants". Minister Neletha Butterfield said she had not spoken to or seen Mr. Isaac in regard to the grant application.
Kat King Production's website does not list Harrison Isaac as a member of the production team.
ZBM also reported that they understood that Mr. Issac was actually in attendance at the awards, and was said to be the person shown in the Gombey costume below: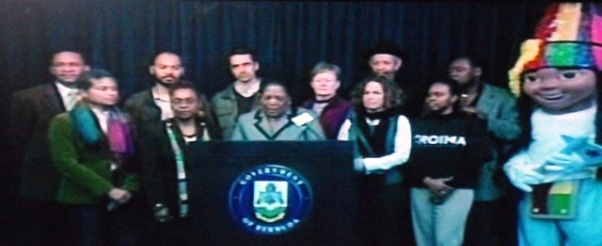 Harrison Isaac Jr. is a former accountant in the Accountant General's Department of the Ministry of Finance. From May 2003 to February 2004, Mr. Isaac transferred just under $2 million dollars from the Bermuda Government's account into various accounts connected to himself.
On April 15, 2004, Mr. Isaac was arrested at the Bermuda Airport en route to Atlanta. In January of 2005, at the request of the American government, he was extradited from Bermuda to the United States.
He pleaded guilty in 2006 in a Manhattan court and received a prison sentence of 55 months.
His American girlfriend Teketa Thompkins, a former adult entertainer, received four years in prison for her role in the crimes.
Below are the official extradition and guilty plea notices from the Southern District of New York's US Attorney's Office:
-

-
-
-

-
-
The video below is an animated slideshow of AJ the Little Gombey, with illustrations by Duval Spencer
Read More About