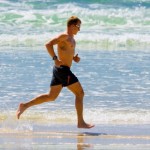 Bermuda's top triathlete Tyler Butterfield is the recipient of a multi year sponsorship deal by Bermuda's Tokio Millennium Re and one of its associated companies Philadelphia Consolidated.
The sponsorship will enable Mr. Butterfield to train full time for the 2012 London Olympics. He prior competed in the 2004 Olympics, where he was the youngest male triathlete.
Tokio Millennium Re's President and CEO Tatsuhiko Hoshina is himself an athlete, having competed in triathlons and road races including the Bermuda International Race Weekend and May 24th marathons. Peter Mills, a Senior Vice President at Tokio is also an accomplished Ironman triathlete.
Philadelphia Insurance Companies is a new sponsor for 2010. Like Tokio Re, the CEO and President Jamie Maguire is also an avid triathlete. The company also has a triathlon team of their own and supports many charitable causes. Mr. Maguire compares the similarities between the Ironman triathlon and business:
There are a lot of similarities between the Ironman and the business world. The same characteristics, the same traits that are needed to successfully complete an Ironman are needed to successfully compete in business.

You have to persevere in the Ironman, you have to persevere in business. You have to be disciplined in your training for the Ironman, and you have to be disciplined in business. You have to have fun in the Ironman, even though it's a lot of work and suffering, and you have to have fun in business.
In addition to the two corporate sponsorships, Mr. Butterfield has recently been offered the support of Fuji Bikes. They have been generous enough to provide him with a road, time trial and mountain bike for the season.
Mr. Butterfield also recently received another sponsorship with American wheel design company Rolf Prima. He says he was particularly attracted to the TT combination Rolf offers of a 10 spoke front and a 12 spoke back. He said it is very important for Hawaii Ironman where you are not allowed to use a disc because of a the strong winds. For the races that Mr. Butterfield does use a disc, he says Rolf has one of the lightest discs on the market.
Their website states Mr. Butterfield "will be racing on Rolf Prima Carbon TT's and training on Rolf Prima Echelons". The photo below shows Mr. Butterfield with the Rolf Prima wheels.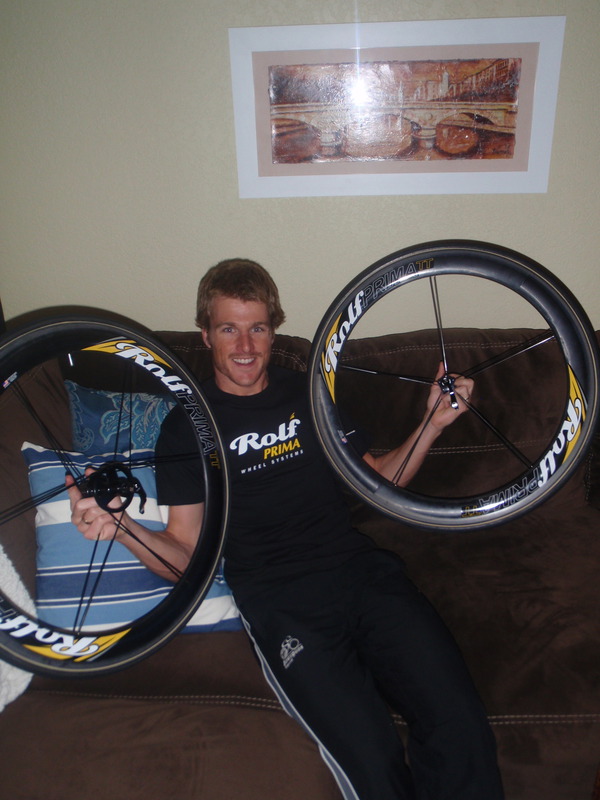 The son of Debbie and Jim Butterfield, Tyler Butterfield follows in his parents footsteps. His father Jim Butterfield represented Bermuda in the 1972 Munich Olympics in rowing, and also participated in the 1981 Hawaii Ironman Triathlon finishing 7th. His mother Debbie is a former top distance runner in Bermuda, winning the May 24th marathon a record seven times.
The Olympic bound triathlete resides in Colorado with his Australian wife Nikki, a former professional cyclist.
Read More About