Tyler Butterfield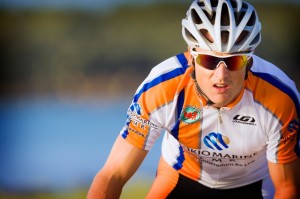 In 2004 Tyler Butterfield became the youngest male triathlete [from any nation] to compete at the Olympic Games.
He follows in his parents footsteps; Tyler is the son of Debbie and Jim Butterfield who are both elite athletes in their own right.
His father James "Jim" Butterfield is the only Bermudian to ever compete in rowing at Olympic level, placing 14th at the 1972 Munich Olympics. Also a triathlete, the Sports Hall of Famer participated in the 1981 Hawaii Ironman finishing 7th and represented Bermuda in the 1978 Commonwealth Games in the triathlon.
His mother Debbie Butterfield is a former top distance runner in Bermuda, winning the May 24th marathon a record seven times. She ran a 2.38 marathon in an Olympic Games qualifying race, and was the fourth woman to finish in the 1985 Boston Marathon.
Born February 12th, 1983, Tyler Butterfield has an older brother Spencer whom Mr. Butterfield wryly credits with giving him a start saying:
I learned how to run from my brother as he always wanted to beat me up. Thanks, Spence. I love you for that. Wish he would have tried to drown me, so I would have learned to swim faster too.
His first competition was at around the age of six; an Iron Kids event where he placed second. He competed in his first international race, the US Junior Sprint Championships, at age fourteen.
In 2002, Mr. Butterfield became Bermuda's first professional triathlete, going on to compete in many nations worldwide including Australia, Britain, Japan, Mexico, Monaco, New Zealand, Portugal, Switzerland, South Africa and the United States.
The Saltus Grammar School graduate was awarded the Bermuda Government Sports Achievement Award in 2002, and the Bermuda Athlete of the Year Award in 2006.
Mr. Butterfield is in full time training for the 2010 Olympics, which has been facilitated through the generous sponsorship provided by Tokio Millennium Re and one of its associated companies Philadelphia Consolidated. He also has sponsorships with Rolf Prima and Fuji Bikes.
In November 2008 he married Nikki Egyed , a professional cyclist and triathlete from Queensland, Australia. They married in Bermuda and had a second reception in Australia following a honeymoon in Tahiti.
Click to enlarge images:
His triathlon results include:
2009 Monaco Ironman, Monaco, 3rd
2009 Huatulco ITU Triathlon World Cup, Mexico, 18th
2009 Foster Grant Ironman World Championship, Florida, 13th
2004 Olympic Games, Greece, 35th
2004 Langebaan Continental Triathlon, South Africa, 8th
2003 Queenstown ITU Triathlon World Championships, New Zealand, 8th
2002 Tokyo International Triathlon, Japan, 12th
2002 Rincon International Triathlon, Puerto Rico, 10th
2002 Commonwealth Games, England 14th
2002 Junior Elite World Championships, Mexico, 3rd
2002 St. Anthony's ITU World Cup, USA, 49th
2002 Edmonton ITU World Cup, Canada, 41st
2002 Lausanne ITU World Cup, Switzerland, 40th
2002 Bermuda National Sprint Triathlon Championship, 1st
1997 Bermuda National Sprint Triathlon Championship, 2nd
1997 Bermuda National Junior Sprint Triathlon Championship, 1st
His cycling results include:
1st: Overall Bermuda Grand Prix Cycling Tour
1st: Stage 3 Bermuda Grand Prix Cycling Tour
1st: Les Essarts Vallee
1st: Stage 1 Tour de la Guadeloupe
1st: Stage 1 Tour des Deux-Sèvres
1st: Stage 1 Tour Nivernais Morvan-Bourgogne
2nd: Stage 8 Circuit des Plages Vendéennes
3rd: Overall Tour du Nivernais-Morvan
3rd: Stage 9 Tour de la Guadeloupe
6th: Grand Prix de Plouay
11th: Commonwealth Games Melbourne
His marathon results include:
Filmed by his wife Nikki, this video shows him crossing the finishing line in third place at the 2009 Monaco Ironman Pro.
-
Mr. Butterfield undergoing a lactate profile and VO2 max testing at the Boulder Center for Sports Medicine in Colorado:
For further information see Mr. Butterfield's Twitter feed or his website.