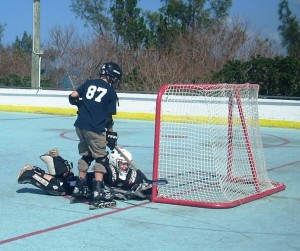 The Bermuda Inline Hockey League held their end of year finals yesterday at the Pembroke Community Club.
Scroll down to view match reports, photos and a video.
Each team played all of the other teams in a round robin tournament, and then the 1st and 2nd place team played each other for the championship.
The 3rd and 4th placed teams faced off in a consolation round. The games were shorter than usual, in order to fit the event in on one day.
Senior results were Canucks in 1st, Penguins 2nd, Stars 3rd and Leafs 4th.
Senior Championship Match Report
A end of game tie between the Senior Penguins and Senior Canucks forced a sudden death overtime, where the Canucks won out in the last minute of overtime for a final score of 3-3.
The Penguins scored in the first minute of play with a shot from Daniel Heintzman that deflected off a defenseman into the net. Canucks tied it up with 3 minutes left in the first. The Canucks pulled ahead with a goal in the second minute of the second period and it stayed that way till 32 seconds left in the game, when Dan Heintzman leveled a blistering shot past the goalie to force the game into overtime. Cameron Patkos got a couple of shots away with the second getting past Penguins Goalie Tommy Ruck.
The consolation round championship saw the Stars win over the Leafs 5-0, a surprising result as the Stars didn't win a point in the Round Robin.
Top Scorers:
Mike Betteto – 8 points
Cam Patkos – 6 points
Dan Heintzman – 5 Points
Mathew Betteto – 5 Points
Riley MacNeil – 5 Points
Mikey Daly – 5 Points
Becket Simmons – 4 points
David Lehman – 4 points
Jordon Faries – 3 points
Cameron neal – 2 points
Grenville Lines – 2 points
Below are a few photos and a quick video of the Intermediate Canadiens playing the Intermediate Leafs. The Leafs won the finals, with Canadiens taking 2nd and Canucks placing 3rd.
Click to enlarge images:
Video:
In the Seniors division point leaders through the season include Daniel Heintzman of the Penguins, Michael Daly of the Leafs, and Michael Betteto of the Penguins. In the intermediate division, point leaders through the season included Leaf players Andrew Daly, Luke Stirling and Tyler Smith.
The Bermuda InLine Hockey League was formed in 1996 and runs a program of teaching children how to play inline hockey at the Pembroke Community Club. For more information please see their website.
Bernews would like to thank the BIHL for their assistance in this report.
Read More About