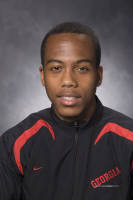 Only days after Aaron Evans shattered a 25 year old Bermuda track and field record…he broke it again.
Earlier this month, Mr Evans broke the 800 metre record, clocking in at 1:47.00, breaking the old record of 1:47:64. Veteran runner Steve Burgess who held the Bermuda record for 25 years, said that it was an honour to step aside for the "new king", and praised Mr Evans efforts.
Yesterday [May 28] Mr Evans shot to a finish of 1:46.26 and won his event during Day 2 of the NCAA East Preliminary Round in Greensboro, North Carolina. Not only did the University of Georgia student set a new national record, he set a new record for the college, is the fastest in the USA this year for a collegian, and qualified for the NCAA Championships.
The son of Whitney Principal Dr. Freddie Evans, and Northlands Deputy Principal Gina Evans, he attended Warwick Academy till he was 16, then left to attend Cushing Academy in Massachusetts. The 20 year old athlete was previously a semifinalist in the 800 at the 2007 World Youth Championships in Ostrava, Czech Republic, won a silver medal in the 800m at the 2009 Carifta Games and a bronze medal at the 2008 Carifta Games.
The month of May has been an outstanding one for Bermuda track and field, as in addition to Mr Evans double record breaking efforts, Shianne Smith shattered the Bermuda National Heptathlon Record, and Aranxta King broke the triple jump record.
Read More About