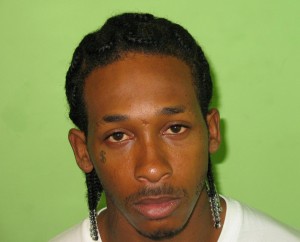 (Updated) 24 year old Alvone Maybury who dramatically escaped from Prison Officer`s custody outside of Magistrates Court may possibly be updating his Facebook while on the run, with at least 7 messages posted so far, most within the last few minutes this morning (July 14.)
Yesterday the escapee was being escorted from Court after facing three gun charges when he made a break for it, and ran off down Parliament Street while still handcuffed. Police confirmed with us at 10:15am this morning that he is still at large.
All the posts are being made by a cell phone. The last message on his account was posted literally 1 minute prior to the post (around 9:30am) and initially said: Is sayin, I'ma tv star now, and he then goes on to continue.

Five hours previously, the account posted: Is sayin, I'm just chillin playin p.s3. Lol.

The first post on the Facebook account appeared approximately 10 hours ago (about 11:30pm last night) and said: Is sayin, just let me be, f-vk jail n all the people who run it.
Most of those also posting seem in support of Mr. Maybury, with various anti Police slurs posted. He has been warned by a few posters to stay off the computer. Whether it is truly the escaped prisoner posting to the account or whether someone else has access to his password has yet to be determined. We are awaiting a Police statement on the matter now.
Update 10:42am: Another post was made about 3 minutes ago.
Update 11:25am: Profile is now coming up as unavailable at this time, the reason why (technical glitch, self-deleted, law enforcement etc) is unclear.
Update 11:43am: His page is back up
Update 11:50am: Another post appeared saying Can`t say much
Update 12:15: Yet another post appeared, making 13 total so far since the escape about 26 hours ago…
Update 1:20pm: Another post was made
Update 3:00pm: Another post was made
Update 4:20pm: We sent a message to the account on Facebook…and got two responses, the last one said: I ain't trying to go back to dat hell hole. they act like all of us there are dogs or something. I told them the other day what happens to a dog that's in a cage all day. When you let him out he ain,t gonna kno how to act. I'm sick of eattin dinner at 4, or being lock down all day. I hope some one pops me in my face b4 they catch me.
The link to Alvone Maybury`s page is here.(We advise you to look quickly, as presently the account is set to public viewing, and we have noticed often after we post a Facebook page link of a criminal suspect, the page is quickly set to private. Please note there is a lot of profanity on the page, so be warned)
Screenshots from Facebook (taken immediately prior to our post) below, click to enlarge:
(One screenshot edited for profanity)
Read More About