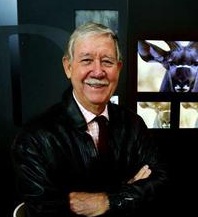 Bermuda-based Australian television pioneer Reg Grundy, who had never before given a TV interview, broke his decades long silence this week for an on-air chat at his Tucker's Town home that made front page news in his native country.
The multi-millionaire invited celebrated Australian TV presenter Tracy Grimshaw and her crew from the show "A Current Affair" to his Bermuda property home for a wide-ranging discussion that aired earlier this week on that country's Nine Network.
During the interview Mr. Grundy talked at length about his long career as a producer, the turbo-charged egos of some of stars whose careers were launched on his shows and what he considers to be the deplorable state of modern television.
"Monday's edition of 'A Current Affair' features a rare interview with legendary television producer Reg Grundy and wife, actress and author Joy Chambers, at their home in Bermuda," reported one Sydney newspaper. "Despite his many years in television, Grundy has remained a very private figure and has very rarely allowed to be interviewed and the appearance on 'A Current Affair' … is said to coincide with the release of his autobiography."
The half-hour interview features footage of Mr. Grundy and his wife shot at various locations throughout the island. Miss Grimshaw characterised Bermuda as the ideal semi-tropical haven for wealthy but publicity-shy entrepreneurs like the man who has been described as "the Godfather of Australian TV" and "the king of Australian gameshows."
Mr. Grundy, who has lived and worked in Bermuda for more than 30 years, once headed the largest independent TV production company in the world, providing up to 20 hours of network programming per week for Australian television.
Soap operas he developed, including "Neighbours", became internationally syndicated successes launching the careers of such Australian personalities as Kylie Minogue.
Starting in the 1950s, Mr. Grundy, 87, has produced thousands of hours of programming including game shows, soap operas and dramas for both the Australian and international TV markets.
He first moved to Bermuda because of its proximity to New York when he started doing business in the US in the 1980s.
"Here I could fly to New York, 7 o'clock flight up, 7 pm flight back, and I was in New York and back here in the same day," he told Miss Grimshaw. "I always loved it (in Bermuda). And when we found this (property) was a lagoon, I thought that was about as good as I'd ever get anywhere in the world."
Mr. Grundy, who maintains a low profile in Bermuda, is an enthusiastic wildlife photographer. Last year an exhibition of his photographs of Bermuda Longtails called "Longtails: The Bermuda Dream", was held in The Rick Faries Gallery at the Masterworks Museum of Bermuda Art. Other images he's taken of Bermuda's unoffical national bird can be found displayed at venues ranging from the Bermuda Maritime Museum to the reception area of the L.F. Wade International Airport.
"The birds to me are the most beautiful in the world … they're real life fairytales. I love 'em," Mr. Grundy told Miss Grimshaw.
You can view the video here.
Read More About