Bernews stayed live throughout Hurricane Igor [thanks BELCO!] and we updated for the 36 hour stretch, have hundreds of photos, and some are pictured below in a timeline to show the passing of Igor over our 21 square miles.
2 Days Before: In what so many locals took as an ominous sign, a full two days before Hurricane Igor was due to hit, the waves started crashing in on South Shore. The photo below was taken at approximately 6pm on Fri, Sept 17 at John Smiths Bay [full photo set here]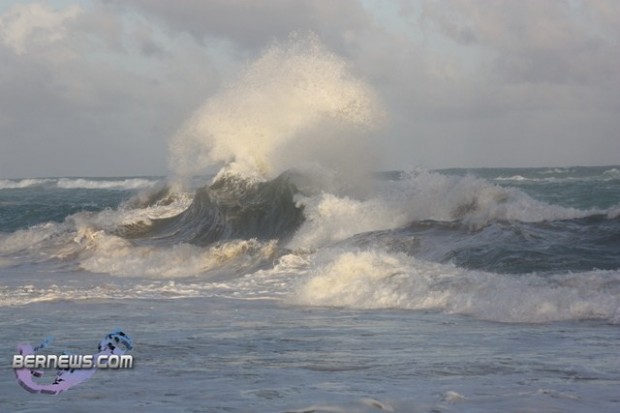 1 Day Before: The photo below was taken a full day before Igor's arrival, at around 9am on Sat, Sept 18 and shows waves crashing right over the barrier and hitting the road in Smith's.  The road was ravaged by Fabian, however came through Igor fine. [full photo set here]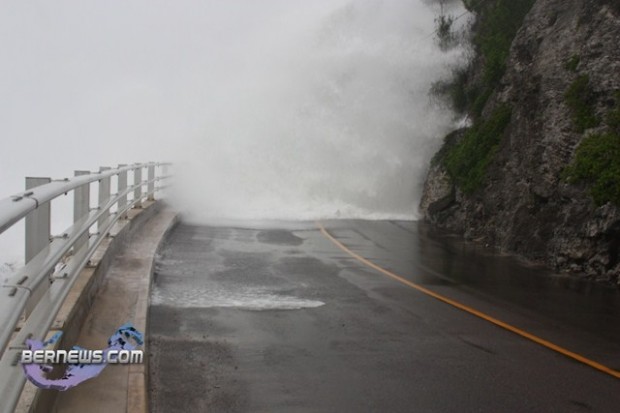 1 Day Before: The Pink Beach Club on South Road, Tuckers Town started seeing strong signs of Hurricane Igor, with powerful waves crashing up and over onto the hotel patio well before Igor's arrival. The photo below was taken on the afternoon of Sat, Sept 18, with Igor due to hit in just over 24 hours. [full photo set here]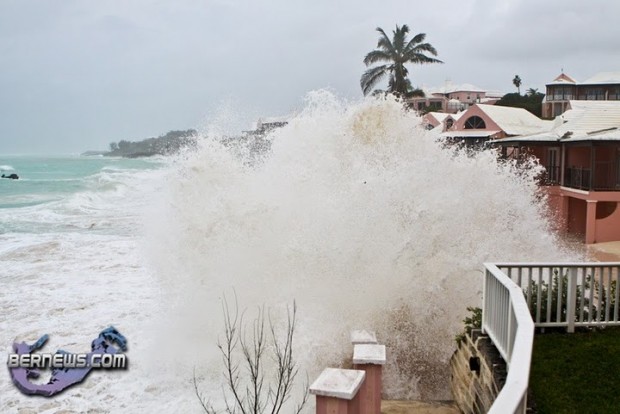 1 Day Before: Bringing to mind the old adage "the calm before the storm", the photo below was taken at 7:30pm on Sept 18 at Shelley Bay Beach on North Shore – 24 hours before Igor was due to strike.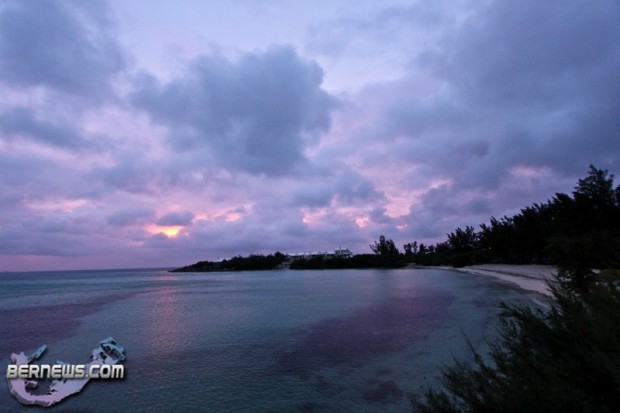 Day of Hit: Early on Sunday morning, with Igor due to strike that evening, the reports of flooding started to come in, with one Southampton resident experiencing waters at her front door: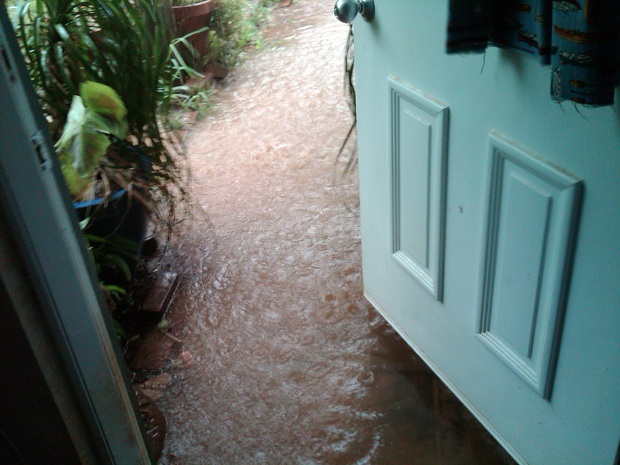 Day of Hit: Locals were hunkered down inside for over 24 hours, and every parent of young children can imagine how kids would be going stir-crazy. The mother of the children pictured below said she was trying to keep them entertained on Sunday, and in the meantime they sent a message all the island would agree with: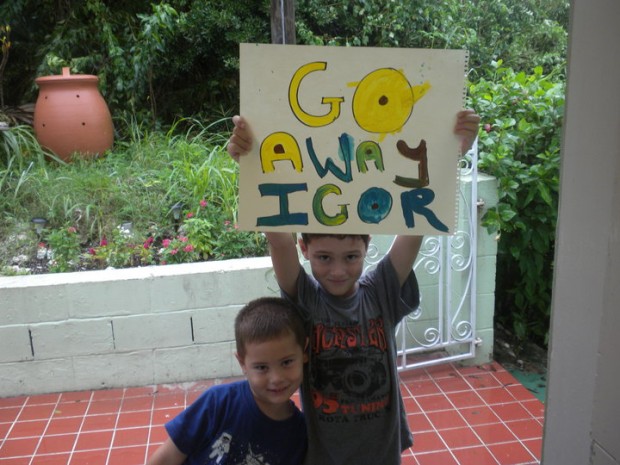 Day of Hit: For some reason we have yet to identify, as usual people left bikes parked in town for the storm. Numerous sightings of bikes crashed over came in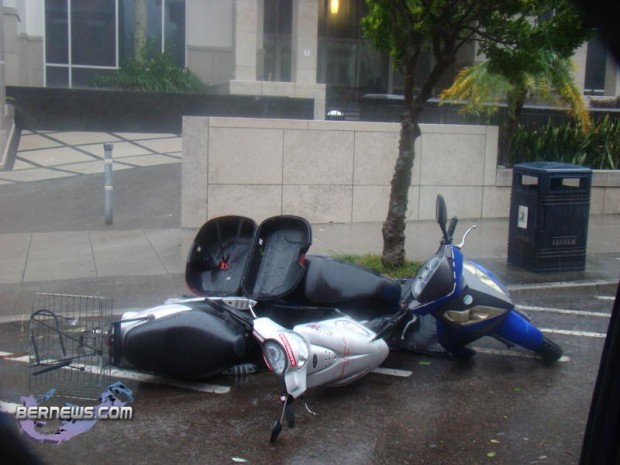 Day of Hit: The storm surge from Hurricane Igor caused temporary flooding in many parts of the island, with the residents of the Boaz Island Condos in Sandy's dealing with heavy floods and St George's Town Square is pictured below on Sunday evening gushing water to the extent there were actually waves in the square. [full photo set here]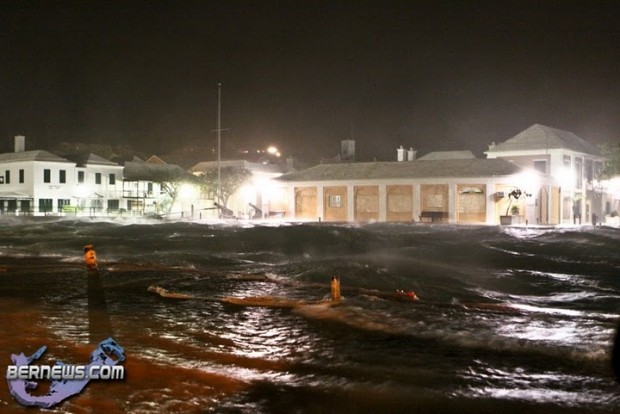 Day of Hit: On Sunday late afternoon, The Government tender boat "Bermudian" broke from its moorings in St George's, and was getting slammed by the surf against the shoreline. The tender is pictured below on Sunday evening, as Igor made its way over Bermuda:
Day of Hit: As everyone predicted before the hurricane, the Causeway took a hammering from Igor, however unlike Fabian the bridge withstood the brunt of the hurricane. It is pictured below on Sunday night.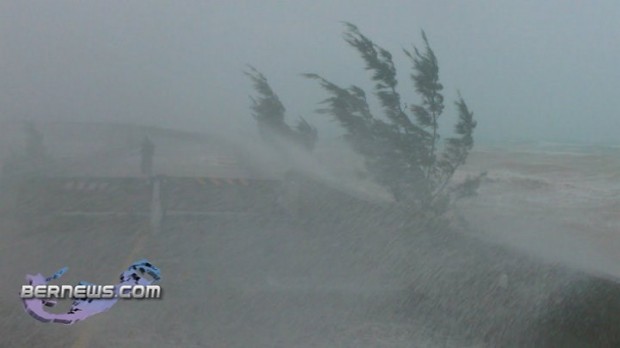 Day of Hit: During the storm over 60 people took refuge at the shelter at Cedarbridge Academy, which they told us was very well run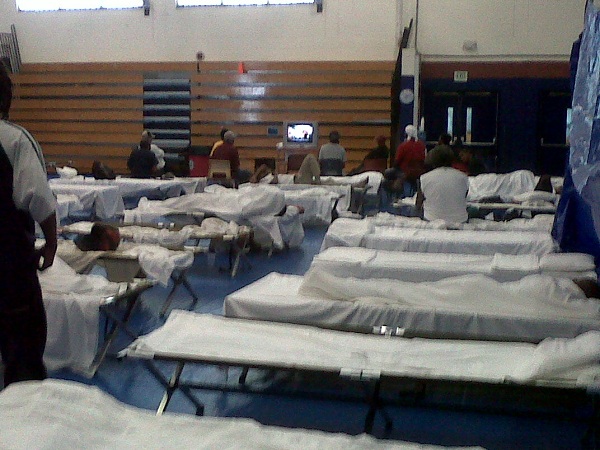 Day After:Yesterday [Mon, Sept 20] the island waited with baited breath to see how we fared. Many deeply worried about the airport and the Causeway, which both sustained millions of dollars worth of damage in Fabian. The airport, which opened today after being closed for about 36 hours, came through fine – with what appeared to be some minimal water seeping in.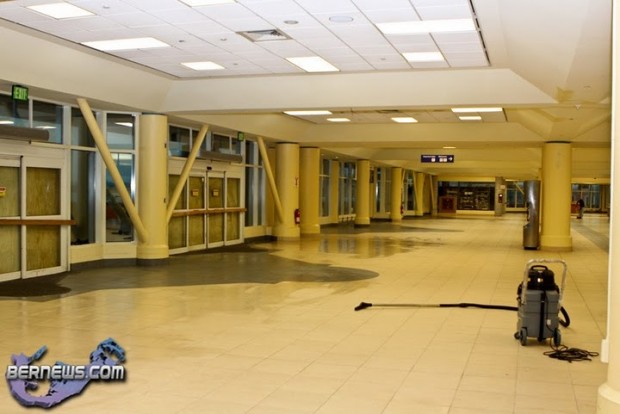 Day After: Some electrical poles didn't fare too well during the storm, with one unfortunate resident having a pole crash on his roof in the East End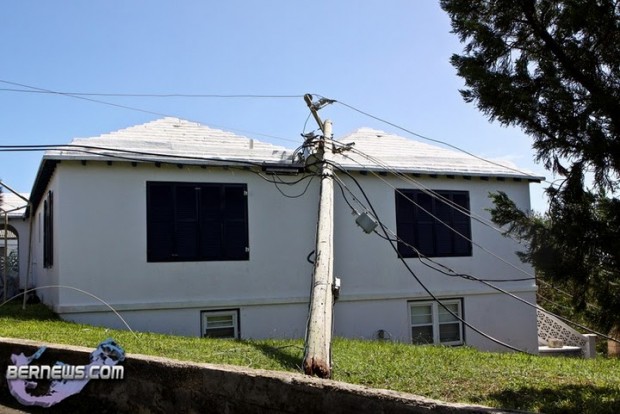 Day After: There were multiple reports of electrical poles down post-Igor: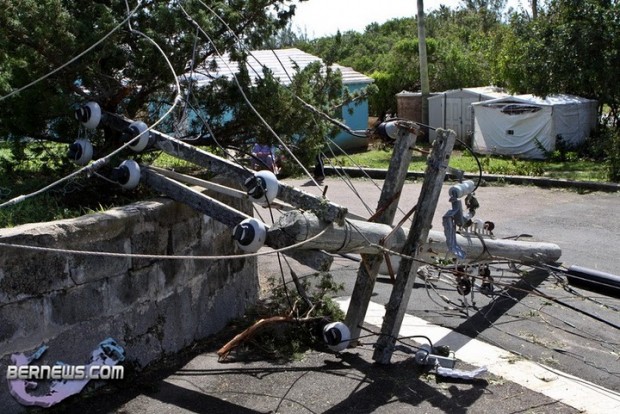 Day After: BELCO was out during the beginning of the storm on Sunday working hard to keep power on, and finally stood down in the afternoon for safety. They sprung into action immediately Monday morning, with staff powering out from 5am to midnight, bring a staggering 20,000 customers back online yesterday alone. BELCO as well as the Fire Service, are pictured below attending to an electrical pole in St George's that was dangerously swaying in the wind Monday morning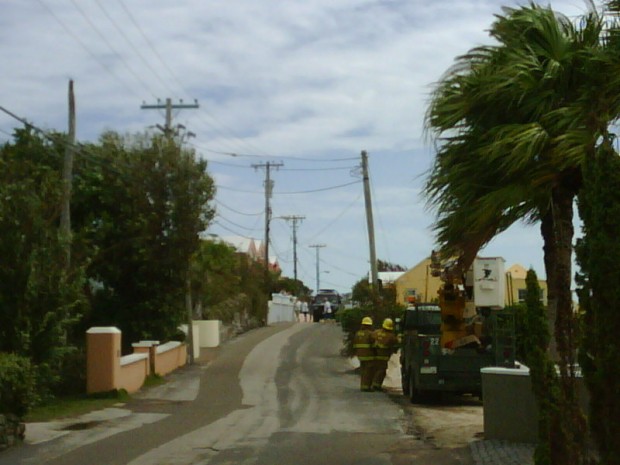 Day After: There was a fair amount of beach erosion during the storm, and John Manderson captured this image below post-storm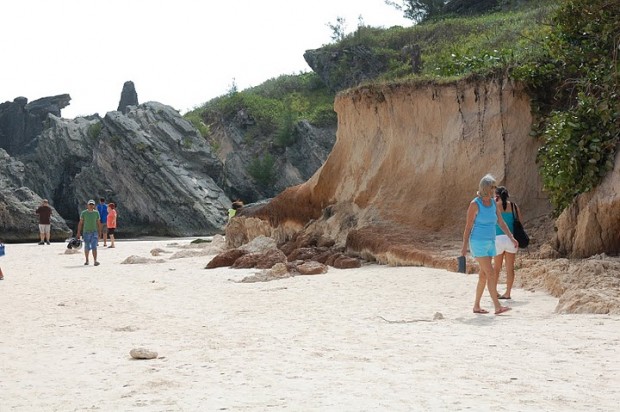 Day After: Boats took quite a battering during the storm, with multiple reports coming from early in the storm of boats breaking free from their moorings and bashing against the shoreline. This boat in Devonshire Bay took it to a whole new level, as it was seen early in the storm in the water, and by time the storm passed it was sitting in the road.
Day After: Dead fish were seen on land, and Tori Lindo captured this image of a Parrotfish at Church Bay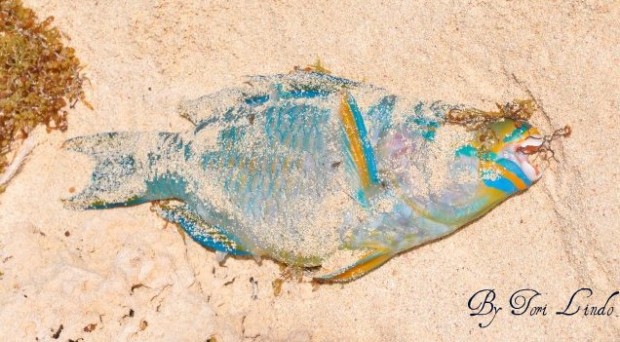 Day After: The guests of Elbow Beach Hotel were "treated" to the sight of a few dead fish on the beach by Mickeys, with John Manderson capturing this image below: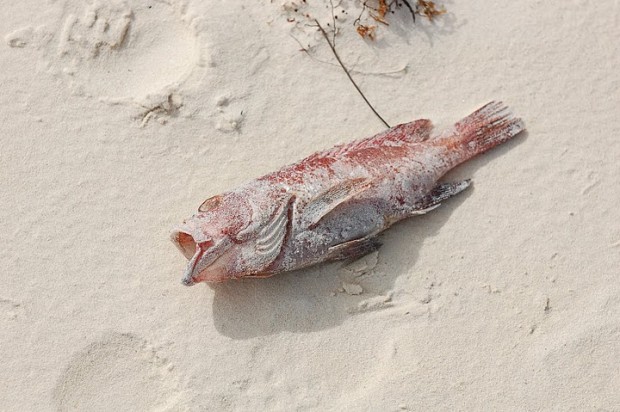 Day After: The Royal Naval Air Crew, who were standing by on a UK Navy Warship to render assistance if needed, picked up local officials for a flyover to assess damage.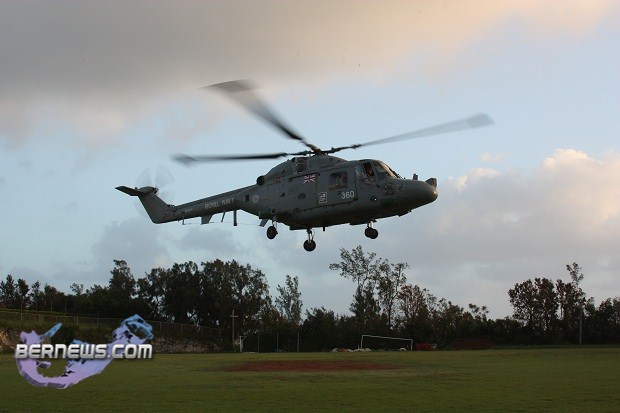 We must extend our thanks to Only the Best for the second-to-none East End coverage, as well as the numerous people that sent in photos. Bernews coverage was a true community effort, and without the excellent assistance given by many of our readers it would not have been possible. We truly thank you!
These photos are a fraction of what we have, for more please click here.
Read More About
Category: All, Environment, Most Popular, News, News, Photos