Minister of Works and Engineering Derrick Burgess has addressed a topic many locals have been discussing; the frequent accident spot located in the Crow Lane roundabout area. There have been numerous accidents in the general area over the years, some being fatal. Two of the ten road traffic fatalities this year occurred in the general area.
On October 11th, 31-year-old Earlston Kavon Bailey Smith died in an accident in the exact area, marking the second fatal accident in the area this year, following the death of 28-year-old Katrina Flood on June 12th.  The photo below shows a flower bouquet, with written tributes, tied to the Crow Lane bus stop after the unfortunate death of Mr Smith earlier this week.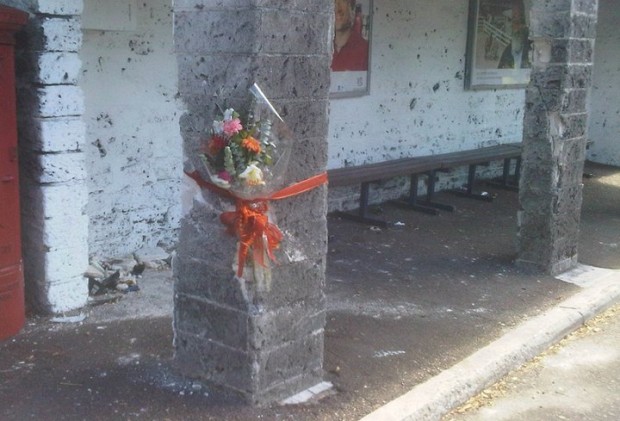 Both Mr Smith's and Ms Flood's fatal accidents occurred in the same general area, both were single vehicle motorcycle accidents, and both occurred at approximately 4am in the morning over a weekend.
Minister Burgess said that "One of the frequent accident spots identified in the recent Police report is the area from Corkscrew Hill, Devonshire to the Crow Lane roundabout." He further explained safety provisions that the Government has recently taken to enhance the safety of motorists in this area:
Installed additional pole lights to improve visibility at night
Improved the elevation of the road to minimize centripetal motion towards the outside of the curve
Painted lines on both edges of the road to show the alignment of the road in dark conditions
Resurfaced some of 82 ft. of the immediate area of the junction with a nonskid surface to improve traction
Installed rumble strips to enforce slow down before the curve
Relocated the columns at the entrance of "Tamarind Hall" and the traffic light pole to prevent hard obstructions to persons who might lose control of their vehicles.
Minister Burgess also addressed other areas saying "A second frequent accident spot is the area of Middle Road, Southampton just east of Five Star Island. Currently, the Highways Section is undertaking road resurfacing along the S shape bend in this area. This new road resurfacing is to ensure that vehicles have adequate vehicular traction when travelling along this section of roadway. Also, stud reflectors will be placed along the road edge of this S shape bend along Middle Road. These reflectors will provide move visibility of the road edge to motorists and help to encourage motorists to travel more cautiously when travelling along this section of roadway."
"At Barnes Corner in Southampton, another frequent accident spot, the road has been recently re-surfaced and new 'reduce speed' signs have been erected to encourage traffic calming – these new speeds signs indicate a maximum speed of 25kph on the bend."
"Recently, we have also installed calming devices like rumble strips, speed humps and reduced speed signage in other areas of the Island, including the town of St. George and Flatts Village, in an effort to reduce speeding, undoubtedly a principal contributing factor to the unacceptably high incidence of traffic collisions in Bermuda."
"The people of Bermuda are advised that their Government will continue its efforts to make our roads as safe as possible. Of even greater importance, however, is responsible behaviour whilst operating motor vehicles, in particular adherence to all rules of the road – the speed limit most importantly."
CADA Chairman, Mr. Anthony Santucci expressed his sympathies to the victim's families and said, "Statistics show that seven out of ten deaths that occur on Bermuda's roads involve alcohol or drugs." He continued on to say that "Our role at CADA is to encourage responsible alcohol behavior and to continuously remind the public that drinking and driving kills. There is no simpler way to say it. If you drink and drive there is an increased likelihood you will die or you will kill someone."
Addressing the recent deaths, The Bermuda Road Safety Council Chairman said "The three deaths do send a clear message to motorists on the dangers on the roads of Bermuda. Ironically, most traffic collisions are largely preventable. Whilst we do not in any way suggest this was the case in of these recent deaths, most road traffic collisions involved one or more of the following elements; excessive speed, driving under the influence of alcohol or drugs, overtaking improperly and distracting driving (texting, eating etc.)"
Read More About