History comes alive via the photos below showing people streaming off a wrecked boat almost 100 years ago. The Pollockshields wrecked in 1915, and came back to the public attention yesterday due to tourists discovering an ammunition box from the 95-year-old wreck in the waters of the Coral Beach Hotel.
With the approach of the first World War, the boat was refitted into a German naval supply ship for operations in the Atlantic, and was captured by British Forces, renamed The Pollockshields. In September of 1915, the steamer ran into a dense fog and hurricane force seas and struck a reef near Elbow Beach, on Bermuda`s South Shore.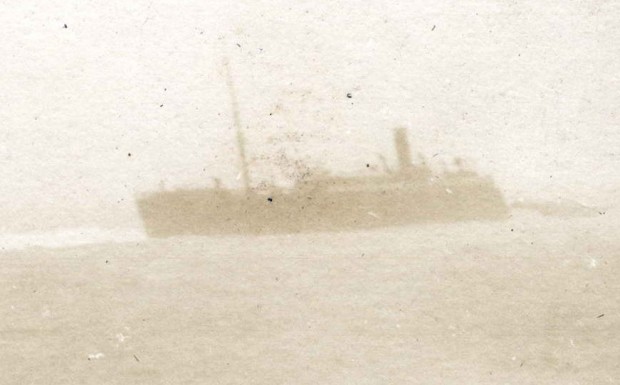 Captain Boothe, who was attempting to get a lifejacket for a crew member, was swept overboard, never to be seen alive again. The rest of the crew reached shore safely, assisted by life savers on the beach who braved the hurricane to assist.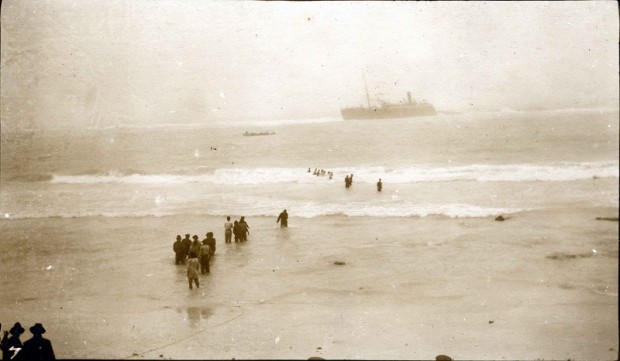 History says that rescuers made five trips in a whaleboat through the heavy surf to take the crew ashore.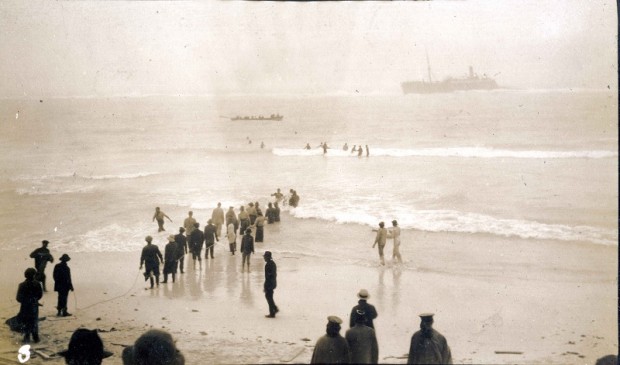 The whole event was witnessed by guests of the Elbow Beach Hotel, then named South Shore Hotel.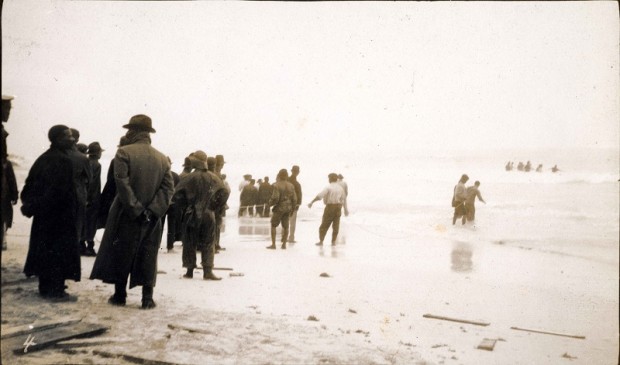 Some locals were said to have heard the ship's whistle over the hurricane, and made their way down to Elbow Beach, finding the wreck to be clearly visible from the beach.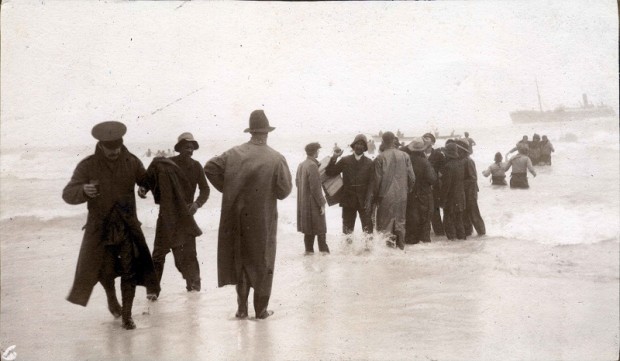 This set of photos were kindly provided by the descendant of one of the locals that made their way to the area to see what was happening. The owner says he recalls his father telling him the story of hearing the ships whistle and heading to the South Shore.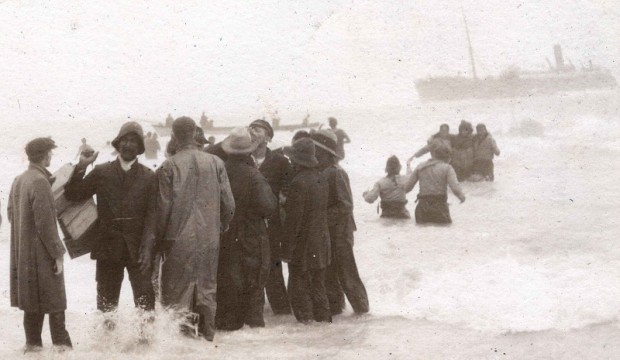 Various reports list the amount of people onboard as either 33 or 37 (most saying 37) with all reports saying the Captain was the only man to die, and did so in an heroic effort to secure the safety of his crew.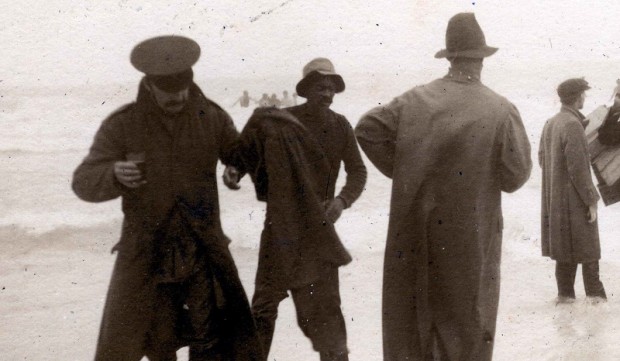 The Pollockshields had left Cardiff, Wales with 350 tons of ammunitions aboard, as well as other provisions for the World War-1. Part of that 350 tons of ammunition aboard was what was dragged up from the ocean floor yesterday.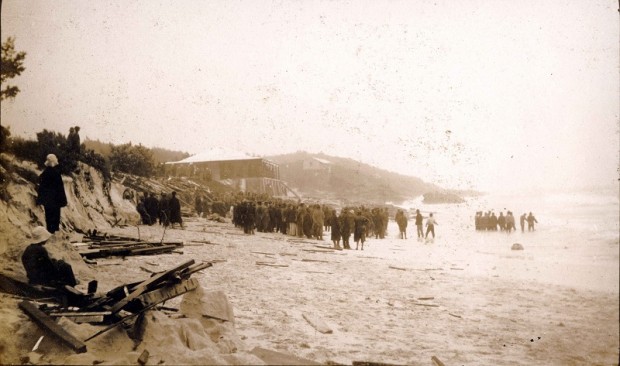 Up until the 1960s, the engine of the Pollockshields, surrounded with sharp coral reefs, was projecting out of the water, causing some divers difficulty with negotiating the reef in order to explore the shipwreck. The Government hired Teddy Tucker, a legendary diver, to blow up the base to cause the wreck to sink to the bottom.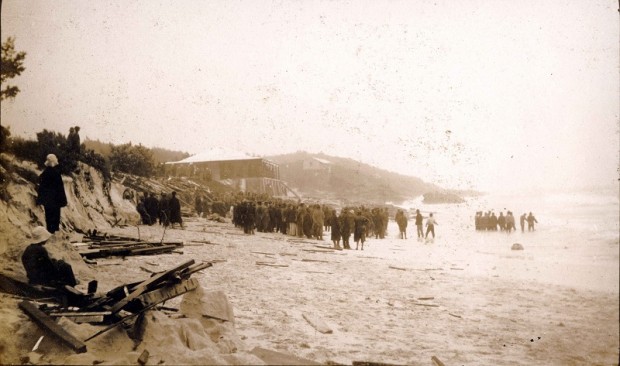 Today a popular location for scuba divers, the Pollockshields wreck is located in the waters off the Elbow Beach Hotel. Dr Phillipe Rouja, Bermuda's Custodian of Historical Shipwrecks, told us that various ammunitions are visible on the wreckage.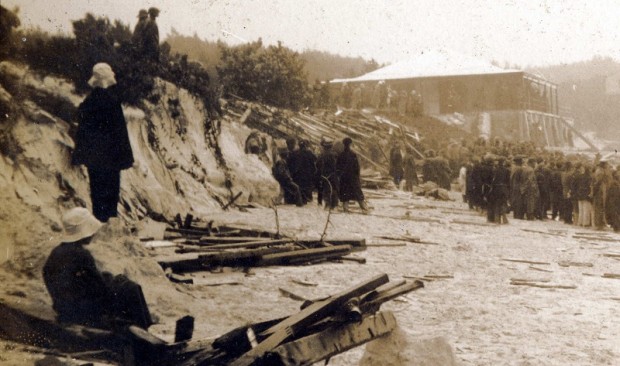 Bernews would like to extend our sincere thanks to the family for allowing us permission to use their photos, and assisting us in bringing history to the world wide web. For more information on the Pollockshields disaster, read a newspaper article about it published in 1915 by the New York Times here (1 page PDF)
Read More About