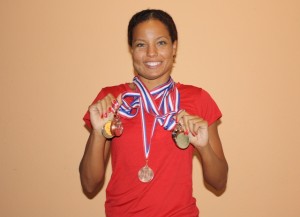 Bermuda's Kiera Aitken has added yet another medal to her trophy case, picking up a Gold Medal in the 2010 Fund Styles Swim Meet in Barcelona, Spain.
Ms. Aitken won the Gold Medal in the Women's 400m Backstroke finishing in a time of 5:03.30, 10.33 seconds ahead of the second place finisher Bande Sara Sancho.
At the 2010 Caribbean Island Swimming Championships [CISC] in Cuba this summer, she won a gold medal in record style, setting a new CISC record in the 50m backstroke with a time 0:29.61, a time which saw her qualify for next year's FINA World Championships in Shanghai, China.
A two-time Olympic swimmer, Ms Aiten is the first Bermudian female swimmer to break the minute mark in the 100 metre backstroke. The present Bermuda Athlete of the Year, she has set numerous national records, even breaking her own to set new ones. She is based in Europe, where she lives and trains.
Read More About