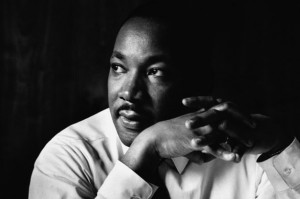 Perhaps the most iconic photographs ever taken of Dr. Martin Luther King Jr.  — whose birthday is a national holiday in the United States today [Jan. 17] — were shot by Graeme Phelps (Flip) Schulke, the brother and uncle of Bermudians and a regular visitor to the island over the years.
The late American photographer — who died in 2008 – chronicled the American Civil Rights movement for more than a decade and his work was celebrated at a special Bermuda National Gallery exhibition in 1997.
The uncle of Bermudian photographer Graeme Outerbridge, Mr. Schulke became a close personal friend of Dr. King while covering his campaigns to desegregate a racially divided America in the 1950s and '60s for national magazines and newspapers.
A freelance photo-journalist whose work appeared in such publications as "Life", "Newsweek" and "Ebony", Mr. Schulke covered 20th century history as it was unfolding: he was in Havana when Fidel Castro proclaimed the victory of the Cuban Revolution, photographed the funeral of President John F. Kennedy in 1963 and the training  regimen of Cassius Clay (later Muhammad Ali) as he prepared for his world heavyweight championship fight against Sonny Liston the following year.
But he was most renowned for letting America and the world witness the unfolding Civil Rights struggle through his eyes in photos which remain as emotionally resonant as they are culturally significant.
Mr. Schulke first met Dr. King in 1958 when he was assigned to report on him for "Ebony" magazine. As the story goes, after photographing the religious and Civil Rights leader the two men, both in their early 20s, talked late into the night about Dr. King's philosophy of non-violence. They established an instant rapport — and a friendship which would endure up until Dr. King's death.
The photographer was invited by Dr. King into the "inner circle" of the Southern Christian Leadership Conference, where he documented many of the organisation's efforts over the next ten years to bring desegregation and racial integration to the United States.
Mr. Schulke went on to publish three books about the US Civil Rights champion and Nobel Peace Prize laureate: "Martin Luther King, Jr.: A Documentary, Montgomery to Memphis" (1976); "King Remembered" (1986); and "He Had A Dream" (1995).
In 1997 the Bermuda National Gallery exhibited 45 images from a total of 11,000 pictures in Mr. Schulke's personal archive for a special exhibition entitled "King Remembered: Martin Luther King and the Civil Rights Movement."'
"Schulke was a free-lance photographer and some of his best work was for `Ebony' and `Jet' as their own people would often be beaten up or their equipment taken away from them," a National Gallery spokesman said at the time. "Even black photographers from the North were given this treatment. It was an amazing opportunity for Schulke who, very soon, was being invited into the King home, to have dinner and spend time with the family. There are some wonderful pictures of King with his children."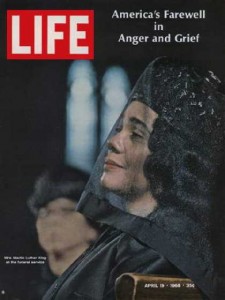 The show included Mr. Schulke's photographs from the March on Washington in 1963 when Dr. King delivered his timeless "I Have A Dream" speech; the 1965 Freedom March in Selma, Alabama; the enrollment of James_Meredith at the University of Mississippi in 1962 accompanied by US Marshals assigned to protect him from segregationists; the funeral of Civil Rights leader Medgar_Evers — assassinated in 1963 — as well as images of Dr. King's funeral after he was gunned down in Memphis, Tennessee by assassin James Earl Ray on April 4, 1968. Mr. Schulke's  photograph of Coretta Scott King at her husband's funeral became one of "Life" magazine's most famous and instantly recognisable covers.
Mr. Schulke, whose sister is Bermudian Roxanna Kaufmann, attended the Bermuda National Gallery show and also spoke to Bermudian school students about Dr. King and his legacy.
When the award-winning photo-journalist died three years ago at the age of 77, then Bermuda National Gallery director Laura Gorham issued a tribute highlighting his strong ties to the island: "On behalf of the chairman, trustees and staff of the Bermuda National Gallery, we send condolences to Mrs. Kaufmann, her husband, BNG founding trustee and artist, John Kaufmann and their family.
"Schulke is remembered here at the BNG for the 1997 exhibition of his renowned photographs from the Civil Rights era, and the accompanying lectures at the BNG and local schools on his work.
"He was instrumental in procuring early assignments for Bermudian photojournalist Richard Saunders in 'Ebony' magazine. His nephew is renowned Bermudian photographer Graeme Outerbridge.
"A photograph of Martin Luther King Jr and his young son, Dexter is in the collection of the BNG, which is exhibited annually to commemorate MLK Day."
Shortly after his death, Mrs. Kaufmann donated copies of three of her brother's books to the Education Ministry so they could be added to the libraries of all Bermuda's public schools at a special National Gallery ceremony.
"The centre of his whole life was the Civil Rights movement and he walked on practically all the marches with Dr. King, they were more or less the same age and they were very close," she said at the time. " … He graduated from a public high school, so he was very committed to the public school system, and reaching people who might not have such extensive libraries as the private school system."
Read More About