Yesterday afternoon [Jan 19] the official groundbreaking ceremony for the King Edward Memorial Hospital Redevelopment Project took place on the old hospital site on Point Finger Road.
The building will include 90 single-occupancy en suite patient rooms; Bermuda's first dedicated day surgery unit; ambulatory care services like oncology, dialysis, asthma and diabetes; diagnostic imaging services; a new emergency room, a new utility plant and much more.
Paget Health Services, a consortium of local and international firms, was selected for the project and maintain the building over the life of the project agreement, a period of 30 years. The construction period is projected to last about three years, with it anticipated patients will be cared for in the new facilities in 2014.
Pictured from left to right are: Alan Burland, Director of Paget Health Services & President of BCM McAlpine; Wendell Hollis, Bermuda Hospitals Board Deputy Chairman; Herman Tucker, Bermuda Hospitals Board Chairman; Premier Paula Cox; Philip Butterfield, Chairman of the Bermuda Hospitals Charitable Trust; Zane DeSilva, Minister of Health; David Hill, Chief Executive Officer Bermuda Hospitals Board; Venetta Symonds, Deputy Chief Executive Officer, Bermuda Hospitals Board and Robert Wotherspoon, Director of Paget Health Services & Head of PFI, Sir Robert McAlpine.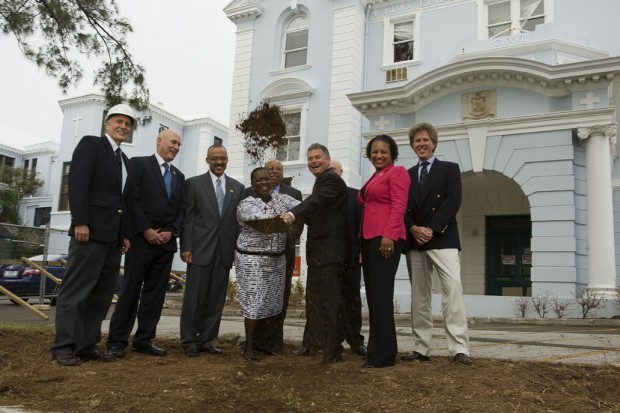 Herman Tucker, Chairman BHB, said:
When I joined Bermuda Hospitals Board as Chairman in 2007, everyone knew we needed to modernise our healthcare service. But when it came to what we needed from a 'new hospital' – all we had was a site: there had been a clear mandate from Government and the people of Bermuda that they wanted us to develop any new construction on the existing King Edward VII Memorial Hospital site. It has been the partnership between the Ministry of Health, Bermuda Hospitals Charitable Trust and Bermuda Hospitals Board that has taken us from that point to where we are today.
Alan Burland, Director of Paget Healthcare Services & President of BCM McAlpine, said:
On behalf of Paget Health Services (Paget), we are very proud to be involved with this significant, inaugural Public Private Partnership (PPP), project for Bermuda. As the leader of the consortium, we are delighted that we can now roll up our sleeves and begin the actual construction work, as marked by this special occasion."

"Much has been accomplished in the lengthy pre-construction phase and we applaud the Bermuda Hospital Board and their consultants for managing such a complex, intensive process in such a professional, timely and fair manner. For the project to truly succeed, we must go forward continuing this strong team spirited and effective approach.
Minister of Health Zane DeSilva said:
While we are all aware of the importance of controlling costs wherever we can, we must also be reminded that investment in Bermuda's only acute care hospital is crucial if we are to meet international standards of care. What do I mean by "international standards of care"? A good example of this will be the provision of individual patient rooms in the new hospital building which, once created, will help prevent the spread of infections between patients and visitors."

"Changes in international standards, as well as a slight increase in our population (one which is ageing) means that the space required for existing services has changed. Additionally, the emergence of new equipment and technology means the size of the hospital is no longer adequate. For example, the floor to floor heights in the old hospital (built for 1960's healthcare) did not take into consideration the need for computer cabling. The fact is that the current hospital is simply too small to meet Bermuda's needs. The new facility will ensure that we have enough space for high quality healthcare services for many years to come, and that is vital for our community.
Premier Paula Cox said:
It has taken years of work by so many people to get us to get us to this landmark occasion and I would like to congratulate everyone for their hard work, dedication and commitment to its success. We all have a stake – whether personal or professional – in the future of healthcare in this country. This excellent facility will tremendously improve the quality of service and infrastructure for patients and staff, both in the immediate future and in the years to come; and after all, isn't that what health service is about!

In the past decade, we have witnessed remarkable advances in healthcare. The next decade promises even greater changes at a greater pace. This revolution has created immense challenges as well as opportunities, and the necessary redevelopment of Bermuda's main hospital offers an excellent opportunity to deliver on our vision for a first-rate medical facility and to promote a co-operative effort between the public and private sectors.

Traditionally, when governments and businesses work together, challenges can be met and overcome and opportunities can be exploited in ways that benefit communities. That is why this project is so exciting! The collaboration of the public/private partnership in this redevelopment project shows that when we work together, everyone can benefit.
Read More About