Wednesday, January 19th saw Tomorrow's Voices Autism Centre continue to strengthen the skills and knowledge of teachers, para-professionals, learning supports, occupational therapists, speech therapists, and parents when it held its fifth monthly workshop in its year-long Training Institute.
In the spirit of partnership, collaboration and information-sharing, the 2-hour workshop, entitled "Learning Differences & Multi-Sensory Approaches to Learning", was facilitated by Dr. Julie Dunstan, Executive Director of The Reading Clinic. The workshop approved by the Bermuda Educator's Council for professional development credits was held at the Bermuda College and saw over 45 eager persons participate.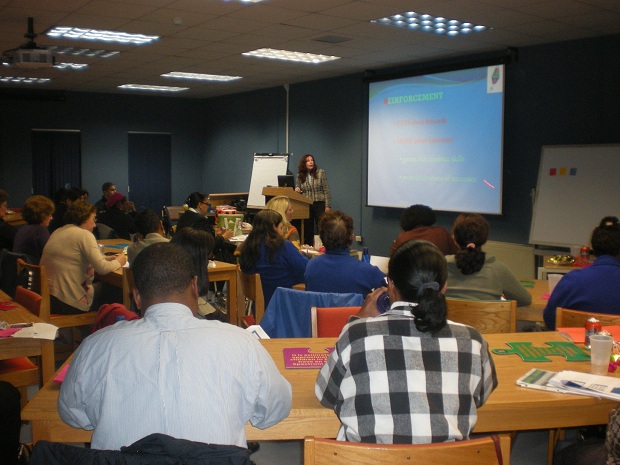 The Reading Clinic, a not-for-profit registered charity, was founded to help students who have a specific reading disability (dyslexia). Its primary aim is to help students overcome the difficulties they face due to dyslexia by teaching them how to read and write using the Orton-Gillingham approach. It also provides testing, family consultations and teacher training, and a specialized math programme.
Dr. Kimberly Mills, Director of Tomorrow's Voices opened the workshop by welcoming Dr. Dunstan and explained that the subject matter was very timely given the increases globally in learning differences and challenges with children.
Dr. Dunstan highlighted for participants what makes a difference for children with learning differences; she explored multisensory approaches for helping children to overcome their learning obstacles and celebrate their talents; and she gave attendees ideas and strategies to help children to learn, grow and soar. Attendees enjoyed the workshop and felt they learned practical strategies and techniques that could assist them when working with all of their students and their various learning styles.
At the conclusion of the workshop dozens of education and allied health professionals had developed an appreciation for strategies working with children with learning differences. Tomorrow's Voices Chairwoman, Mrs. Erica Smith, stated that "The workshop was another excellent opportunity for educators to learn more techniques on how to work with children with learning differences and special needs. It also was a great opportunity to partner with another not-for-profit charity that we highly respect. We anticipate the partnership continuing on other initiatives."
The next training in Tomorrow's Voices Training Institute will be held on Wednesday, February 23rd, 2011 and is entitled "Youth with Hidden Disabilities and Their Involvement with Juvenile Justice Systems". Participants will be able to learn how school failure is intricately linked to future incarceration and how youth with hidden disabilities and other learning problems often experience school failure. They will also be able to learn more about this phenomenon and about an innovative program designed to ameliorate this problem.
Anyone interested in attending future workshops should contact Dr. Kimberly Mills at 297-4342 or email tomorrowsvoices@northrock.bm.
The incidence of Autism internationally continues to rise with the latest statistics from the Autism Society of America at 1 in every 110 children are born with Autism. This means that at least 3 children every year born in Bermuda will be diagnosed with Autism.
Read More About
Category: All