This morning [Feb 18] Premier and Minister of Finance Paula Cox will deliver the 2011/12 Budget in the House of Assembly.
Speaking yesterday UBP Leader Kim.Swan said: "Virtually everyone in the country is aware that Bermuda is in the grip of its most serious economic challenge in many generations, and that the Government's spendthrift ways – enabled since 2004 by the Premier/Finance Minister – have made the situation much worse. The Budget tomorrow must lay down a clear plan to get the island back on track; to restore income, grow jobs, impose spending discipline and restore confidence not just in the Government but in Bermuda."
The BDA's Michael Fahy said: "Be ready during the budget debate for the Government to blame everyone and everything but themselves to explain their overspending, terrible oversight of capital projects, qualified audits and a ballooning civil service without regard to proper and sound fiscal management. We can also look forward to the Government saying that everyone else is predicting doom and gloom, especially those in the opposition, and that the Government is practically perfect. We truly hope these predictions are wrong."
The Premier has arrived, and the House is in Session: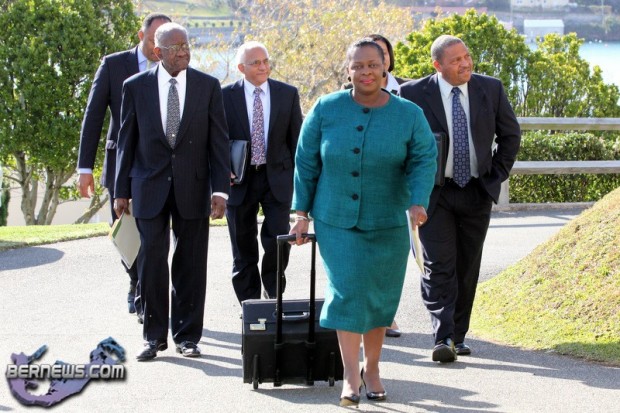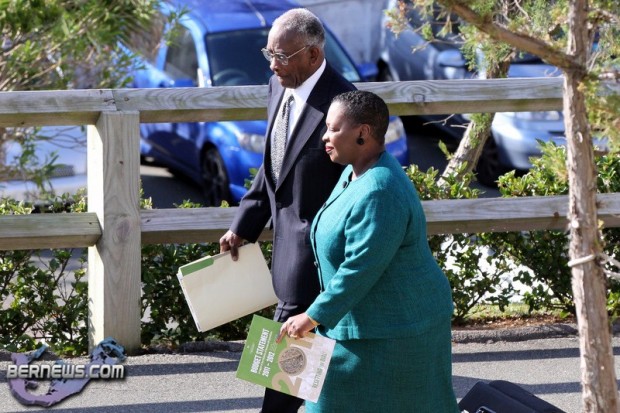 10:09: The Premier quotes singer Hubert Smith, saying in economic terms Bermuda is not another world, and Governments worldwide are struggling with the recession. She talks about Europe's reaction to the recession, the USA's unemployment stats etc.
10:13: The Premier said while it clear these events are out of our control, it is in our control how we respond. Says "we were elected for our ability to govern this beautiful country of ours." She says Bermuda like many countries, continues to reel from the effects of the recession. Says "our economy is holding its breathe".
10:18: Premier is quoting the Fitch ratings report, as well as Standard's & Poors.
10:20: Says our economy must increase our "ability to absorb labour" – Says Government is planning to shed "zero" jobs, gets some response from those in the House. Recognizes unions for playing their part.
10:23: Says Government is working with Park Hyatt developers. Talks about retraining people who have lost jobs in their field. Says there is no "silver bullet" to create jobs, a multi dimensional approach is required. Says there is no quick fix.
10:26: Says there is more to the budget then slashing programs 15%. Says trimming will be insufficent to prepare our economy for the next step. Says spending cut are needed, but we have to look at the whole picture.
10:31: Says Payroll tax is to be rolled back. Relief from Payroll Tax for Hotel Sector will be extended to March 31, 2012.
10:32: Video of Premier arriving this morning
10:33: Premier says there will be an increase in cost for in cell phone licences. Does not mention specifics yet.
10:36: Proposes a $90 million reduction in capital spending, and $60 million in capital expenditure – to make the $150 million cut promised in the Throne Speech. Gets response from those in House.
10:37am: Says overtime will be slashed by millions, Government jobs unfilled now will remain so.
10:39: Premier says we are investing $3 million for the Xray scanner for Hamilton docks, to assist in public safety
10:40am: Premier says we expect $940 million gross revenue for the year ended March 2012, with total expenditure including debt servicing and capital expenditure estimated at $1.08 billion, which results in over $136 million of borrowing
10:44: Speaks of needy people, saying do we want do act in a callous manner towards them.
10:46: Mentions the closing of True Reflections store, says she mentions it to put a face on the economic issues people face. The Premier says Government is mindful people are anxious about the prospect of unemployment in the current economy and are finding it difficult to make ends meet.
10:50:Says she will work on an "open budget structure", to foster more engagment in the island's budget decisions. Says it will empower people, says Government will run blogs and comment sites to get input. "I intend to begin work shortly on the development of an open budget structure," she says.
10.51: Rolling back payroll tax by two percent to stimulate job growth, extending customs relief to help businesses become more competitive and cutting Governmenht capital and current account expenditure by a total of $150 million are the three key provisions the Premier believes will help to create an economic recovery.
10:53: Says the budget allocates $900 million in spending over the next year on education, health, youth and families, tackling crime, improving infrastructure, human development, improving Government efficiency and measures aimed at reducing poverty Says savings will be made by reducing or winding down less effective programs.
10:55: Says we are all in this together, says assistance from the community is needed.
11:00: Premier says "We need to be able to come out of this together. Not just better but better off."
11:01:The Premier promised entrepreneurs who want to invest in the economy and create jobs would face less Government bureaucracy and red tape, saying "more red carpet, less red tape." She said: "We must prepare for the future and put the people, policies and programmes in place today to restore economic growth and stability
11:02: Premier speech ends, applause from those in the House. She is thanked by Speaker.
11:18: Full 36-page statement added below, click 'Full Screen' for greater clarity:"
1:00pm: Below is a stream, of highly dubious quality, of the press conference. [We apologize for the quality, we operate off a mobile connection and the reception in the area isn't ideal!]
2:45pm: Live stream now over, with videos to come later. Michael Fahy, BDA financial affairs spokesman, speaks below right after the budget:
3:53pm: Deliotte released a "Budget Snapshot". Full statement here, snippet follows: The statutory debt ceiling remains at $1.25 billion. In 2011/2012, including debt and guarantees public debt is estimated at $1.29 billion which exceeds the statutory debt ceiling by $40 million. However, in the current year government has excluded $210.5 million of guarantees to bring the 2011/2012 estimated public debt total to $1.08 billion. Including guarantees, public debt in 2010/2011, 2009/2010 and 2008/2009 was $1.175 billion, $970 million and $483 million, respectively."
4:43pm: Shadow Finance Minister Bob Richard's spoke with us this afternoon:
4:50pm: Written statement from Shadow Finance Minister Bob Richards:
We are pleased Premier Cox has finally acknowledged the seriousness of Bermuda's economic troubles, but merely recognizing tough times is not a plan and this is where her new Budget fails Bermuda.

This was a great opportunity for the Premier and her Government to lead the country.

The people were prepared to play their part. They were ready to support steps that could have put the Island on the path to recovery and to help Government to get its financial house in order.

Instead, they got a 15-page statement that simply did not rise to the occasion.

The Budget offered no plan, no direction and very few concrete steps that would give the country hope that recovery was within reach.

The Premier's statement, rather, was a disturbing study in avoidance. Examples are legion:

Ms Cox saying the Budget was her "first as Premier and Finance Minister" – a poor attempt to separate herself from her own seven-year record Finance Minister.
Ms Cox's head-shaking call for a "credible" tourism plan, as though the Government today had nothing to do with its past 12 years in power.
The Government's move to redefine public debt – a shell game to make it look smaller than it is.
The failure to address soaring public debt, with interest charges set to nearly double to $70 million a year. That's more than $190,000 a day in interest charges.
Verbiage about the need to re-tool the economy for recovery without specifying a way to do it.

The Government had an important opportunity to lead by example, with Ministers taking a symbolic pay cut as the springboard for belt-tightening reform of government spending. But this did not happen.

We support moves to cut employment costs for businesses. But these measures in themselves are not enough. The Government could have done much more.

In the end, this Budget statement is a triumph of politics over responsibility to the short and long-term economic health of the island. It is shame and an opportunity lost.

Bermuda can do much better.

We will provide the country with a plan to rebuild our economy in our formal Budget Reply next Friday, February 25th.
5:00pm: The Chamber of Commerce issued a statement. Full version here, snippets follow: "In 2012 Government is expecting to spend $473m on direct employment costs which is 52% of all expenditures. In addition to this is the funding of the approximately 1,400 people employed by the QUANGO's who receive total grants of $227m the majority of which goes on employee costs."…"It is these large amounts of employment costs which gives rise to the budget deficits and corresponding need to borrow overseas. The total interest payments will be $71m in 2012."…"The projected savings of $150m appear questionable."
5:45pm: Full statement from BDA Financial Affairs Spokesperson Michael Fahy added here.
5:48pm: Statement from Dr Katherine Michelmore – BDA spokesperson on the Environment.
I am particularly interested in the Premier's stated $27 million earmarked for expansion and capital maintenance of the Tynes Bay Waste Treatment Facility. No one will deny that the Tynes Bay facility is in desperate need of long overdue maintenance. Premier Cox chose to make reference to a quote by President John F Kennedy about "repairing your roof when the sun is shining." Tynes Bay speaks to a complete disregard for that inherent wisdom. Our island's current status where we are storing baled trash at Morgan's point is unacceptable and was
totally avoidable. Problems were identified as far back as 1998, and in 2001 Minister Eugene Cox stated that it was necessary to start a fund to replace the incinerator, and Works and Engineering Minister at the time, the Hon. Alex Scott, stated that his Ministry should assess the island's waste and the future direction of the island's waste disposal. Nothing happened. Hence Premier Cox's promises to reduce dependence on Tynes Bay and restore Marsh Folly cannot be viewed without a degree of scepticism. There is no mention in the budget of any investment in projects to reduce waste production, increase recycling, or to stimulate use of alternative energy sources.

Whilst the Premier was keen to mention Government co-operation with developers of the proposed Park Hyatt and Morgan's Point in stimulating tourism, she did not mention the environmental concerns associated with the clean-up required at Morgan's Point, or the current hugely controversial SDO proposed for the development of Tucker's Point. I fear that environmental concerns are often low on this Government's agenda, as is indicated by their absence from the budget speech.
7:32pm: Minister of Business Development and Tourism Patrice Minors spoke at a post-budget press conference this afternoon [Feb 18] providing details of the financial provisions allocated to her Ministry. Full statement here.
Feb 19: Video statements from post-budget press conference added:
Read More About