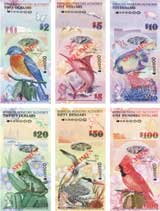 Bermuda's recession-battered economy has today [Nov.22] received a cautiously optimistic prognosis from one of the world's top ratings agencies. Fitch Ratings today affirmed Bermuda's foreign currency Issuer Default Rating (IDR) at 'AA+' and its local currency IDR at 'AAA'. The Outlooks on both ratings are Stable. At the same time, Fitch has affirmed the short-term rating at 'F1+' and the country ceiling at 'AAA'.
Fitch said there were indications Bermuda had now weathered the worst of the global recession and signs of an economic turn-around  are mounting. However, the agency cautioned Bermuda cannot expect a strong recovery in the short term given the island's strong ties to recession-hit developed economies.
Bermuda's sovereign ratings are supported by its strong institutions, an extremely high per capita income, sustained sizeable current account surpluses and a low public debt burden compared with peers, said the international ratings agency. Bermuda's credit weakness is its small and narrow economic base, which weakens its ability to absorb economic shocks compared with other high-grade sovereigns.
"Bermuda's sophisticated legal system, strong regulatory framework, favorable tax regime and the local presence of highly skilled human capital underpin the island's solid reputation as a domicile of choice for (re)insurance and financial services companies, a factor that will continue to support the local economy," said Theresa Paiz Fredel, Senior Director in Fitch's Sovereign group.
Although the global economic and financial crisis buffeted Bermuda's small island economy and resulted in the worst economic contraction since 1992, signs of a gradual recovery are emerging according to Fitch, who do not expect a strong rebound in the short term given Bermuda's ties to developed economies. Nevertheless, Bermuda maintained its track record of economic stability and large current account surpluses, while the financial system weathered the crisis without any fiscal cost to the government, said the ratings agency.
Fitch said that responsible fiscal management has kept Bermuda's debt ratios significantly below the median for the 'AA' category median (sovereigns rated 'AA-', 'AA' and 'AA+'), despite a marked increase in public indebtedness since 2006. Fitch expects measures implemented earlier this year to boost fiscal revenues and restrain public spending to help contain fiscal slippage that partly resulted from the global financial crisis. Similarly, the agency expects these measures to bring the general government deficit back to more sustainable levels and stabilize debt ratios in the medium term.
The agency projects Bermuda's gross public debt ratio to reach 16.3% of GDP in 2010, which compares favorably with the 'AA' forecasted median of 61.2% of GDP. Fitch believes that stabilizing debt ratios over the medium term is prudent due to the government's low revenue base and limited financing options relative to high-grade peers.
Continued deterioration in the sovereign's fiscal metrics over the medium term could exert downward pressure on Bermuda's ratings given its relatively limited financing flexibility compared with peers due to its small and narrow economy. Potential changes in the tax regime of other countries targeting companies domiciled in offshore jurisdictions could pressure Bermuda's competitiveness as a domicile for international companies, which would also be negative for creditworthiness. Conversely, resumption of economic growth and concrete signs of fiscal consolidation and debt stabilization would help sustain Bermuda's ratings.
Premier and Minister of Finance Paula Cox said today "It is pleasing that our sovereign rating was affirmed at AA+ especially in these challenging economic conditions when many countries' ratings are actually being downgraded."
Read More About