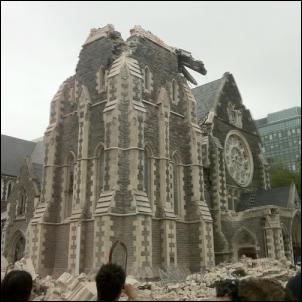 New Zealand's most destructive earthquake since the 1931 Hawke's Bay temblor killed more than 250 people may end up being the most expensive natural disaster for global re/insurers in three years, according to estimates JPMorgan Chase & Co. issued today [Feb. 22] — further impacting on earnings of Bermuda companies still counting the costs of the September Christchurch calamity.
Insured losses from the second quake to hit the South Island city in recent months  – flattening buildings, collapsing the spire of Christchurch's historic cathedral and killing at least 65 people –  could top $12 billion, Michael Huttner, an analyst at JPMorgan, said in a note to clients.
This would make the South Island quake the most expensive disaster for re/insurers since the $19.9 billion loss from Hurricane Ike which hit the US in 2008.
Earlier today industry analysts were calculating insured losses from yesterday's earthquake would range between $1 billion and $7 billion. Insured losses from the September earthquake will likely cost reinsurers an estimated $6 billion — but Mr. Hutter said the pay-out from the second quake could come to twice that much because the epicentre struck closer to the heart of the city and caused more damage to buildings and Christchurch's infrastructure.
"Even buildings which are still standing may have hidden structural damage and could then need to be rebuilt," said Mr. Hutter in the note. "This is a very conservative assumption on our part and in support of this we note that all reinsurers revised" cost estimates for the previous earthquake.
Shares in Bermuda-based reinsurers doing substantial business in New Zealand continued to fall this afternoon, with PartnerRe falling $3.44, or 4.2 percent, on the New York Stock Exchange – the company's biggest drop since April, 2009. Flagstone — which maintains its executive offices in Bermuda although the company redomiciled in Luxembourg last year – declined 41 cents, or 3.3 percent, to $12.13. Flagstone has said its costs from the September quake will amount to $75.5 million while PartnerRe expects losses of  $140 million from that disaster.
Read More About