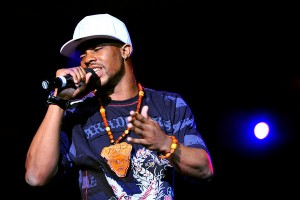 Bermuda singer Propa has launched a buzz-worthy new YouTube video for his song "Together, Forever", a tune which is receiving airplay everywhere from California to Africa
Propa — real name Jamel Thomas — has attracted a wide on-line following with his R&B- and hip-hop flavoured  music and blogging in recent years but "Together, Forever" has brought him his biggest listenership to date.
"My new single and music video 'Together, Forever' has been recieving nothing but positive reviews and the viewership is growing as we speak through the Internet," he said. "My music has been getting radioplay in Bermuda and through Africa and certain parts of the West Coast of America as well as a result of 'Together, Forever'.
"I've been contacted by many DJs requesting drops for their mixshows."
Born in Jacksonville, Florida but raised in Bermuda, Propa been rapping for the past eight years and singing for all of his life.
"I first got into rapping when the Hot Boyz first CD came out in the late '90s," he said. "I was doing freestyle battles making money off that and after got into song writing and just kept perfecting my craft."
Among the musical influences Propa cites are Jay-Z, Nas, Cash Money, Ludacris, Run-DMC, 50 Cent and Eminem.
"I put my all in my music and love writing songs that make you think you're on a journey through my words," he said. "But also I can make that music for the clubs and streets, so just say I'm diverse."
He has opened for international acts including Mario and Mavado and has performed at the Good Friday kite festival at Horseshoe Bay, the Peace in The Street mini-tour and Chewstick among other venues.
Read More About
Category: All, Entertainment, Music