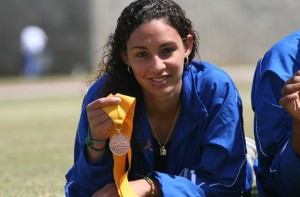 The Central American and Caribbean Athletic Federation [CAC] have released their most recent rankings, which shows Bermudian athlete Ashley Berry to be #1 ranked in the 3000 meters.
Ms Berry achieved the ranking after her recent record breaking performance in North Carolina, which saw the 19-year-old smash her own Bermuda Junior Record in a time of 10:23.50, besting the previous record of 10:41.33.
There are 36 members countries in the CAC, and ranking behind Ms Berry in second is Yaritza Saavedra of Venezuela, while Mexico's Katia Jimenez is ranked third in the region.
The 36 CAC member countries are: Anguilla, Antigua, Aruba, Bahamas, Barbados, Belize, Bermuda, British Virgin Islands, Cayman Islands, Columbia, Costa Rica, Cuba, Dominica, Dominican Republic, El Salvador, Grenada, Guatemala, Guadeloupe, Guyana, Haiti, Honduras, Jamaica, Martinique, Mexico, Montserrat, Nicaragua, Panama, Puerto Rico, Saint Kitts and Nevis, Saint Lucia, Saint Vincent, Suriname, Trinidad and Tobago, Turks and Caicos, US Virgin Islands and Venezuela.
Ms Berry, who is also ranked 23rd in the 1500 meters, will make up part of Bermuda's 38-strong team for the 2011 Carifta Games, which will be held in Jamaica later this month. She has previously medaled in the 3000 meters at the Carifta Games, picking up the bronze medal in the 2009 Carifta Games in St Lucia.
Read More About