[Updated] At approximately 10:30pm this evening [Apr.17] there was a firearm incident in the North Shore/Bandroom Lane Pembroke area, with one individual fatally shot. There are a number of area residents gathered outside.
There is a bike on the ground by the victim, and the Police are on scene, with the area cordoned off from both the North Shore and Bandroom Lane/Glebe Road side. We have limited information at this time but will update as able.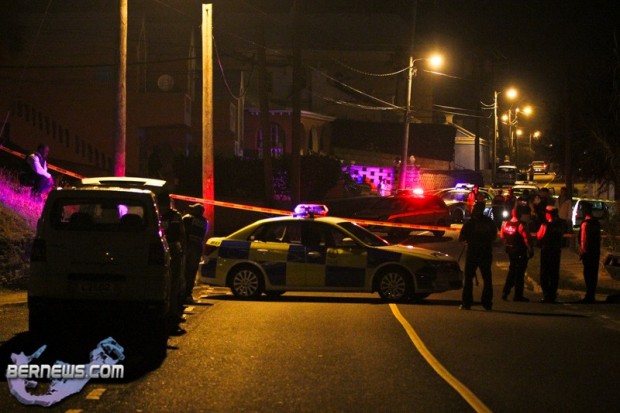 Update 11:15pm: Area residents report that they heard a 3/4 gunshots, then came outside and found the victim laying there. The victim appeared to be riding a bike when he was shot, with residents indicated the shooter[s] may have also been on a bike. The victim resided in the immediate area.
Update 11:37pm: A very grainy and quick video clip of the scene is below:
Update 11:53pm: Police confirm the victim was 26 years old, and was pronounced dead at the scene. Video of Police statement below:
Update 12:00am: Official Police Statement:
Police responded to a report of a confirmed firearm incident that took place around 10:20pm on Sunday at the junction of North Shore Road and Band Room Lane in Pembroke. As a result a 26 year old Pembroke man received gun shot wounds and was pronounced dead at the scene.

No further information will be given until the next of kin has been notified. Anyone who may have seen any suspicious activity in the area is asked to contact the Serious Crime Unit on 295-0011 or the independent, confidential Crime Stoppers Bermuda hotline on 800-8477.
Update 12:04am: The Police have advised that North Shore area, in the vicinity of Blackwatch Pass and Glebe Road, will be closed to sometime tomorrow morning while the Police conduct their investigation.
Update 12:30am: We are getting reports of a second incident at the Southampton area. It is unclear what happened at this time, however we are on scene attempting to get confirmation of what may have occurred.
Update 1:09am: Police confirm they are investigating a second report of a firearm incident tonight. Details here.
Update Apr 18 12:09pm: The Police have  named the victim as David Clarke, and say he was shot by two persons on a motorcycle while he was riding his motorcycle along North Shore. The full Police statement is below:
The members of the Bermuda Police Service would like to extend their heartfelt condolences to the friends & family of Mr. David Clarke who is now tragically the fourth young Bermudian man to lose his life to gunfire this year.

Mr. Clarke was a 26 year old single man in the prime of his life.

The Police investigation so far has determined that Mr. Clarke had been travelling west on North Shore Road at about 10:30pm last night (Sunday 17th April 2011). Mr. Clarke had left a function at the Mid Atlantic Boat Club and was riding his motorcycle towards his residence which was less than 100 metres away from where this incident occurred.

Mr. Clarke was targeted by two persons on a motorcycle who were also riding west on North Shore Road. They shot Mr. Clarke at close range. CPR was provided at the scene by an off duty EMT but sadly Mr. Clarke succumbed to his injuries.

The Serious Crime Unit has commenced investigations and these are progressing. However, it is believed there are persons who have not yet made contact with the Police in relation to this matter.

There are people in the community that know about the suspects in this case and the Police want to talk to them. Members of this community cannot continue to protect murderers who seek death and destruction in our Island.

Members of the Serious Crime Unit want information and evidence that can bring these killers to Justice.

The Serious Crime Unit can be contacted on 299-8115 or anyone with information is encouraged to contact the CONFIDENTIAL & independent Crime Stoppers Bermuda hotline on 800-8477 (TIPS).
Update 4:44pm: Minister of National Security Wayne Perinchief confirmed that he and Junior Minister Senator Jonathan Smith met with the Commissioner of Police and his Senior Command team after the shooting. The Minister also expressed his sympathies to Mr Clarke's family and friends.
This is the fourth murder of 2011, following the murder of Randy Robinson on March 31st on Border Lane, the murder of Jahmiko Leshore on March 1st in Devonshire, and the murder of Colford Ferguson on February 4th in Sandys.
Anyone who may have any information regarding this incident is asked to contact the Serious Crime Unit at telephone number 295-0011 or the independent, confidential Crime Stoppers Bermuda hotline at 800-8477.
Bernews extends our sympathies to the victim's family and friends.
Read More About