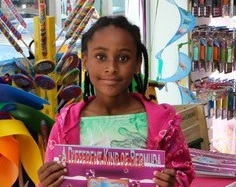 Bermuda's youngest author Malaikah Abdul-Jabbar made waves with tourists at last week's Harbour Nights.
8-year-old Malaikah is now currently selling signed copies of her latest book 'A Different Kind of Bermuda' every Wednesday at Harbour Nights.
According to Malaikah's mother Azuhaa Coleman, tourists fell in love with her last week as her newest book sold 40 copies in a mere two hours.
She went on to tell the story of a woman from Philadelphia who broke down in tears when meeting Malaikah for the first time, constantly repeating 'there is still hope'. Malaikah had reminded the woman of her severely sick granddaughter who was roughly the same age.
'A Different Kind of Bermuda' explores the island through the eyes of an eight-year-old showing her perception of  Bermuda and her people.
Ms. Coleman speaks proudly of her daughters accomplishments, "Even after all the commotion with the tourist, and then locals, Malaikah kept a cool head; she knew why she was there and how important the message was to get out."
After the night ended, Malaikah told her mother, "'Mommy, I think people will really love Bermuda now!'"
Last year Malaikah Abdul-Jabbar published "Stop The Shooting: The Way Bermuda Feels. Expressed Through the Emotions of a 7-Year-Old" — which sold out in a matter of days. She wrote and illustrated the book after a classmate's father was shot and killed.
Launched in 2010 at a City Hall ceremony attended by then Deputy Premier Paula Cox, the book proved to be an instant sensation. As a result of her book's success in April, 2010 Malaikah became the youngest presenter in the 55-year history of the International Reading Association [IRA] conference in Chicago, which had an estimated attendance of 60,000 people.
Read More About