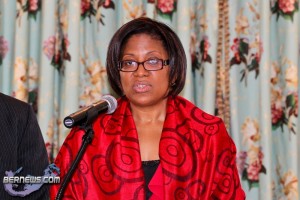 As the global Islamic finance industry enters the next phase of growth, more than 1,200 industry leaders, senior financial services industry figures from Bermuda will join decision-makers and key regulators from more than 50 countries who are attending the 18th Annual World Islamic Banking Conference [WIBC 2011].
Hosted with the strategic partnership of the Central Bank of Bahrain and supported by the Economic Development Board of Bahrain, WIBC 2011 will be held at the Gulf International Convention Centre, Gulf Hotel from November 21-23, 2011.
The theme for this year's WIBC, "Competing for Global Growth", reflects the expanding geographical footprint of Islamic finance and the increasing presence of Islamic financial institutions in new jurisdictions that is providing significant opportunities for cross-border trade and investment flows that are Shari'ah-compliant. Discussions at WIBC 2011 will emphasise strategies for managing the challenges of industry globalization and reinforce co-operation across jurisdictions to ensure stronger international capabilities for the Islamic banking and finance industry.
Announcing the launch of the event, David McLean, Managing Director of the World Islamic Banking Conference said that "Islamic finance is no longer a niche market and is rapidly becoming an important component of the mainstream financial system. As various jurisdictions seek to intensify efforts in developing their respective Islamic banking and finance markets, it is vital to strengthen the global framework for greater collaboration between these geographies that will facilitate significant cross-border activities and deal flow."
He also said that "in order to ensure the industry's orderly evolution as an integral component of the international financial system, it is essential to manage the challenges of industry globalization. WIBC 2011 will provide the leading industry players with the platform to capitalize on the growth opportunities from new emerging frontiers for Islamic finance."
Earlier this year Business Development Minister Patrice K. Minors [pictured] said Cabinet supported a 2010 report commissioned by the Finance Ministry regarding opportunities for Bermuda in the Islamic finance securities and investment funds sector as well as the re/insurance [takaful and retakaful] sector.
Minister Minors stated the purpose of  the Islamic finance report was to continue to ensure Bermuda-registered entities operate within a legal and regulatory framework that promotes growth and investment. Islamic finance — compliant with Sharia Law – has shown constant annual growth between 20 percent and 30 percent over the past ten years.
Currently, global Islamic finance assets are estimated at $1 trillion and are expected to rise to $4 trillion in the near future.
In recent months Bermuda has been aggressively attempting to position itself as an off-shore regional hub for Islamic finance. Earlier this year leading re/insurance trade journal "Reactions" said the island's special focus on takafal and re/takafal was a "clever play" on the island's part.
In 2010, Price Waterhouse Cooper [PWC] was commissioned to identify the key developmental drivers and to review potential impediments to being able to successfully market Bermuda as a jurisdiction for Islamic financial product offerings.
PWC concluded that the present financial sector framework offers the same advantages for Islamic financial products and institutions as it does for conventional products and that there were no major legislative or regulatory impediments to launching Islamic financial products in and from within Bermuda.
Minister Minors said, "From Bermuda's perspective, this policy move presents unprecedented opportunities to us, as we can leverage on our strengths as a financial centre and maintain the same high regulatory standards.
"Our vision is for Bermuda to continue to be a leading provider of world-class services, to maintain this vision, we must reinvent, and reposition our established service industries to stay ahead, as well as develop new emerging products. This will enable us to create a dynamic and well-diversified services sector."
The three-day Bahrain event will commence on November 21 with a series of pragmatically focused pre-conference summits led by experienced and respected industry experts, who will place a range of complex themes in a practical framework, enabling a deeper understanding of the critical issues facing the Islamic finance industry today.
The main WIBC 2011 conference, which begins on November 22, will be inaugurated by H.E. Rasheed Mohammed Al Maraj, Governor of the Central Bank of Bahrain.
The inaugural session which focuses on strengthening the regulatory frameworks to accelerate the international development of Islamic finance will also feature H.E. Khaled Mohammed Al-Aboodi, Chief Executive Office & General Manager, The Islamic Corporation for the Development of the Private Sector, the private sector arm of the Islamic Development Bank Group of Saudi Arabia.
Confirming his participation at the event and announcing the Central Bank of Bahrain's strategic partnership with WIBC 2011, H.E. Rasheed Mohammed Al Maraj, governor of the Central Bank of Bahrain noted that the "the growing internationalization of Islamic finance reflects its ability to be competitive and respond to the complex needs of businesses globally. As the industry's geographic footprint expands, it is becoming increasingly vital to develop appropriate global frameworks and overcome the challenges of globalization faced by Islamic finance.
"The Central Bank of Bahrain is delighted to be again hosting this unique global industry gathering", he added.
A key highlight of WIBC 2011 will be the exclusive Industry Leaders' Power Debate led by internationally respected CEOs and decision-makers from the key players in the industry.
WIBC 2011 will also feature a special keynote address on "Competing for Global Growth: Preparing for the Asian Century" by Prof. Kishore Mahbubani, the Dean and Professor in the Practice of Public Policy at the Lee Kuan Yew School of Public Policy at the National University of Singapore on the final day of the event.
The eagerly anticipated "World Islamic Banking Competitiveness Report", developed in collaboration with Ernst & Young, will also be launched on-site at the 18th Annual World Islamic Banking Conference in an exclusive session on November 22.
The 2011/12 report which is now in its 8th annual edition, will explore the key trends and successful strategies deployed by leading Islamic banks. The report will also assess issues such as the absence of an enabling Islamic finance environment in most OIC markets; conversions and startups – the projection of 100 new Islamic banks by 2020; Oman's Islamic banking debut; deteriorating margins, with provisions remaining the biggest contributor; and local currency sukuks in the spotlight.
As a part of the world comes to WIBC initiative, a leading panel of international experts will converge at the Country Focus Roundtable to address how well-positioned Islamic banks can explore international opportunities in the most dynamically evolving high-growth markets for Islamic finance. The Country Focus Roundtable along with the WIBC Country Pavilions will explore exciting opportunities in key jurisdictions including Bermuda, France, the United Kingdom, Singapore, Bahrain, Luxembourg and Labuan.
Announcing their support for the event, Dr. Jamil El-Jaroudi, Chief Executive Officer of Elaf Bank said that "the global Islamic banking and finance industry has seen tremendous growth internationally and Bahrain is at the forefront of this growth and has a long history of being a pioneer in the global industry. With the industry now beginning to break out from its niche status to achieve critical mass in the global financial system, it is essential that we prepare the industry to tackle the challenges ahead. As a renowned, leading and global integrated wholesale Islamic banking institution, our partnership with the World Islamic Banking Conference highlights our commitment to the industry in creating a dynamic environment that will contribute to the sustainable growth of the Islamic finance industry."
Read More About