Business Bermuda represented Bermuda's fund industry at the Hedge Funds World Africa conference, on 7 – 8 November 2011 at the Grand Hotel in Cape Town, South Africa.
Business Bermuda hosted an exhibition booth at Africa's largest hedge funds conference and spoke to leading members of South Africa's growing alternative investment industry, leading hedge fund managers from Africa and abroad, investment banks, prime brokers and institutional investors.
Cheryl Packwood, chief executive officer of Business Bermuda talked with conference attendees about the issues facing African alternative investment and fund industry and discussed the opportunities found in Bermuda including its high standards of regulation, tax neutrality, high levels of transparency and disclosure.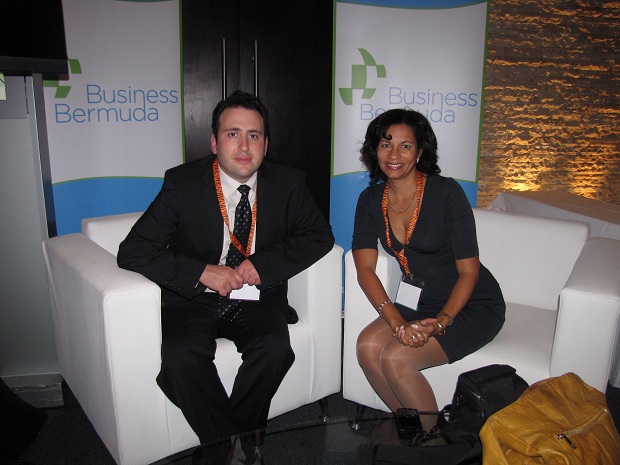 Over 250 delegates from across the world attended the conference where panel sessions discussed the best ways to reduce risk in hedge funds investments, overcome regulation from affecting returns as well as new hedge fund products and allocating hedge portfolios while building relationships with leading global hedge fund players.
While in Cape Town, Cheryl Packwood also conducted a business development programme, holding a series of one-to-one meetings with the South African business community to discuss Bermuda's offerings and advantages as an international financial centre partner.
Cheryl Packwood, CEO of Business Bermuda commented: "Many Bermuda based companies have operations in South Africa and this was an important event for Business Bermuda to build strategic ties to decision-makers and influencers in the South African fund industry at the only event of its kind for the strategic issues driving African alternative investment forward.
"Africa is well placed to be the next great global growth story and foreign investors and businesses need to recognise that the industry is diversifying from natural resources and more new investment funds are being set up seeking to take advantage of the new opportunities and generate attractive risk-adjusted returns.
"There are many synergies between Bermuda and South Africa, both of whom can boast of a long and strong tradition of financial services and trading sophistication as well as an impressive and fast-growing hedge fund industry with strong ties to the UK.
"Bermuda has a real opportunity to work well within this market, Bermuda based firms such as Conyers Dill & Pearman, who sponsored the event last year, as well as Orbis and Allan Gray who are already increasingly active in the African fund industry and whose operations in Africa help build Bermuda's existing reputation as a world class financial centre."
Read More About