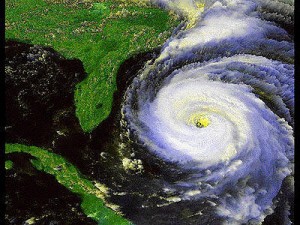 The low-pressure system currently located 400 miles southwest of Bermuda which is producing  gale-force winds now pummeling the island has a one-in-three chance of developing into a sub-tropical cyclone, the US National Hurricane Centre [NHC] says.
Sharing some characteristics with hurricanes, these storms can have maximum winds extending farther from the centre than in a purely tropical cyclone and have no weather fronts linking directly to the centre of circulation.
The maximum recorded wind speed for a subtropical storm is 74 miles per hour — also the minimum for a hurricane [satellite imagery of  2007's sub-tropical cyclone Andree is shown].
"Thunderstorm activity has developed closer to the surface centre during the past few hours," said the NHC in a bulletin this morning [Nov.7]. "And if this trend continues, the low could gradually acquire sub-tropical characteristics over the next couple of days.
"This system has a medium chance — 30 percent — of becoming a sub-tropical cyclone during the next 48 hours as it slowly drifts westward."
There are currently no Bermuda advisories regarding the potential risk of a sub-tropical cyclone.
In its morning bulletin released at 5.30 am today [Nov.7], the Bermuda Weather Service said: "Low pressure to our southwest will nearly stall today with continued strong to near gale force winds affecting the island.
"Shower activity becomes more numerous today as moisture returns from the south along with isolated thunderstorms. The low will begin to drift west, then north this week, helping to veer and ease winds slightly but maintaining the threat for a few showers and isolated thunderstorms."
A gale warning and a small-craft warning continue to be in effect in Bermuda.
Read More About