Bermuda Premier Paula Cox met privately with British Foreign Office Minister Henry Bellingham in London yesterday [Nov. 22] just prior to the convening of the Overseas Territories Consultative Council to discuss the UK's future strategy towards its 14 remaining dependencies.
Hosted by Foreign Office Minister for the Overseas Territories Mr. Bellingham, the annual meeting brings together Premiers, Chief Ministers and elected representatives from across Britain's Overseas Territories.
Discussions will focus on the UK's proposed 2012 White Paper on the Overseas Territories .
There will be also be sessions on subjects including aviation safety, good governance, criminal justice, economic development, and environment and climate change.
The Council is being attended by British Ministers from the Departments for International Development; Transport; Environment; Energy and Climate Change; the Treasury; Home Office; Ministry of Defence; Culture, Media and Sport; and Business, Innovation and Skills.
The Premier With UK Foreign Office Minister Henry Bellingham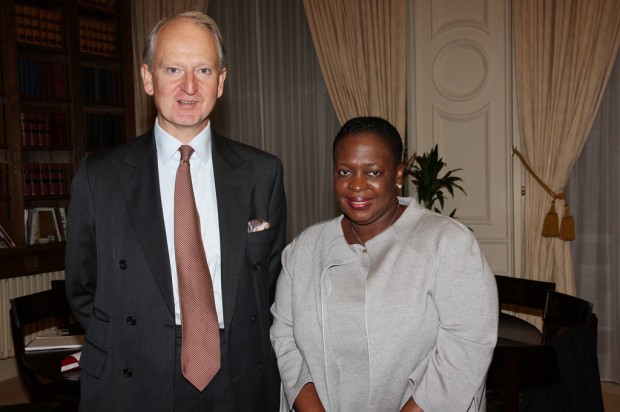 Speaking ahead of the meeting, Mr. Bellingham said: "I am delighted to welcome elected leaders from the Overseas Territories to this year's meeting in London.
"Much has happened since Territory leaders gathered here 12 months ago and I am delighted that the UK government has developed and agreed a clear strategy towards the Territories focused on increasing our engagement with them; working together to strengthen good governance arrangements, public financial management and economic planning, where necessary; and developing external support for the Territories.
"A strong demonstration of our increased support for the Territories was provided by this Government's decision to build a new airport on St Helena. I will be joined at the meeting this year by several colleagues from across the Government. This is a sign of the strengthening engagement of the whole of the UK government with the Overseas Territories.
"I look forward to discussing with Territory leaders their ideas for the development of our partnership which will help us develop our thinking for the White Paper on the Overseas Territories that we intend to publish next year."
In addition to the Council meeting, leaders and elected representatives will meet Foreign Secretary William Hague; attend a reception hosted by the Commonwealth Parliamentary Association as well as having bilateral meetings with Mr Bellingham.
The United Kingdom's 14 Overseas Territories, spread across the globe, are diverse communities. They range from Bermuda to the island of Pitcairn with its 47 inhabitants, in the middle of the Pacific Ocean. The total population of the territories is around 239,000.
The Consultative Council, held annually since 1999, is a forum for discussion of key policy issues between British Ministers and Heads of Overseas Territories' Governments.
The Council meets once a year in London.
Read More About