Bermuda's Ministry of Finance announced today [Nov. 24] the signing of a bilateral tax information exchange agreement with the Republic of Malta.
The agreement, which took place in London, was signed by Maltese High Commissioner to the UK H.E. Joseph Zammit Tabona and Premier and Finance Minister Paula Cox.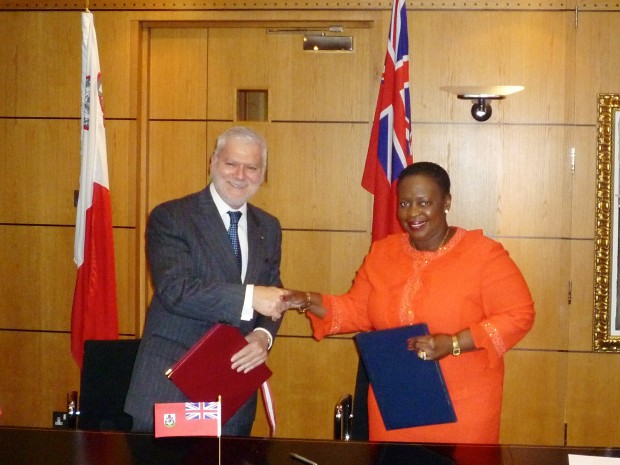 "Negotiations took place in Bermuda during the Global Forum held in Bermuda on May 31 and June 1 of this year and I am delighted the good will created by our respective negotiating teams is solidified by Bermuda and the Republic of Malta signing the TIEA today in the UK," said Ms Cox, who was in the UK attending the annual meeting of the  Overseas Territories Consultative Council.
The TIEA which provides for a full exchange of information between the two countries marks Bermuda's 30th Agreement for the exchange of information on tax matters and was, said Premier Cox, a further demonstration of Bermuda's commitment to being a responsible player in the global finance sector.
"The value of signing this, our newest TIEA, is a protective and pre-emptive measure to strengthen Bermuda's position so we are exempt from harsher more punitive future legislative measures. It helps solidify our relationship with the European Union and marks the 12th Tax Information Exchange Agreement with an EU member state," the Premier said.
"It is, therefore, truly a pleasure today to expand our TIEA network with the Republic of Malta and to continue our working relationship with Malta in the Global Forum."
Premier Cox said she was pleased to add this 30th TIEA to Bermuda's Tax Agreement network.
"As with the others it includes all standard means to ensure due process is followed in tax information requests to Bermuda, including, for example, provisions to protect the confidentiality of information provided under the TIEA," she said. "The TIEA will also adhere to public policy considerations and provisions related to protecting legal privilege," she said.
Brad Kading of the Association of Bermuda Insurers and Reinsurers [ABIR] and one of Bermuda's key industry stakeholders supportive of the islands TIEA programme said of the signing: "We congratulate the Ministry of Finance for completion of its 30th Tax Agreement.
"Such with foreign governments improve Bermuda's standing in the world. It is a time consuming but necessary part of maintaining Bermuda's leadership in this area. Such agreements create opportunities to remove harmful tax provisions that exist in some jurisdiction's laws, we encourage that action."
Read More About