The annual Overseas Territories Consultative Council [OTCC] attended by Bermuda Premier Paula Cox wrapped up in London today [Nov. 24], with Britain pledging to make its 14 remaining dependencies a "priority" in the coming year.
Premiers, Chief Ministers and other elected representatives from Britain's Overseas Territories were in attendance at the talks which got underway on Wednesday [Nov. 23].
On the first day of the meeting, Foreign Secretary William Hague addressed leaders, stressing the importance the UK attaches to its relations with the Overseas Territories.
He said: "My Ministerial team in the FCO and my colleagues across other Government departments will work tirelessly to ensure that our partnership promotes the best interest of all our citizens and a bright and successful future for the Overseas Territories."
UK Foreign Secretary William Hague With Leaders Of The Overseas Territories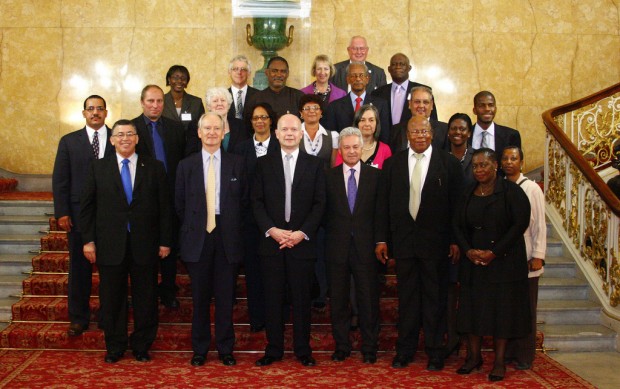 There were also discussions on the UK's new Overseas Territories strategy and forthcoming White Paper, as well as sessions on aviation safety; financial regulation, financial crime and taxation.
Discussions also covered good governance, financial management and economic planning, with Ministers from the Departments for International Development, Ministry of Defence, Treasury and Transport attending on that day.
A further eight Departments attended the second day, with UK Government Ministers and senior officials participating from the Departments of Education; Communities and Local Government; Culture, Media and Sport; Home Office; Business, Innovation and Skills; Work and Pensions; Environment, Food and Rural Affairs; and Energy, and Climate Change.
They discussed with the assembled leaders ways to assist their countries in line with the new British approach to supporting the development of the Overseas Territories.
 Overseas Territories Consultative Council In Session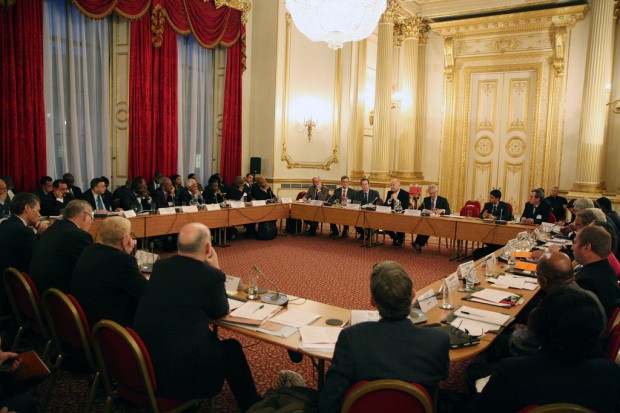 Foreign Office Minister Henry Bellingham – who hosted the talks — said, "This government has a clear vision for our Overseas Territories to be vibrant and flourishing communities, proudly retaining aspects of their British identity and generating wider opportunities for their people.
"I had bilateral meetings with the Territory leaders on Tuesday and chaired my second Overseas Territories Consultative Council on Wednesday and Thursday. I was pleased to welcome over 250 guests to a reception that I hosted in honour of Territory leaders. Our discussions at the Consultative Council have been wide-ranging and constructive.
"We have made good progress in the last year in developing our approach to the Overseas Territories. We are investing heavily in the Territories that need the most assistance, including building an airport on St Helena as well as significant development work in Montserrat and on-going work to restore the principles of good governance and sound financial management to the Turks and Caicos Islands.
The Premier With Foreign Office Minister For The Overseas Territories Henry Bellingham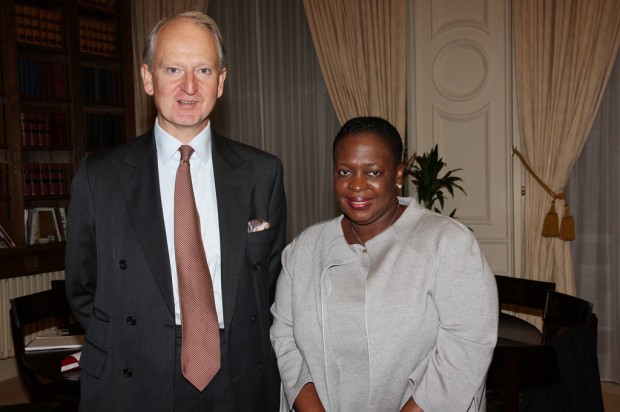 "We discussed global economic challenges and how the UK and Territories are taking action to strengthen public financial management and diversify economic development.
"We also discussed with Territory leaders ways in which we can build a stronger partnership, including by enabling the Territories to access UK public sector expertise and training – especially through secondments; and by strengthening links and engagement with the Commonwealth and EU.
"I am glad that nine of my Ministerial colleagues from across Government were able to attend the Consultative Council this week, a clear demonstration that the UK Government as a whole is supporting the Territories, and not just the Foreign and Commonwealth Office and Department for International Development. We will continue to work closely with the Territories as we prepare for the publication of our White Paper on the Territories next year."
The Territory leaders attending this year's OTCC were Ms Cox; Hubert Hughes, Chief Minister, Anguilla; Kitty George, Councillor, Ascension Island; Dr. Orlando Smith, Premier, the British Virgin Islands; McKeeva Bush, Premier, the Cayman Islands; Jan Cheek, Member of the Legislative Assembly, the Falkland Islands; Reuben Meade, Premier, Montserrat; Rodney Buckley, Councillor, St Helena; Ian Lavarello, Chief Islander, Tristan da Cunha; Lillian Misick, Chair of the Consultative Forum and Theo Durham, Member of the Advisory Council, Turks and Caicos Islands.
Read More About
Category: All